HandyPaint from MobiVio Solutions is a powerful and easy drawing tool for your smart phone. HandyPaint has all the features of a standard drawing tool, but each feature is implemented with better design and is well thought through for best user experience. It can be used to draw, edit pictures captured with your camera's phone or edit screenshots.




Download: http://www.mobivio.com/download.html

Features:
- Supports antialiasing drawing. Makes paint look more comfortable.
- Supports 30+ tools for drawing, such as pencil, line, curve, rect, round rect, ellipse, polygon, and text, flood fill, color picker, eraser...
- Support for load/save image files in BMP,JPG,GIF and PNG formats.
- Support for save paint as Gray bitmap file.
- Unlimited Undo/Redo.
- 12 levels of pen and line sizes.
- Text styles - choose among normal, bold, italic, underline and strikeout fonts.
- Resizable and moveable toolbar. Also supports translucent and auto hide for toolbar.
- True color of color selection.
- Support for move canvas.
- Image sizing and stretching.
- Support for take a picture by camera for editing.
- Support for take a screenshot for editing.
- Support for save paint as HandyPaint Format(.hpf) file for editing at next time.
- Support for send paint to your friends.
- Auto arrange UI elements at switching screen between landscape and portrait.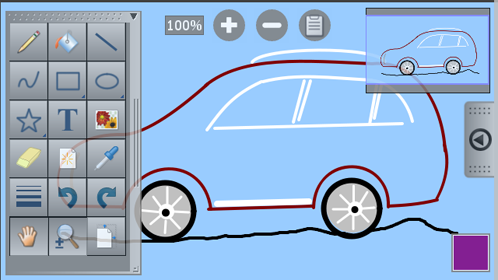 Download Here