Hot on the heels of Kindle for Android, Barnes and Noble has released their Nook reader for Android smartphones running OS 1.6 or later. It's a free download from the Android Market, and you can read all your books purchased from BN on your phone. The app offers a selection of fonts including Amasis used on the Nook dedicated ebook reader, and several font sizes. It supports both portrait and landscape modes. It works well on my Samsung Captivate and I have access to my entire library of books, but not periodicals it seems.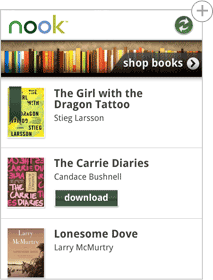 You can also shop for books from within the app and manage your account. It's available now and it's free on the Android Market. You can learn more on B&N's site.


B&N is changing the branding of their reader application for various platforms from B&N Reader to Nook, so it's Nook for Android, Nook for iPad and so on.

-

On another note, Time Magazine has released their Android app today and it looks pretty solid. As a matter of fact, it reminds us of the New York Times app in terms of form and function. Get it on the Market too.






--