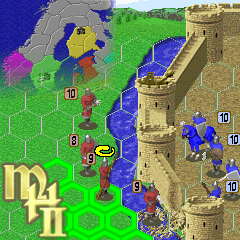 Medieval Heroes II for Palm OS (v1.60) and Pocket PC (v1.10) has been released by Arcona Magi.

Medieval Heroes II is a game of empire building and turn based battles set in the Middle Ages.
As one of the medieval lords, you will engage in combat with surrounding provinces in an attempt to unite Medieval Europe under your leadership.
Design and govern your army, engage in battles, build castles, fortify them, spy on your enemies, and conquer their domains!

What's new in this version?
* Gameplay improvements
* New highscore system
* Minor bugfixes

You can download the most recent version of Medieval Heroes II here:
http://www.medievalheroes.com/downloads.htm

Visit http://www.medievalheroes.com to get more information on Medieval Heroes II.