The Microsoft Band 2 is a work of engineering art, it has more sensors than you'd imagine could fit on a wrist mounted device: heartrate, GPS, UV, barometer (to measure stairs climbed via change in elevation and relating barometric pressure) and skin temp (though I couldn't find a way to get reports on this). It will calculate your VO2 max after you've done 5 or more workouts, which is a rare treat and is more pleasant than wearing an oxygen mask to do the test (and likely a bit less accurate than the mask). This is the only band I know of that attempts to report on your how much O2 your body can move and use (an important metric of your cardiovascular and pulmonary fitness level). It works with not just Windows Phone, but Android and the iPhone too, and you'll get most of the same features even when not using a Windows Phone (Cortana is the significant omission on iOS, though you can use it with Android as well as Windows Phone). The watch has a microphone to capture Cortana queries and commands, and if you have a Windows Phone you can use Cortana to reply to texts.
The Band 2 also attempts to be a smartwatch stand-in, and after extensively using the Samsung Gear Fit 2, Apple Watch and various Android Wear smartwatches, the Band 2 falls short in terms of features and ease of use. In fact, this is a band that reminds me of the Microsoft of old--they find ways to make commonly used features more arcane than they should be. Who thought the settings app should have a sub-setting that's also Settings? The Band 2 has a lot of features, though you might not know it because the UI isn't consistent. The basics are easy to access (well, some of them): apps for workouts like biking, running, weight lifting and even golf are here as tiles that you can swipe through with a finger. But the bread and butter stuff like seeing your steps, flights of stairs climbed and heart rate are mercilessly obscured. They're all under the "Me Tile", which is actually just the home screen that shows the time. You won't see it if you raise your wrist to show the time. You'll only see that info if you press the wake up button on the Band's side, and then (wait for it) tap the home screen (excuse me, "Me Tile") and swipe left to see that data. For a $250 fitness band and smartwatch hybrid, I don't expect extra button clicks and hidden main fitness info. Granted, though I'm an exercise nut, I use smartwatches more than fitness bands, and fitness bands tend to have more opaque UIs over their very powerful fitness tools. Also keep in mind that the Band 2 has been on the market for a few months and is now commonly discounted to $175.
Microsoft presents a good deal of fitness activity and health metrics in their iOS, Windows Phone and Android apps, but you'll only see the really big picture with all the data available (including comparisons with others of your age, weight and BMI range) if you use their web-based dashboard that ties in to your Microsoft account. Some folks might love using a web browser to get all the data, but to me it seems like an idea that's out of date. I want all my fitness data on my phone in the app. It's fine if it's also available on the web (privacy concerns aside), but I want it all on my smartphone too.
Design and Ergonomics
The Microsoft Band 2 is more ergonomic than the first gen model, but since the first generation model is still receiving OTA updates and enhancements, the software isn't that far apart. It's available in small, medium and large sizes, which is better than many competitors that offer only two sizes. Black is the only color, unlike smartwatch competitors that offer a greater variety of band materials and/or colors. It's comfier than the first gen model, particularly because the band is more pliable, but it still feels like it's clamping your wrist and can be annoying when doing activities that require wrist flexing like typing (with poor bend-wrist form) or doing curls at the gym.

The Microsoft Band 2 has an attractive and classy looking brushed metal body with a matte black elastomer band that's soft and supple. Still, it's not as stylish as the Samsung Gear Fit and Fit 2 it apes. It's pretty big and heavy too. The band is IP 67 dust and water resistant. You can sweat on it, wash the dishes but not swim with it. If you do go crazy and shower with it, the barometer will get confused and claim that you've climbed many more flights of stairs than you really have. After a day it will dry out and return to normal.
The clasp is pretty easy to use once you get the hang of it. Snap it on and you can then snug it up rather than having to find the sweet spot before latching it on your wrist. The Microsoft Band 2 isn't what I'd call comfortable, but the more flexible band and curved display are a definite improvement over the first gen model. It does make its presence known thanks to the firm, clamping design and weight, and I found it too uncomfortable to wear to bed, which is a shame because it has better than average sleep metrics (light sleep, deep sleep, heart rate and wake periods). After a few days, I did mind it less on my admittedly bony wrist.
The battery, charging contacts and UV sensor are located in the clasp, and thus the clasp is unusually bulky. The included small charger connects to pins on one end of the clasp, and it's pretty easy to connect it to the charger. An actual charger not included, but most smartphone chargers or your computer's USB port will work. You get the charging connector with a USB cable in the box.
Display
The Microsoft Band 2 has a curved AMOLED 320 x 128 display with Gorilla Glass 3 (not as easy to scratch as the original Band with its plastic screen). That works out to 255 PPI, which looks plenty sharp given the text-based UI and limited set of home screen faces (you get a few patterns and colors to choose from). It operates only in landscape mode, which might seem might a good idea at first, but requires wrist and arm gymnastics to see and use. It's better if worn inside the wrist, though you're then showing off the bulky and not terribly attractive clasp to the world. I much prefer the portrait view that Samsung uses in their similarly designed Gear Fit 2--it's simply easier to read without twisting your arm and wrist.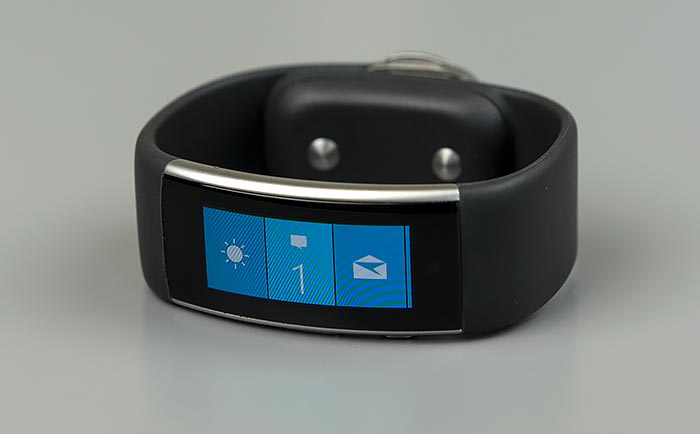 CPU and Storage
The band uses an ARM M4 processor like the original band, with 64 MB internal storage. Unlike most everything else Microsoft makes; it doesn't run Windows 10. It doesn't have enough internal storage to keep music tracks on the band, so you'll have to bring your phone along if you want to listen to music or podcasts.
Deals and Shopping:
Advertisement