Home -> eBook Reader Reviews -> Sony Reader PRS-505

Sony Reader PRS-505

Editor's rating (1-5):
Discuss this product
Where to Buy

Reviewed October 5, 2008 by Lisa Gade, Editor in Chief

Editor's note, September 2009: Read our review of the Sony Reader Pocket Edition PRS-300, 5" reader.

Editor's note, August 2009: Read our review of the Sony Reader Touch Edition PRS-600 with touch screen.

Editor's note, February 2009: Also read our review of the Amazon Kindle 2 eBook Reader!

When we reviewed the first generation Sony Reader PRS-500 in November 2006, we were impressed and pleased overall: the screen was much better than a traditional PDA or notebook LCD for extended reading, battery life was fantastic and the reader could literally hold an entire library yet weighed only 10 ounces. Many page turns later and we now have the Amazon Kindle 2, Amazon Kindle DX with a larger display, Sony's second generation PRS-505, the Sony PRS-700, Sony Reader Touch Edition and the new Sony Reader Pocket Edition that will replace the 505.

The PRS-505 was released on October 2007 and it seemed like a minor revision, so I neglected to review or purchase one since I was relatively happy with my PRS-500. With Sony's recent announcement of the PRS-700 with a touch screen and the fact that they will continue to sell the PRS-505 alongside its fancier brother, I realized even Sony seemed to think the PRS-505 could still hold its own. And so I decided to check it out.

For those new to the Reader and eBooks

You can read our review of the Sony Reader PRS-500 to get a broad overview of eBook technology and the Sony Reader design. The short version is that eBook readers like Sony's and Amazon's Kindle use e-Ink display technology, and it's not like any other kind of display you've seen. It's matte and non-glare, is not tiring on the eyes like a notebook or PDA LCD and it's not backlit. It's the closest thing to looking at a printed page: fonts are the book kind (easier on the eyes and prettier) and not computer display fonts, the screen's "texture" is similar to a novel's pages and you can't read in the dark (same dilemma as a printed book). The e-Ink screen doesn't support backlighting, though there are side lighting accessories such as Sony's book cover with an LED light mounted in the spine, and the PRS-700's LEDs along the sides of the display. At 6", the screen is about the size of a trade novel's page and you can select from 3 text sizes for easy reading (the book will re-flow and the total page count changes when you change the text size).

Sony's PRS-505 Reader works with DRM books sold via the Sony eBook Store. One accesses the store and manages content on the Reader using an application similar to iTunes that runs only on Windows. You can browse Sony's selection (around 100,000 books by the end of 2008), buy them, sync the Reader and copy files to and from the Reader and memory cards in the Reader. Sony allows for 6 authorized devices, be they Windows PCs or Readers, per account. The desktop software also functions as a Reader application and you can read books on the PC if you like, though you can't print them (for DRM reasons, we're sure).
In addition, the Reader supports PDF, text, RTF, MS Word and Adobe Digital Editions ePUB books. You can use the desktop software to download Google public domains books too. That means you need not spend a cent if you're interested in reading literary classics (i.e. project Gutenberg). In fact, you need not use Sony's desktop software unless you want to buy their books or convert MS Word documents. Other documents can be copied to a Memory Stick Duo or SD card for use on the Reader. Sites such as feedbooks.com, manybooks.net and Adobe Digital Editions offer free Sony Reader-friendly formatted eBooks for download. There are free classics on the new Adobe Digital Editions web site, and Adobe plans on offering DRM books for sale in that format along with library books for loan (local libraries will provide the books and use Adobe's Digital Editions server to get them to you). We have no idea how quickly libraries will get started with this, but it's certainly an exciting alternative to driving down to the local library to borrow books; and you won't be bummed because the book has already been checked out.
Mac and Linux users who have no access to Windows can use a free application called Calibre to sync non-DRM content to the PRS-505 as well. This application won't let you purchase ebooks from Sony's online store, but it can handle everything else.
The PRS-505 can play music in the background while you read and it supports MP3 and unprotected AAC (iTunes format) music files. We had no problems playing these formats on the Reader, and the sound quality is a bit better than the iPhone 3G's. Music playback does pause when the Reader is working on a page turn for a graphically heavy PDF like sheet music. The player even supports cover art and ID3 tags but there's no playlist feature: you simply see a flat list of all music files on the device. The Reader has a 3.5mm jack for headphones but no built-in speaker.
For storage the Reader has 192 megs of internal memory (enough to hold about 160 books), a Memory Stick Duo slot and an SD card slot. Thus the Reader can hold several thousand books and music too. $299 isn't a bad price to pay when you consider they require no bookcases, nor moving costs should you move (books are particularly expensive to move thanks to their weight).
The Reader can display JPG, GIF, BMP and PNG files, albeit in grayscale. No conversion is necessary for these image formats or MP3, AAC, text and PDF, and these can be copied directly to a storage card, bypassing Sony's desktop sync application. MS Word files do require conversion and use of the Sony desktop software (and you must have a copy of MS Word installed on the PC).
The book goes into standby when not used for an hour, and it takes only 2-3 seconds to wake it up. It never turns off completely unless it runs out of power or you choose complete shutdown from the settings menu. The Reader runs a version of Linux on an undisclosed CPU.
Like the PRS-500, battery life is good for 7,500 page turns, and e-Ink consumes no power to display a page, it uses power only to turn pages. The device uses power to play music and display photos too, and music playback uses more power than reading, though it can go for many hours when playing music. With average use as a book reader, the PRS-505 easily lasts a month, which compares well to the Kindle that lasts two days with the wireless on and up to 2 weeks with wireless off. The PRS-505 charges twice as quickly as the PRS-500, and can charge in 4 hours over USB or 2 hours via an AC adapter. Unlike the PRS-500, the 505 doesn't come with an AC adapter, though a PSP charger or the PRS-500 adapter work fine. The Reader charges when connected to a PC for syncing books.
What's improved from the Sony Reader PRS-500?
Though the list of improvements seem small, they're rather significant. The display is now capable of 8 grayscale levels and that translates to a significantly brighter and sharper display. It's hard to go back to the old model once you've used the 505, particularly in lower light settings. The flicker at page turns is still there but the delay between page turns is halved (1 second vs 2 seconds). The flicker is actually the display going black as it wipes the screen with e-Ink before drawing the next page. The Reader goes to sleep after an hour of inactivity and that's a good thing given that the 500 would sometimes temporarily burn in a page that had been left open for hours or days. That burn-in effect was temporary-- once the display went through several page turns it wiped itself clean with electronic charges, but it was annoying.
The PRS-505 adds support for mass storage mode, so not only the Memory Stick Duo and SD cards mount on the desktop, but so do the contents of the Reader's internal memory. The new model auto-syncs content so there's no need to manually copy books to the device. You can disable auto-sync if you like, and set auto-sync to sync selected content types (books, images) to internal memory, the Memory Stick Duo or an SD card slot.
The controls are greatly improved. The Reader has a list of functions on the main menu, presented like book chapters, with corresponding buttons and numbers (1 through 10). On the 500 the buttons were at the bottom, though the menu items ran left to right. Now the buttons are on the right side, adjacent to the items they represent and select. Sony added page forward and back buttons on the right spine, which are easier to get to than the left wheel controls (which are still there but redesigned) and the tiny ones on the left side (now gone). There's a bookmark button, and the text size changer button is still there (and still offers 3 text sizes both in eBooks and PDFs). The menu button is now a separate button rather than a part of the right control wheel.
All ports and controls have been moved from the left spine where they were hard to access with the included book cover attached. The volume buttons are on the bottom edge and the card slots are up top. The cover attachment system is much improved and they now mount with top and bottom mounts by the left spine. Sony includes a leather cover and sells a variety of colored leather covers along with one that has a battery and LED light for reading in the dark.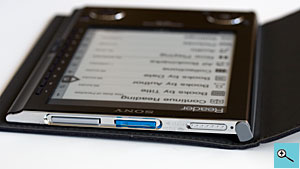 PDF zooming is handled better on the 505, though it's still not ideal for viewing PDFs formatted for 8.5 x 11" pages. Zoom handles text but doesn't change graphics size, making things like sheet music hard to read if not first reformatted for the Reader's smaller page size. 100 page 8.5 x 11" PDFs that are image heavy also slow down the reader, with page turns taking several seconds. PDF files that are sized for the Sony Reader are much more readable (free book download sites often offer these) and page changes are faster.
Not directly related to this model are Sony's plans to expand and improve the Connect Reader ebook software and store. While the Reader didn't take off in Japan, it's been quite popular in the US, and Sony is moving Reader operations to the US and expanding the US bookstore. They're also nearly ready to release the $399 PRS-700, which adds a touch screen for those who like to makes notes and annotations in their books. It also supports gestures for page turns and will have fewer hardware controls. The 700 will likely be a formidable challenger to the Kindle.
Sony Reader vs. Amazon Kindle
There are folks on both sides of the camp. In part, it's technophile vs. bibliophile: the Kindle appeals to the geek in us with that hardware thumb keyboard, Sprint EVDO wireless connection and the ability to download books and content directly to the reader (assuming you've got a Sprint EVDO connection where you are) or hit the wikipedia using the Kindle. The Kindle is arguably one of the ugliest pieces of consumer electronics to hit the street and it doesn't look a thing like a book. It's larger, though not much heavier. Editor's update, Feb. 2009: the Kindle 2 is out now, and it's much better looking than the Kindle 1, though still not as attractive and book-like as the Sony Reader.
The Sony Reader is attractive, portable and it looks like a book. Granted, looks aren't everything, but consumer electronics and personal style have become inextricably linked. The Reader has a somewhat brighter and more contrasty display than the Kindle, though they both tout the same 8 grayscale levels and PPI specs, it has much longer battery life since there's no EVDO modem and the controls are better (we're thinking of the Kindle's all too large and accidentally hit page turn buttons). The Kindle's thumb keyboard is handy if you like to make notes in books, which the PRS-505 can't do (but the PRS-700 can). The Kindle 2's virtual page is a tad less white than the 505's and the Kindle 2's contrast doesn't seem quite as high despite its 16 grayscale levels.
Though it's nice to be able to buy books without involving a PC, we're not thrilled with Kindle's less open format system: you can't copy text, Word or PDF files to the Kindle. You can email text and Word docs to an email address at Amazon.com and they'll send back a Kindle-friendly version directly to the Kindle for 10 cents/document. You can avoid the charge by having the converted documents sent to your PC rather than the Kindle, but then you'll have to load them on the Kindle via USB (back to involving a PC). With the Sony Reader you can load RSS feeds using the desktop software, but obviously there's no way to deliver them directly to the eBook device since it has no wireless connection. You can pay Amazon to deliver RSS feeds to the Kindle, but they charge $1 to $2 per month, per feed. Likewise, for a price you can have digital editions of popular newspapers like the New York Times ($13.99/month) and magazines like Time ($1.49/month) delivered to the Kindle. Amazon charges for delivery of otherwise free content like RSS feeds and sending converted documents to the Kindle to recover the cost of the Sprint network (Kindle owners don't pay a monthly charge for the connection itself nor is there a cellular contract). In the end, the "Whispernet" Sprint connection is a temptation to lock into a variety of Amazon subscription fees for content and to buy books-- we leave it to you to decide if that's desirable or not. Using the online Wikipedia is free, though Amazon reserves the right to charge for wireless use in the future. Given how easy it is to load 50 books on the Sony Reader in 15 minutes, I don't worry that I'll run out of reading material and want to buy and download a book directly to the device while waiting at an airport, but some folks find this an enticing Kindle feature (keep in mind that the Kindle's wireless connection only works where Sprint EVDO service is available-- and not outside the US).
Conclusion
It's easy on the eyes both in terms of the device's looks and the excellent screen that's perfect for reading. At $299, it's actually one of the more reasonable eBook readers on the market, something we don't often get to say about a Sony product. Getting books on the device is simple thanks to the memory card slots and simple desktop software. Sony's selection of eBooks is very good, though it's not yet as impressive as Amazon's. But the upside is support for non-purchase, and non-copy protected content, which further expands the Reader's usefulness. Extended reading periods don't tire the eyes more than a traditional book and overall we'd deem the Sony Reader a book-lover's top choice.
Pro: Great screen that's brighter than the first generation and even easier on the eyes-- in fact it's currently the best looking E-Ink screen on the market. Excellent battery life. Good audio quality for music playback, though the music player could use more features. Sturdy metal casing.
Con: No support for note taking. Sony desktop software is Windows-only.
Price: $299, available in silver, (dark) blue, sangria red and light blue.
Web Sites: www.sonystyle.com, ebookstore.sony.com
Shopping: Where to Buy

Specs:
Display: 6", 8-level grayscale display, E-Ink Electronic Paper technology. 800 x 600 resolution , 170 pixels per inch.

Media formats:
Unsecured Text: BBeB Book, ePUB, Adobe PDF, TXT, RTF, Adobe Digital Editions, Microsoft Word (Conversion to the Reader-requires Word installed on your PC)
DRM Text: BBeB Book (Marlin), Adobe Digital Editions ePUB and PDF.
Unsecured Audio: MP3 and AAC
Image: JPEG, GIF, PNG, and BMP

Horsepower: 200MHz ARM CPU. 64 megs RAM, 256 megs flash ROM. Linux OS.

Dimensions: 6.9" x 4.8" x 0.3". Weight: 9 ounces without soft cover (about 10 ounces with cover).

Battery: Rechargeable Lithium-Ion battery, not user replaceable. Up to 7,500 page turns per charge. Approx. 2 hours to charge via AC and 4 hours via USB from powered PC.

Expansion: 1 Memory Stick Duo card slot, 1 Secure Digital (SDHC) card slot.

In the Box: The Sony Reader, USB cable, the CONNECT Reader software, protective soft cover (leather book cover style), Quick Start Guide.