Obviously, higher-capacity storage cards are a good idea for use with the Recorder, but don't forget that, no matter how large a card is, it can't be in two places at once. If you intend to watch movies on your PDA while simultaneously recording something at home, you may need to buy an additional card, even if you already use SD "for everything."
The files it creates are compatible with TCPMP, using just the codecs that are publicly available from the official site. They also play on the recently discontinued Windows Media Player on my Mac; however, I had many problems getting them to work with Flip4Mac-WMV, Microsoft's recommended third-party replacement. This plugin definitely needs major improvements—it is not an issue specific to the Recorder.
Neuros says that Recorder 1 files won't play on a PSP without conversion, but they do include a piece of software called "Video Toolbox" for editing the videos, which they say is a "$49.95 retail value." Perhaps they should've added that, "for Mac users, it is a $0 value." However, you don't actually need any computer or software to use the Recorder, and in a pinch, you can just take an SD card straight from the Recorder to a PDA and watch the newly recorded video. And if your primary goal is PSP or iPod playback, get the Recorder 2. The two units are identical except the Recorder 1 has CF and SD slots and records in ASF while the Recorder 2 has CF and MemoryStick slots and records in MPEG4 with AAC audio.
Unfortunately, the Recorder does not have a tuner of any kind, so you'll have to connect it to an existing VCR or other device, if you want to record live TV. You also can't change the channel using any setting on the Recorder, so you may have to program your VCR to record at the same times as your Recorder, leading me to the unfortunate conclusion that, in order to use the Recorder as a VCR, you need... a VCR. Or plug it into your TV's AV out jacks (if present) and be prepared to watch the very same thing you're recording.
The good news is that the Recoder has a clever "Auto Record" mode, which will cause it to start recording, without any additional programming, whenever it receives a signal from a VCR (or whatever it's connected to), so using it as a companion to a VCR is actually a workable option, and not really much of a hassle at all. However, not only is "Auto Record" not explained in the manual, but it also tends to switch on and off repeatedly when it receives a poor signal. Since I observed this even with moderate-quality signals that never "dropped out" entirely when viewed with a regular TV, I believe this may be a bug in the Recorder.
The device uses a graphical on-screen interface, which you can navigate with the included remote. The interface is hit-and-miss; the four clearly labeled "applications" are simple to understand, including a photo viewer, MP3 player, video player, and video recorder. However, it's hard to keep track of which menus are in which program, or which button accesses which feature, especially since the buttons on the remote are arranged in two ordinary columns, rather than arranging the arrow keys and other buttons in a more intuitive manner. This may have been a size consideration, but it definitely takes some getting used to.
The MP3 player, photo viewer, and video player are all practically self-explanatory. The navigation of the folders on the inserted card(s) is straightforward, and it is simple to view (or listen to) your media items, albeit at the limited quality level a TV or VCR can provide.
The video recorder is where all the "action" is at. Here you can enable Auto Record, create a preset recording program, or adjust the quality settings of the output video recordings. Unfortunately, the recording application's interface also makes it too easy to "shoot yourself in the foot." For example, it will not warn you if you set a recording timer but the clock has not been set. Also, if you exit the recording "application," Auto Record will not work. Finally, after the Recorder finishes recording, your TV screen (if connected to the Recorder's output) cryptically blinks the word "Space:" over the screen for anywhere from a couple of seconds to several minutes, which may cause you to think that the device has crashed. If you remove the card or unplug the Recorder during this time, the card will not contain any usable data. However, I soon realized that the device is apparently still processing when it is in this state, and if you leave it alone, it will eventually wake up and complete a usable file.
Although the Recorder can be used in combination with a Tivo, satellite service, or similar device, it is not meant to replace a full-fledged PVR. It doesn't have any built-in programming guides or other PVR-level bells and whistles, but this also means that the one thing everyone has been hoping for has come true: you don't have to subscribe to ANYTHING. (Cue the choir singing "Hallelujah.")
The View
Once I got past a few mishaps because of the interface quirks noted above, I was able to start recording all the shows I normally tape in digital format, in addition to plain old VHS. Yes, at long last, I could finally fulfill my dream of watching The People's Court on the bus. But is it even worth it?
Overall, I am impressed with the video quality. Still images look about as clear and sharp as they do on my (non-HD) TV, even though the resolution is lower, and when I watched the video on TCPMP, the animation was reasonably fluid with a good frame rate (Neuros claims it can reach 25 fps on the highest setting), even on my modest iPaq 1940. I realized that watching TV on the go has some drawbacks I didn't think of, such as the fact that many TV shows are longer than most people have available when they're waiting for something or someone, and that most transflective LCD screens weren't really designed for outdoor use. These are, of course, not specific to the Neuros Recorder. Overall, I think the Neuros is one of the easiest and least expensive ways to transfer television to a PDA.
In fact, you can even transfer commercial DVDs this way. The Recorder does not appear to be affected by the copy-protection "feature" that can cause the video to lose its vertical hold and jump up and down when a DVD is copied to a VHS tape.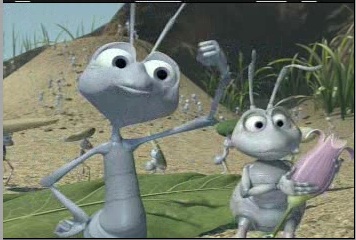 Although the lack of a tuner is primarily a disadvantage, it does theoretically open up the possibility that a digital tuner could be connected to the Recorder in the future. Obviously, this will not improve the resolution or data rate of the output, but since the Feds are threatening to pull the plug on analog TV as early as 2009, this may be something to consider.
I was also a bit frustrated by the fact that the resolution of the Recorder 1's videos, though supposedly targeted at PDAs, is actually 352x240 rather than 320x240 (which is what most PocketPCs' screens use). If you play a 352x240 video in TCPMP, it is forced to scale the video down to compensate for the extra width, which means that the viewable movie area on a PocketPC is even less than 320x240. The only other resolution option is 176x144, which saves a lot of space, but obviously videos at this resolution don't look very good. The Recorder 2's resolutions fit their target perfectly at 320 x 240 for the iPod, 368 x 208 for the Sony PSP and VGA for TV playback.
Advertisement