We've reviewed the very likeable Asus ZenBook UX303 in 2014, and it was one of our favorite high end Ultrabooks with a mind for value. That continues with the UX303UB, the late 2015 refresh with Intel 6th generation Skylake CPUs and a host of improvements that address minor niggles and qualms with previous versions. The ZenBook looks much the same on the outside, and as with Apple and Samsung, when you've got a gorgeous and iconic design, why mess with it? The swirled aluminum "smoky brown" lid and all-metal casing are here with the same industrial design we've seen before on Asus' top 13.3" model. The refreshing thing here is that you get a top end 3.2 lb. machine with specs that beat much of the competition for $1,299. Goodies include the 2.6 GHz Intel Core i7-6500U CPU, dedicated NVIDIA 940M 2GB DDR3 graphics switchable via NVIDIA Optimus with Intel HD 520 graphics, and a very bright and colorful QHD+ 3200 x 1800 display. A backlit keyboard, capacious 512 gig SSD and dual band WiFi 802.11ac with Bluetooth round out the ample feature set. This is a traditional laptop-- it's not a convertible with a 360 degree hinge nor does it have an active digitizer with pen. It has a touch screen and you could use a capacitive stylus like those designed for the iPad Air with it.
Design and Build: Cool and Quiet Customer
The all metal ZenBooks have often been a bit toasty on the bottom. Not the UX303UB, it rarely goes beyond warm on the bottom (the top deck is even cooler) and we rarely heard the fan come on. Even when benchmarking and playing 3D games, the fan was audible but not loud. Perhaps Asus applied some of the Republic of Gamers cooling design prowess to their Ultrabook line. The dual fan design keeps the CPU and dedicated GPU cool enough, with temperatures that rarely exceeded 50C for the CPU (that's a perfectly good temperature) and 75C for the GPU (likewise good and both are well below the 100C thermal ceiling). We didn't see any significant thermal throttling.
The design is largely unchanged from previous generations going all the way back to the cult classic ZenBook UX32VD. Asus has simply refined with smoother edges, larger trackpads and improved keyboard action over time. Indeed, the aluminum-clad ZenBook has no rough or sharp edges, and the bottom panel (held in place with Torx T5 and 2 Phillips head screws under the rear feet) requires none of those overzealous plastic clips we loathe to hold it in place. That aluminum sheet bottom fits perfectly so you won't get bitten by anything sharp. The design is still appealing with a mix of subtle curves on the lid and smart angles on the base.
ZenBook trackpads used to be a sore point, but the UX303UB has a very good trackpad that's not quite as impressive as the Dell XPS 13 and Microsoft Surface Book's trackpads, but it's quite usable. We have the Microsoft Signature Edition model that does away with 3rd party bloatware and even some manufacturer utilities. In the case of the ZenBook I'd recommend it because Asus' utilities hurt more than they help-- dodgy trackpad software, Asus Splendid Color with several color profiles (none of which are ideal) and cloud storage software. You're better off without it, but one drawback is that you get Microsoft signature trackpad drivers with no customization for things like multi-touch and advanced gestures.
The keyboard has ample travel despite the slim design and excellent damping. That means the keys are quiet yet responsive and firm. The keyboard is backlit in white and an abundance of white filters out around the key edges. You can go with auto-brightness or turn it on and off at will using the Fn and A keys.
The bottom-firing stereo speakers are quite loud and passably full once you play with the Asus control panel's EQ settings. The Music preset sounds tinny while the Movie preset is surprisingly louder and a little bit fuller, though I wouldn't call these full bodied or bass rich speakers. They're louder than average but not fuller than average.
Last generation UX303s suffered from loosening hinges--users have reported that the display hinge became loose over time and the display wouldn't stay upright (Asus apparently repairs this under warranty). That model used a barrel or door hinge design with two plates that rotate on a central shaft. All parts were metal but the outer metal sometimes expanded so it didn't fit tightly on the shaft. One could either fix it themselves by opening up the laptop and gently squeezing the hinge with pliers or by sending it in for warranty repair. The new model covered here uses a very different hinge design with a central shaft and two adjustable nuts that tighten against a spring that provides tension. Asus has used the current design on older laptops that have held up fine, so we suspect the redesign should fix the former floppy hinge issue.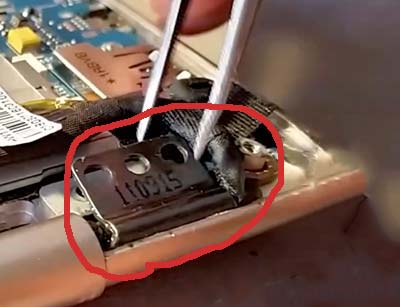 Ports and Wireless
Port selection is hearty for a slim and light 13.3" Ultrabook: 3 USB 3.0 ports, full size HDMI (no more micro HDMI on the ZenBook top model), mini DisplayPort, 3.5mm combo audio and an SD card slot. Unlike some ZenBooks of old, there was no USB to Ethernet or HDMI to VGA adapter in the box. Sorry, there's no USB-C 3.1 port here-- Asus threw a lot of very good features in for the price, but cutting edge new features like USB-C and NVMe SSDs aren't part of the deal.
Here's one of the few places where we caught Asus cutting corners to bring the price down: they're using the last generation Intel 7265 AC WiFi card with Bluetooth 4.0 rather than the current generation 8260 AC card. This late Haswell/Broadwell generation card was a bit quirky back in the day, though it behaved well enough in our review unit. Reception range falls a little short of several other laptops we reviewed, but not by a huge margin. We chalk that up to the all-metal casing rather than the wireless card. Should you wish to upgrade the card in the future, it's a socketed M.2 NGFF card (3 "legs") and it's not a hard job if you're comfortable working on laptops.
Display
We've seen UX ZenBooks with Samsung 3200 x 1800 QHD+ displays before, but this one is improved in terms of yellow rendition-- it passes the Sponge Bob test with a yellow Bob rather than a mustardy green sponge hero. I suspect this is a PLS rather than IPS display since that's Samsung's specialty, and contrast ratios aren't impressive (PLS doesn't have high contrast). Brightness is excellent at 331 nits but black levels of 0.67 at max brightness reduce contrast to a passable but not stellar 550:1. Color gamut is very good at 95% of sRGB and 75% of Adobe RGB, matching the high end competition. Color calibration on our MS Signature Edition (that ships without Asus's not very good Splendid Color profiles) tended toward the cool with slightly bluish whites, which many folks favor. Calibration with our Spyder 4 Pro colorimeter easily tweaked it to nearly perfect, which is important to photographers and video editors. Though Microsoft Surface Book and Surface Pro 4 beat it for out of the box calibration, significantly higher contrast and even higher brightness, this is still one of the better and more pleasing Ultrabook displays on the market with vivid colors, excellent brightness and normal yellows.