Home > Windows Tablet Reviews & Laptop Reviews > HP ElitePad 900 Windows 8 Tablet

HP ElitePad 900
What's Hot: Lovely design with aluminum casing, sharp IPS display, a variety of useful expansion jackets and docks make this very versatile.
What's Not: Expensive, not lighter than an Ultrabook when paired with the keyboard jacket. The Intel Atom Z2760 isn't the sharpest knife in the drawer. Few ports on tablet itself.

The HP ElitePad 900 is a business Windows 8 tablet with a rare touch of style and class. The 10.1" Windows tablet is as good looking as the attractive HP Envy x2, with an aluminum back, tapered sides and a clean design. It's slim and at 1.38 lbs. the ElitePad is little bit lighter than the Retina iPad. Since it's a business tablet the 900 is MIL Spec 810G compliant and it has security features like HP BIOS Protection, LANDesk and Absolute Data Protect with 4 years included. The tablet is readily repairable by your IT department, which is a rarity among very compact Windows tablets. But you'll pay for those business features: the tablet starts at $649 for the 32 gig model, and you really want the more workable 64 gig model that starts at $749. That's not small change for an Intel Atom Windows 8 32 bit tablet, and the various expansion jackets that bring the tablet to life will set you back a few hundred dollars more. For consumers, the price is steep, though on HP's consumer site you'll find the tablet for $100 less. In fact, some retailers are further discounting it and bundling it with expansion jackets at a nicer price. For businesses that need a quality product with durability and security, the price is more palatable.
Specs at a Glance
The HP ElitePad 900 runs on a 1.5GHz dual core Intel Atom Z2760 CPU with Turbo Boost to 1.8GHz. This is the same Atom processor we've seen in all first generation Windows 8 Atom tablets, and it comes with 2 gigs of DDR2 RAM (not upgradable) and 32 or 64 gigs of eMMC flash storage. The tablet has dual band WiFi 802.11b/g/n, Bluetooth 4.0, NFC and most models have HSPA+ 3G (but not LTE) on T-Mobile with 200 MB/month included. There's an option to get a 3G HSPA+ module that supports both T-Mobile and AT&T.
Jackets: the Heart and Clothes of the ElitePad 900
The ElitePad's family of accessories set it apart, and there's an Expansion jacket that adds USB 2.0 ports, HDMI, and an SD/MMC card reader and a secondary battery that lists for $149. Surprisingly, it doesn't add a lot of bulk or weight.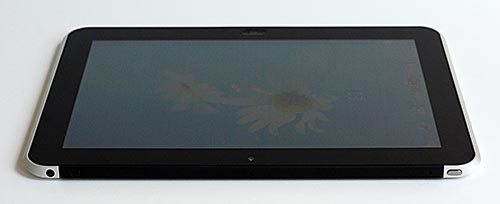 The $199 Productivity jacket has a built-in keyboard and a healthy selection of ports. Though small, the keyboard is surprisingly good with pleasing tactile feel and a reasonable amount of key travel. If you have very large hands, it might prove cramped since we're talking the same size as a smaller netbook or more robust Retina iPad keyboard. That said, I have large hands and very long fingers that are similar to a mid-sized man's hands and I managed just fine. This jacket turns the tablet into a laptop style device, and the keyboard plus USB ports are indispensable for business use. It weighs 1.87 lbs., so the combined weight of the jacket and tablet is about the same as 13.3" Ultrabooks on the market. This jacket has HDMI, 3.5mm audio, an SDHC card slot and two USB 2.0 ports (the Intel Atom Z2670 chipset only supports USB 2.0).
The $119 docking station adds Ethernet, USB ports, VGA and HDMI, so you can use the ElitePad 900 at your desk. There are dongle adapters for USB and VGA/HDMI (sold separately). HP has bundles that include your choice of accessories for minor savings. In our video review we show you all three accessories.