Display
Our Envy 15 3040nr model ships with a 1920 x 1080 IPS "Radiance" LED backlit display with a good but not stand-out 250 nits of brightness. That's not to say the display is dim, far from it-- it's just not a super-bright display that's intended for outdoor viewing. As you'd expect from a gloss IPS display, it has very wide viewing angles, rich blacks and good contrast. Movies look great, even with two folks sitting side by side, and there's no need to angle the display back "just right" to get good colors and contrast. The edge-to-edge style display lacks a distinct bezel and the black edges disappear nicely when watching movies. We heartily recommend the 1080p display over the 1366 x 786 base display (a $150 difference when building to order).
There's been some discussion on forums about reds looking orange, but our LG manufactured display doesn't have this problem. I'm picky about color and have art training, so serious color aberrations stand out. Check out our comparison photo below, with the Envy sitting in front of a color calibrated 30" Apple Cinema Display (the older Apple display with a matte display and a wide color gamut). Notebook displays lack the wide gamut (color range) and potential color accuracy of a high quality external monitor, but as notebook display panels go, ours is pretty decent in terms of color representation (your Envy may vary). Reds are too warm (too much yellow in the mix) but still look red, and I find it acceptable as notebook panels go. In fact, I find it very pleasing for all manner of things and colors are good enough to edit photos for the web.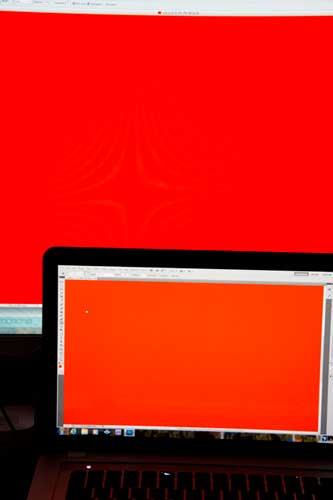 Keyboard and Trackpad
Here's the less than good news. The keyboard has flex on the left side, and though it's not a deal breaker, it is a minor annoyance. The keys have good travel and excellent backlighting with an LED under each key. There's a keyboard backlight on/off button on the top row, and there's no need to hit the Fn key to use it. To change backlight brightness (3 levels), you have to hit the keyboard backlight button and the arrow keys (we wish there were dedicated backlight up and down keys since there are two unassigned Fn keys). The white backlighting goes from gentle to very bright and it turns on and off in a cascading manner (one row at a time). There are two red glowing sensors on the left middle bezel area, and these are proximity sensors that detect if you're in front of the machine and turn on backlighting when you come back from a coffee break and sit in front of the laptop. I don't find these sensor lights overly bright or annoying, but if you do, you can turn the sensor off.
The keyboard has a standard 15" layout with page up/down, end, home and delete keys on the far right edge. The keys have good travel by notebook standards, but they lack the cool edge ringed backlighting of the Samsung Chronos Series 7 and the Samsung's number pad.
By HP standards, the large, buttonless Synaptics trackpad is pretty good, but that doesn't say much. HP's trackpads have largely been a train wreck for the past few years, but we're happy to report that the Envy's is well behaved with no cursor jumping or out of control inertia scrolling. The surface is slightly rough, and I prefer a smoother surface like the Samsung Series 7 Chronos or MacBook Pro, but that's a matter of personal preference. The trackpad has automatic palm rejection and you can turn off the trackpad by double tapping in the upper left hand corner if necessary (an indicator light lets you know the trackpad is disabled).
We love that you don't have to hit the Fn button to use the top row quick access controls for display brightness, keyboard backlight on and off and media playback. But there are two unused keys that HP could have assigned to keyboard backlight brightness and Beats on/off. You can bring up the Beats audio control panel by pressing down on the dedicated Beats analog rotary control, and you can turn Beats on and off by pressing Fn and the "b" button. The Beats controller isn't just a gimmick: it's a really easy way to control audio volume, and the volume change is gradual rather than jarring. The wheel works well even inside games, unlike the usual volume up/down Fn key combo that's often erratic or ignored on other notebooks.
Performance and Horsepower
For those of you who don't much like reading, here's the short story: this is a wicked fast laptop. It plays demanding current 3D titles at medium or high settings well. It can edit 1080p video, and it can do CAD and Adobe Photoshop CS 5 like nobody's business. We aren't going to outline performance of every program on the planet because it can handle them all well. It's a fast machine, at least the Intel Core i7 version. The Core i5 is no slouch either, but if you're into really demanding tasks like video editing and engineering apps, get the Core i7 that bows to nothing.
Fast, metal clad laptops with dedicated GPUs tend to run hot, but the Envy 15 manages to keep its cool. When doing business and web tasks with integrated graphics, the CPU cores averaged 35 degrees Centigrade. When gaming, the cores went up to a very safe 57 degrees Centigrade (100C is the allowable max temp and thermal management may start to throttle in the 80's, though ours never got hot enough to reach the throttle point).
Our machine ships with a 2.2GHz Intel Core i7-2670QM with Turbo Boost to 3.1GHz. It has 6 megs of level 2 cache, 4 cores and 8 threads. The computer has 8 gigs of DDR3 1333MHz RAM in 2 DIMM slots and the max is 16 gigs (many consumer notebooks top out at 8 gigs). Our model has a fast 7200 RPM 750 gig hard drive, and HP offers several drive options including an SSD if you build to order. The Envy 15 has switchable graphics with Intel HD 3000 integrated graphics and AMD Radeon HD 7690M dedicated graphics with 1 gig DDR5 VRAM. The Envy has an internal slot-loading 8x dual layer DVD burner, but sadly there's currently no Blu-ray option. We wish there was a Blu-ray option given the 1080p display, Intel WiDi and HDMI port.
Benchmarks
Windows Experience Index:
Processor: 7.4
Memory: 7.8
Graphics (Aero): 6.9
Graphics (Gaming): 6.9
HDD: 5.9
PCMark 7: 2590
3DMark 11: 1354 (graphics 1188, physics 6464)
3DMark Vantage: 6216 (5103 GPU, 17,894 CPU)
PCMark Vantage:
HP Envy 15

PCMark Vantage (using dedicated graphics): 9247
Memories: 5848
TV and Movies: 7436
Gaming: 7668
Music: 7263
Communications: 10,630
Productivity: 7076
HDD: 4620

3DMark06:

3DMark 06 (1280 x 800 resolution): 10,355

PCMark Vantage (assigned to run on dedicated graphics): 7469
Memories: 3953
TV and Movies: 2603
Gaming: 8175
Music: 8052
Communications: 8628
Productivity: 7117
HDD: 6201

3DMark 06 (1280 x 800 resolution): 9847
The HP Envy 15 vs. the Competition
If you're a Mac person, by all means get the 15" MacBook Pro. I use one as my main work machine because I enjoy Mac OS X. It's significantly more expensive and there's no 1080p option, but if you want to run Mac OS X, it's your machine. If you really want to run Windows and Windows apps, we'd recommend the HP Envy 15 unless money is no object. The MacBook Pro is a visual feast with beautiful lines, excellent build and similar internals. But it lacks a 1080p IPS display option, though the high res matte option is attractive to graphic artists and has excellent and accurate colors after calibration. But the HP Envy was designed for Windows and honestly gets better performance under Windows.
If you're considering the capable Samsung Series 7 Chronos with a Core i7, dedicated graphics and a 1600 x 900 matte display, the decision is a little harder since they're priced similarly. The Samsung has a better keyboard and trackpad, and business/school performance is similar to the Envy, but the Envy does better with games and has a higher resolution IPS display. Be sure to check out our Samsung Series 7 Chronos vs. HP Envy 15 comparison smackdown with video too.
The Dell XPS 15z is another strong competitor for the 15" super-powerful laptop of your dreams. It too has a great 1080p display option, plenty of power but the keyboard is just OK and the Nvidia 525M graphics aren't as powerful, despite the unusually beefy 2 gigs of VRAM. The Dell came out in May of 2011, and the graphics card is showing its age. We find the 15z aesthetically challenged vs. the Envy, Chronos and MacBook Pro, but beauty is in the eye of the beholder.
Wireless and Networking
The Envy has a gigabit Ethernet jack and Intel Centrino Advanced-N 6230 Wi-Fi 802.11b/g/n with Intel WiDi wireless display that worked well in our tests with a Netgear Push2TV HD PTV2000 connected to our Sony AV receiver that's connected to an HD TV via HDMI. WiDi was lacking in its first year but now handles 1080p content and DRM including Blu-ray and really works as a wireless replacement for HDMI cables. Range and throughput were good in our Wi-Fi tests.
The computer has Intel Bluetooth 3.0 + HS as well with support for Bluetooth stereo speakers and headsets, phone tethering and keyboards/mice.