When we reviewed the HP Spectre x 360 convertible 13.3" Ultrabook a year ago, we called it "Bob", short for Best of the Best. That's a hard act to follow, but we suspect HP will be happy if the 15" version is half as successful as their very popular 13" model. The HP Spectre x360 15t is indeed a super-sized version with the same lovely design, and it has most of the same specs and even the same slim 16.9mm thickness. The aluminum alloy with polished stainless accents and curves in the right places make the bigger model every bit as attractive and desirable looking. That's an accomplishment, because designs don't always scale nicely to larger sizes.
So what's the catch? These days folks expect dual core ULV Ultrabook CPUs in their 13.3" laptops, but the 15" crowd is more diverse, with some wanting or even expecting a more powerful laptop with a quad core CPU and even dedicated graphics. The HP Spectre x360 15" is not a quad core powerhouse. It has the same processing power as the 13" model. If you're reading this because you want a powerful, larger laptop for heavy 3D gaming, professional CAD work or frequent 4K video editing, this is not your machine. If your needs are average--MS Office, streaming video, developing small to mid-sized PC programs or mobile programs and photo editing, then the big Spectre (as well as the small one) will do the job admirably. In return for the Ultrabook internals, you get a relatively light and thin laptop. It weighs just 4.1 lbs., which is lighter than even premium (thin and light) powerhouse portables like the Dell XPS 15, Asus ZenBook UX501 and MSI's Ghost and Phantom lines. The charger is tiny and light while the chargers for those more powerful machines are large and heavy.
Specs at a Glance
There are two pre-built configurations available via HP's website and at retailers like Best Buy: a $1,149 model with a dual core Intel 6th generation Skylake i5 CPU, 8 gigs of RAM, a 256 gig SSD and a 1920 x 1080 full HD Display. The $1,349 model we're using for this review is very nicely configured for the price. It has a 4K display, dual core Intel i7 CPU, 16 gigs of RAM and a 256 gig SSD. Both models have glossy touch screens and they support the HP Active Stylus, a Synaptics digital pen that's sold separately for $60. It is not the same as the Wacom AES pen for the HP Spectre x2. You can tell them apart by looking at the pen's body: the Wacom pen for the x2 has a clip on the side.
Both Spectre x360 15 inch models have Intel HD 520 integrated graphics, Intel 7265 dual band WiFi 802.11ac (curiously a last generation Intel Broadwell wireless card rather than the current generation 8260), Bluetooth 4.1, a backlit keyboard and an extremely compact 45 watt charger. HP's website lists a Core i7 with the somewhat more powerful Intel Iris graphics though we weren't able to select that option when going through the build to order process in the US.
Ports
The HP Spectre x360 15t has three USB 3.0 ports, both HDMI and a mini DisplayPort, 3.5mm combo audio, an SD card slot and a USB-C 3.0 port. It's not USB-C 3.1 alas, so it can't drive a USB-C display adapter, graphics amplifier or handle USB-C 3.1 multifunction dongles that have Ethernet, USB 3.0 and display ports. I'm afraid HP included the USB-C port to seem forward looking and trendy, but in order to keep costs down it's a hobbled 3.0 port.
Design and Ergonomics
This is truly a bigger version of the 13.3" Spectre x360 that's been on the market for a year. It has the exact same industrial design, and that's fine by us because it's striking looking, tasteful and fingerprint-resistant. The casing is all aluminum alloy and it's a unibody design with a removable bottom aluminum cover (affixed with Torx T5 screws). The Spectre looks like and is a quality piece of hardware with great attention to design and detail. There are no sharp edges and the design flows from the angular, slim front to the dual rounded rear sections where the lid meets the body. There's no flex in lid or base. The polished flat cut sides contrast nicely with the rest of the machine's matte finish (a look started by Samsung with the Series 9). The firm geared hinges are covered in a stainless finish too.
The laptop has 360 degree hinges so you can rotate it beyond flat to presentation, tent and tablet modes. At 4.1 lbs., you likely won't use it as a tablet without a sturdy resting place, but presentation mode is handy for movie watching, as is tent mode. The machine is available only in natural silver; a light silver color with a matching keyboard that presents challenges. Like the 13.3" model, it's easy to see key maskings in bright light and in darkness with the white backlight on, but in middling light the backlight can make the letters disappear. HP addressed this with the somewhat more expensive ash silver model in the 13.3": it's a dark, dusky matte gray-black with copper highlights. But that color isn't available in the 15" as of this writing.
HP switched from Beats to Bang & Olufsen audio a few years back, and that hasn't improved audio volume from the stereo speakers. Sound quality is fine, but not very loud or full, despite the top deck placement surrounding the keyboard. Headphone audio is thankfully quite good, but the speakers are by no means loud.
The laptop runs quiet and cool unless playing a 3D game like Bioshock Infinite (possible at 1366 x 768 resolution on low to medium settings) or exporting 4K video. Given the very slim design and metal chassis, we're impressed with the cooling.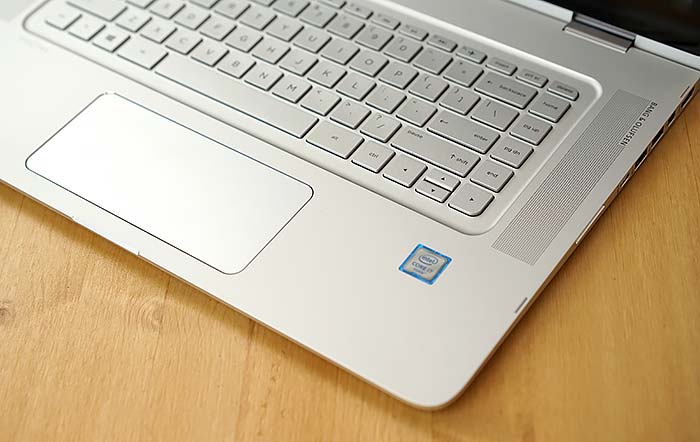 Display
The HP Spectre x360 15t is available with a 15.6" full HD 1920 x 1080 display or a 4K 3820 x 2160 display (both IPS). As with the 13.3" Spectre x360, the lower resolution display will consume less power and is brighter. We have the 4K display that has a good 98% of sRGB and 75% of Adobe RGB, matching the competition in this price range. Gamma veers from standard 2.2, to 2.6, but with calibration the display is accurate enough for pro photo and video editing for web-based sRGB content, and the hardware white point of 6800K is closer to ideal than many laptop displays. The 4K display's brightness is a weak point at 164 nits, which is well below the near 300 nit category average. It's fine for indoor use, but a bright room makes the display fade and glare from the very glossy display becomes distracting. It's a very pleasing looking display for photo and video viewing, with natural colors, wide viewing angles and good contrast... only the brightness lets us down in brightly lit environments like sunlit rooms or very well-lit offices.