Home > Laptop Reviews > HP Stream 11 and Stream 13

HP Stream 11
What's Hot: Good quality at a crazy low price. Good keyboard, excellent battery life.
What's Not: Display isn't terribly good, vibrant blue and pink casing colors aren't for everyone.

Reviewed January 3, 2015 by Lisa Gade, Editor in Chief (twitter: @lisagade)
What's electric blue, has an island style keyboard and costs just $199? The HP Stream 11, of course. We have to hand it to HP, in a world of look-alike laptops and cheesy-shiny plastic netbooks, the Stream is probably the only product you could describe in this way. But for those who prefer pink, it's also available in that color. Just in case you thought the netbook rage had come and gone several years ago, Google has brought it back with the Chromebook. Though network connection dependent Chromebooks are in some ways less capable than Windows laptops like the Stream, they're selling well in the educational market and even consumers are intrigued because they're so cheap. Microsoft doesn't want to lose the educational market and HP turned out to be the perfect partner. Why? HP is big enough to make high volume low cost devices, and they put a focus on style and homey good looks. The Stream 11 has that aplenty with HP's signature back bevel and logo on the hinge area, fairly complex curves and a brightly colored matte finish that don't look in the least cheap.
Just in case you think the 11.6" Stream is a bit small, HP also makes the $229 Stream 13. Want a touch screen on that 13.3" model? That will cost you $279. Should you want 3G HSPA+ cellular networking (via T-Mobile) since some Chromebooks offer that feature, you'll be paying $299. The Stream 11 currently has no touch screen or 3G options. These are list prices, and you may find the Stream 11 and particularly the Stream 13 models for a few bucks less. Given the budget price tag, all models ship with single band WiFi 802.11n and Bluetooth 4.0.
The HP Stream feels sturdy and child-safe thanks to the scratch resistant and fingerprint proof durable matte polycarbonate casing. It doesn't creak or twist and the keyboard deck is very firm. In fact, it's actually lovely to type on, with good tactile feel and decent travel. Sorry, there's no backlighting at this price. The trackpad doesn't live up to the excellent keyboard: single finger gestures work fine but multi-finger gestures are hit and miss. The machine runs cool and is silent since it uses a fanless design.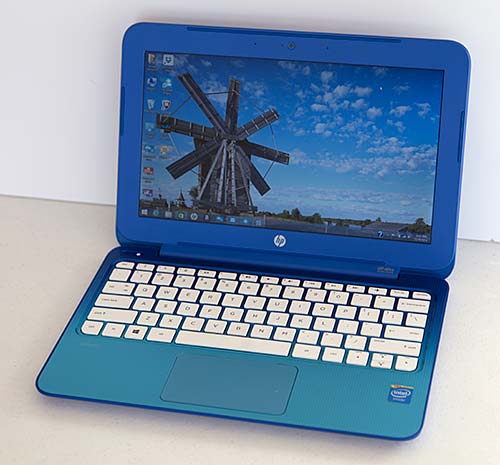 This 2.8 lb. laptop has a USB 3.0 port and a USB 2.0 port, HDMI, 3.5mm combo audio, webcam and an SD card slot. SD cards don't stick out, so you can carry it with a card always in the slot. That's good news because the pain point here, as with budget Intel Atom Windows 8" and 10" tablets, is limited storage. The HP Stream has just 32 gigs of internal eMMC flash storage, and only 14.4 gigs are available for your use (the Windows 8.1 OS and recovery use up the rest). Though Metro Live Tile apps aren't very big, this is a standard Windows 8.1 64 bit laptop that can run traditional desktop programs, and those can be space hogs. Then again, with a dual Core 2.16 GHz Intel Celeron N2840 CPU, the Stream 11 and Stream 13 aren't made for heavy lifting. They're fine for MS Office (a 1 year subscription to Office 365 is included, plus 1 TB cloud storage), email, occasional image editing and streaming 1080p video. It's not the machine for software development, frequent HD video editing or playing desktop PC games. It may not be sluggish like a netbook, but it's not clever enough to replace your main PC unless your workload is undemanding. Performance is similar to current quad core Intel Atom CPUs commonly used in budget Windows tablets.
The Stream 11 and 13 have 2 gigs of RAM, which allows for limited multitasking: having Outlook, Word and a web browser running at the same time is fine. But don't throw Chrome (a memory hog) with 10 tabs open into that mix, or Adobe Photoshop. You can run any of these programs, but not all at once in other words--the machine will falter and slow down. 2 gigs of RAM is common in Intel Atom Windows tablets and the few netbook style machines still on the market. Ultrabooks and larger laptops ship with 4 to 8 gigs, and are meant for more serious work as your main PC. Still, the HP Stream 11 doesn't feel sluggish like the Windows XP netbooks of old, as long as you don't run too many programs at once. It's actually a fairly responsive machine when web browsing, navigating around Windows and working in MS Office. It's not all roses though: if you have a recent vintage Windows PC, you'll notice that things like Windows updates take 3 to 5x longer compared to an Intel Core i5 laptop. Likewise, converting a 720p video in Handbrake will take that much longer too.