Performance and Horsepower
Lenovo went with Intel third generation Ivy Bridge Y series CPUs that came out many months after Ultrabook ULV CPUs started shipping. The Y series targets Windows tablets and small Ultrabooks, and it runs at slightly lower clock speeds than U series CPUs. It has a dual voltage design so it consumes even less power than U series CPUs. The Y series typically performs a bit slower than U series counterparts, but the difference isn't huge as it is with Intel Atom vs. Core CPUs.
Lenovo offers the Yoga 11S with your choice of a 1.4GHz i3, 1.5GHz i5 or 1.5GHz i7 CPU. Benchmarks are a bit lower than U series counterparts, and our Yoga with the 1.5GHz Core i5, 8 gigs of DDR3 RAM and a Samsung mSATA 256 gig SSD scored 3,837 on PCMark 7, which is a bit below the 4,300- 4,600 we see with Core i5 U series Ultrabooks. We'd love to see how long the Yoga 11S could run on fourth gen Intel Haswell CPU Y series CPUs, but those only recently entered production. That said, so far Haswell hasn't brought significant performance improvements.
Benchmarks
(1.5GHz Core i5-3339Y, 8 gigs RAM, 256 gig SSD)
PCMark 7: 3837
wPrime: 32 sec.
3DMark 11: P497

Windows Experience Index:
Processor: 6.4
RAM: 7.2
Graphics (for desktop): 4.7
Gaming Graphics: 6.2
HDD: 8.1
PCMark 7 Benchmark Comparison Table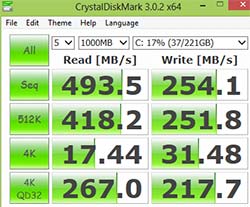 Battery Life
Battery life is good, as you'd expect from a very low voltage CPU, but we can't help but wonder how much Haswell would improve things since Intel's 4th gen Core CPUs are much more power frugal. In fact, the Y series was supposed to be a stopgap since it uses even less power than the standard U series found in Ultrabooks, but we haven't noted significant runtime improvements in laptops and tablets that use the third gen Y Series CPUs. Lenovo claims 6 hours for the Lithium Ion battery that's sealed inside, and we averaged 5 hours with brightness set to 50% and WiFi on.

Conclusion
The Lenovo Yoga 13 was a huge hit, and we can't blame the company for capitalizing on the design by bringing it to smaller and larger models. It's still attractive, wildly versatile and sturdy. You won't sacrifice laptop ergonomics or keyboard quality as you often do with other Windows 8 convertibles, yet it works nicely as a (heavy) tablet. The price is nice too, but the Yoga 11 faces competition from the HP Split x2, Sony Vaio Duo 11 and even Surface Pro 2. For those who want a notebook first, and don't want to break the bank or sacrifice keyboard and screen quality, the IdeaPad Yoga 11S is worth a look.
Price: Starting at $799 for base Core i3 model up to $1,349 for Core i7/8 gigs/256 gig SSD
Website: www.lenovo.com
Related Reviews: