ThinkPads are durable, have great keyboards and are relatively upgradable, but they're generally not inexpensive. Lenovo has experimented with affordable ThinkPads like the Edge series, but they weren't the best looking and the specs were decidedly low end. With the ThinkPad 13, Lenovo has made a business quality Ultrabook that's extremely affordable--our base Core i3 review unit starts at $510, and a nicely configured ThinkPad 13 with an Intel Core i5 processor, 8 gigs of RAM, a 256 gig SSD and a full HD display is currently $682 on Lenovo's website. In a world where most ThinkPads are over a grand, that's certainly easier on the budget.

Something has to give for the lower price, and in this case there's little lost unless you're hunting for top specs like a very high resolution display, faster PCIe SSDs or a touch screen. The 3.17 lb., 0.75" thick laptop has a sturdy build with no flex, and the lid is aluminum while the rest is a mix of ABS and polycarbonate plastics. It's passed 8 MIL spec tests for temperature, sand intrusion and vibration. It's also available in silver just in case the usual ThinkPad matte black is too dull for you.

Specs are decent but there are no high end options--after all, Lenovo has more expensive lines if you want top features. It's available with Intel Skylake 6th generation dual core Ultrabook 15 watt CPUs with Intel HD 520 graphics--your choice of Core i3 or Core i5. You can get it with 4, 8 or 16 gigs of DDR4 (not the usual slower DDR3L RAM used in most competing Ultrabooks) and a 128 or 256 gig M.2 SATA3 SSD. The laptop has Intel's higher end 8260 dual band 802.11ac 2 x 2 WiFi with Bluetooth 4.1. It does not have a backlit keyboard, but it does have stereo speakers with good volume and reasonable fullness and a 720p webcam.
The laptop is refreshingly upgradable, though getting the bottom cover off is a chore. There are 9 Phillips head screws, and three are hidden under rubber plugs at the front end. These plugs are a pain to get out, and when you replace them, put them back in the right hole (they're not identical). Then there are the myriad contentious plastic clips. Use a plastic spudger or some thin piece of plastic to work the bottom off. When you're finally inside, you'll have access to the battery, the M.2 SATA3 SSD slot (not compatible with faster PCIe SSD drives), two (yes two!) RAM slots and the socketed wireless card. It's uncommon to see a RAM slot, let alone two on a 13" Ultrabook.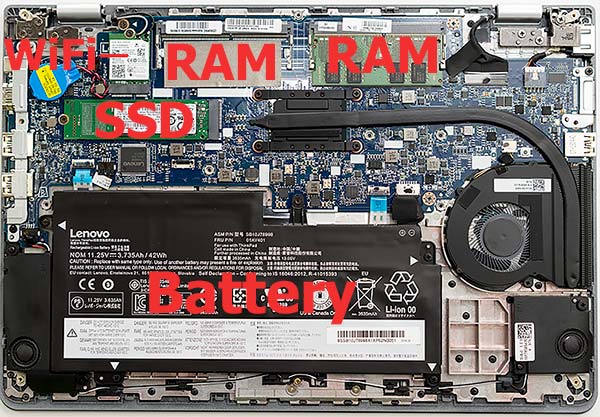 Ports are good, and we even have a USB-C gen. 1 port (5 Gbps, same speed as USB 3.0) that supports DisplayPort and charging. The laptop has three USB 3.0 ports, HDMI, 3.5mm combo audio, an SD card slot and a lock slot.
We have the base model with the 2.1 GHz Intel Core i3-6100U dual core CPU, 4 gigs of RAM and a 128 gig SSD. Benchmarks are thus as low as they go for this model, with performance in benchmarks that sits well below the Core i5 and is similar to the Core M series (though the Core M can't long sustain the clock speeds that the Core i3 uses as its baseline). We expect that the Core i5 model with 8 gigs of RAM would closely match other recent laptops running on those same specs.
Benchmarks
PCMark8 Home Accelerated:  2888
Geekbench 3: 2396/ 5215
wPrime: 20.75  seconds
Keyboard and Trackpad
This is every bit a ThinkPad keyboard with the ergonomic, sculpted keys, good key damping and adequate key travel unconstrained by skinniness. I love everything about it except the fact it's not backlit. If you're a writer, this is a great keyboard. It has the usual ThinkPad TrackPoint eraser stick pointer nestled in the keyboard and three hardware buttons at the top of the trackpad for that pointer.
The trackpad is made by Elan rather than the usual ThinkPad Synaptics unit, and it's actually quite good, with reliable tracking and a variety of multi-finger and edge scrolling features supported in the control panel (not quite as full-featured as high end ThinkPads).