Home > Notebook Reviews > Lenovo ThinkPad T431s

Lenovo ThinkPad T431s
What's Hot: A slim and light ThinkPad Ultrabook that's sturdy, upgradable and has Lenovo's usual excellent backlit keyboard.
What's Not: Display is abysmal: very narrow viewing angles, mediocre contrast and colors.

Reviewed June 30, 2013 by Lisa Gade, Editor in Chief (twitter: @lisagade)
The ThinkPad T431s is Lenovo's slimmed down T series laptop model that shares just enough DNA with the Lenovo ThinkPad Carbon X1 to quality as a sexy business ultraportable. This is a 14" Ultrabook that's currently available with third generation Intel Ivy Bridge ULV Core i5 and i7 CPUs. At 0.80 inches and 3.6 lbs. it's quite portable, yet as you'd expect from a ThinkPad with an internal metal roll cage, it's rugged. Yes, the T431s is a bit heavier than 3 lb. Ultrabooks, but there's a reason: the hard drive, RAM and wireless card are upgradable. The 47Whr battery is sealed inside (there are no latches to swap it out easily), so you'll have to open the machine to access the battery (which isn't hugely difficult). The ThinkPad T431s is available with 4, 8 or 12 gigs of DDR3 1600MHz RAM (4 gigs are soldered on board and there's one standard SODIMM slot), and it ships with your choice of a conventional hard drive or an SSD drive. The price starts at $925 for the base Intel Core i5 model with 4 gigs of RAM and a 320 gig 7200 RPM HDD.
Lenovo's excellent Accutype keyboard is here with the smile shaped keys and great tactile feel. Travel is quite good for a highly portable machine, and this is a typist's dream. Keyboard backlight is available as an option, and our model has that feature. Yes, this is the new style Lenovo keyboard introduced last year so the PrtScr key is gone (I doubt most will miss it). The revised, oversized glass trackpad is the trendy buttonless type. Doubtless, ThinkPad traditionalists will lament the loss of dedicated buttons for right and left click, but we found it very functional and responsive. Lenovo's TrackPoint is here (the red eraser stick pointer nestled between the G and H keys), and the top edge of the trackpad functions as the left and right click buttons for the TrackPoint.
The machine has dual band Intel Centrinoo 6235N WiFi 802.11b/g/n, Bluetooth 4.0, RJ45 Ethernet and two USB 3.0 ports (one on each side). It has a mini DisplayPort but no HDMI (you can use a mini DisplayPort to HDMI dongle adapter), an SD/MMC card slot, SmartCard slot/fingerprint reader/TPM option and a Kensington lock slot. There's a dock port on the bottom that works with Lenovo's dock and mini dock. So all the creature comforts you'd expect from a Lenovo ultraportable ThinkPad are here.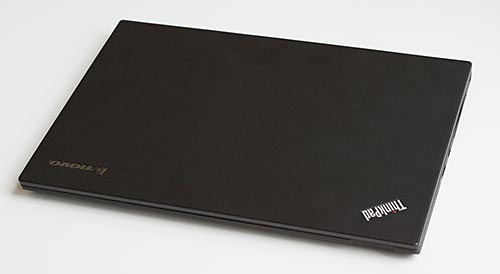 Now for the bad news. The 14", 1600 x 900 resolution is perfectly fine for a display this size. I don't see a need for full HD on a business machine, at least not until Windows 8 handles scaling better on the desktop. But the TN panel is wholly mediocre. Viewing angles are narrow (at least this is a boon for privacy), so you'll have to angle the panel back and forward to find the sweet spot. Fortunately the display hinge has wide range and you can even open it flat at 180 degrees, a Lenovo signature feature. Regardless of angle, contrast is poor and the color gamut is limited. Granted, the ThinkPad T431s targets business professionals rather than graphics jockeys, but contrast is something we all appreciate and it's sadly lacking here. Text is simply more challenging to read due to the lack of contrast, and we wish that Lenovo had an IPS panel option. This is not a touch screen laptop. It's available with your choice of Windows 8 64 bit or Windows 7.