Home > Laptop Reviews and Windows 8 Tablet Reviews> Lenovo ThinkPad Twist (S230U)

Lenovo ThinkPad Twist
What's hot: Relatively affordable, excellent keyboard, IPS display.
What's not: Battery life so-so with HDD option (SSD is better), a well-configured Twist borders on ThinkPad X230t pricing.

Reviewed December 30, 2012 by Lisa Gade, Editor in Chief (twitter: @lisagade)
The Lenovo ThinkPad Twist joins the small number of convertible Windows 8 tablets to hit the market after the launch of that new operating system at the end of October 2012. The Twist looks like a standard ThinkPad or ThinkPad Edge compact system until you open it up and try out the center swivel hinge that allows you to use the Ultrabook like a laptop, as a tablet or in presentation mode. The 12.5", 350 nit brightness IPS display is sharp and colorful. Better yet, it has 5 points of capacitive multi-touch, though there's no digital pen option as with the ThinkPad X230t.
The ThinkPad Twist is a relatively affordable machine that at first was going to be a part of Lenovo's affordable Edge line, but the company created a new category for the Twist. Like Edge machines, it has that ThinkPad look and Raven black soft touch finish, but the chrome accents and occasional gloss that are telltale Edge touches. Lenovo calls this 3.5 lb. machine an Ultrabook, and though it's a little heavy for that designation, it has all the key elements: third generation Intel Core i3/i5/i7 ULV CPUs, Intel HD 4000 graphics, 4 or 8 gigs of DDR3 RAM and your choice of a spinning hard drive with a small caching SSD or a full 128 gig SSD drive.
Keyboard and Trackpad: ThinkPad Goodness
As you'd expect from a ThinkPad, the Twist is a sturdy and understated laptop with a superb keyboard and very good Synaptics trackpad plus Trackpoint. Alas, the keyboard isn't backlit, but that's our only qualm. The keyboard, as you'd expect from a ThinkPad, is exceptional with good key travel and tactile feedback. The keys are roomy and the "smile" curve makes them comfortable and distinct from each other.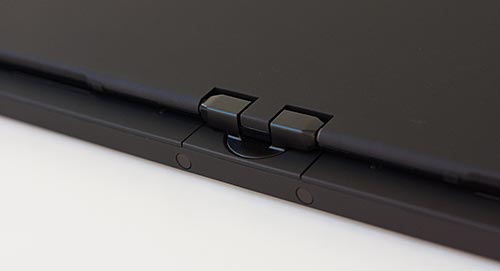 Design and Ergonomics
The build is solid and the unidirectional traditional center swivel hinge that's been used on Windows Tablet PCs for a decade is strong. There is a little bit of wobble when you poke at the screen with a finger, and so far slider designs do the best job of fighting wobble.
Below the soft touch black finish a metal casing keeps the laptop safe from occasional bumps and thumps. As with all ThinkPads, we expect this one to tolerate more abuse than the average plastic notebook. There's no chassis flex and it feels like and is a well made computer. The exterior and keyboard deck are matte but the display surround is a gloss black plastic that cheapens the look a bit. But this is an Edge system, and that means occasional gloss and chrome bits that are flashy and distracting from the overall stately design.
The tablet's power button is on the right edge of the display, as is the rotation lock button. There are volume controls on the Fn row of the keyboard and just below the display so you can access them in tablet mode.
Display
Unlike the 1600 x 900 Lenovo IdeaPad Yoga 13, the Twist's display is the more common 1366 x 768 resolution. It looks sharp enough, though it's obviously not as razor sharp as full HD displays like that of the Sony Vaio Duo 11 and Dell XPS 12 convertible Windows 8 Ultrabook-tablets. Still, this is a high quality IPS display with wide viewing angles and good colors, and it's protected with Gorilla Glass. The display is glossy and it does have the usual glare you'd expect from a Gorilla Glass gloss display. The 350 nit display has good brightness and it supports 5 points of capacitive multi-touch but there is no digital pen option (you can use a capacitive stylus, which is less accurate).