The MSI GT72 Dominator Pro G is that cutting edge gaming laptop with a drool-worthy list of up to the minute components and features that you'd expect from a boutique brand. There's no last gen CPU here; you get the Intel 5th generation Broadwell CPU most gaming laptop manufacturers skipped since it was so delayed. It runs Windows 10 out of the box- you don't have to upgrade it. MSI has been on an impressive roll this year and they've been refreshing their specs like mad to upgrade to the new CPU line, include NVIDIA graphics cards at launch and now they've added USB 3.1 and G-Sync for better gaming visuals in the latest Dominator Pro. The MSI GT72 Dominator Pro G-1666 is the new version of MSI's 17.3" desktop replacement and gaming laptop. The Pro G model runs on the Intel Broadwell 5th generation quad core i7-5700HQ 2.7 GHz CPU with Turbo Boost to 3.5 GHz. The "G" stands for NVIDIA G-Sync technology that syncs the graphics card and display refresh rates to reduce visual tearing. It has a lovely 17.3" matte IPS 1920 x 1080 display with a 75Hz refresh rate.

The Dominator Pro G is available with the NVIDIA GTX 980M 4 GB DDR5 (our $2,099 model) or the GTX 970M 3 GB DDR5 in the $1,499 model (MXM upgradable graphics cards for both). It has 16 gigs of RAM in 4 slots (32 gigs max unless you go with 16 gig modules), 4 M.2 SSD slots (available in RAID0) and a 1 TB, 7200 RPM HDD. The laptop has a SteelSeries full color backlit keyboard, Killer WiFi 802.11ac and Ethernet, stereo Dynaudio 3 watt speakers and subwoofer, and a Blu-ray burner. The 8.4 lb. laptop has a black aluminum lid and an easily removable plastic bottom panel for upgrades. It competes with the Asus ROG G751 and Alienware 17. It's well worth a look if you want cutting edge specs in a cool and quiet laptop that doesn't throttle.
Design and Ergonomics
Esthetically, I'm neither a fan of nor displeased with MSI's gaming laptop designs. It looks a bit more like a traditional laptop rather than an overstated gaming rig (good for work, not as much fun at gaming parties). They have achieved a design uniformity: the super slim and light GS60 Ghost Pro and the Dominator GT72 are recognizably from the same line now. The sleeker GT72 is a great esthetic improvement over the older GT70 line, and its 1.89" thickness suits the machine's overall dimensions so it doesn't look super-chunky. Like Asus with the ROG G751, MSI hasn't gone overboard with slimming the laptop as Alienware did with their 2015 models. The MSI and Asus G751 might not be as slim as the 1.34" thick Alienware 15 and 17, but we're OK with that because there's plenty of room for larger, quieter fans and more cooling inside. That means the laptop is nearly silent when doing productivity tasks, streaming 1080p video and working with pro apps like Adobe Photoshop and even Premiere Pro. When gaming the fans are audible, but they aren't what I'd call loud. The keyboard never rises above human body temperature and the bottom remains cool enough for use on the lap (though at 8.4 lbs. you may find it tiring on the legs).
The lid is black brushed aluminum and it attracts fingerprints aplenty. The rest of the casing is durable black plastic. The keyboard deck's front edge is rounded so it doesn't dig into the wrist or hands, but it lacks Alienware's and Asus ROG's elegant soft touch finish. The bottom panel is removable and grants access to a plethora of upgradable internals: a 2.5" SATA drive bay, 4 M.2 2280 SSD slots with SATAIII for RAID0 compatibility, 4 RAM slots, a socketed M.2 wireless card and an MXM graphics card slot. MSI continues to use thin lids, so there's some flex if you bend the panel intentionally- why would you do that, though? The hinges are adequate but not as bounce-resistant as Alienware's super-stiff display mounts.
As with previous MSI gaming models, you get multicolored LED lighting with 3 keyboard zones, front edge lights and a light-up MSI dragon logo on the lid. You can customize the colors or turn off backlighting when you want to be subtle at work. The keyboard deck has 4 quick access buttons, one of which cycles through the 4 LED lighting presets, another that sets the fans to max (I can't imagine needing to do so), a button for switching between integrated and dedicated graphics and a program launcher. The top button is the on/off switch.
MSI gaming laptops have excellent speaker systems that are louder and fuller than other gaming laptops. The Dynaudio 2.1 speaker system has 3 watt stereo speakers and a subwoofer. MSI switched from the very good Creative Cinema 2 software to Nahimic. I have no qualms with the switch though some users prefer the old solution. The machine has four 3.5mm audio jacks: 1 headphone/SPDIF, 1 mic, 1 stereo line in and 1 line out for speakers and surround sound systems.
Ports abound on this big machine: 4 audio, 4 USB 3.0 ports, 2 USB 3.1 ports (standard USB connector rather than USB-C), HDMI, 2 mini DisplayPort, Gigabit Ethernet and an SD card slot. Killer E2200 Ethernet and Killer 1525 WiFi 802.11ac are standard.
SteelSeries Keyboard and Synaptics Trackpad
Thankfully MSI has moved away from the simply awful Elan trackpads of old. Synaptics makes excellent trackpads, but somehow MSI has found a way to make it less than perfect. Tracking reliability and accuracy are excellent and pinch zooming works well, but two-finger scrolling works only 50% of the time. Perhaps we'll get a firmware or BIOS update to improve this: our machine already got one that improved trackpad performance a bit. The trackpad is delineated by an LED outline, but there's no physical separator (it's one with the deck). That means your finger can wander off the trackpad, but it's large enough that this didn't happen often. The trackpad has two buttons (plus), but they're much too stiff (minus).
The SteelSeries Chiclet keyboard is excellent. I confess to slightly prefer the Alienware keyboard, but the MSI has deep key travel, is uniform in required pressure and as promised it doesn't ghost in games. The keys are a bit small for a 17" laptop and the number pad is crammed close, but overall this is a keyboard that's a pleasure to type on at length and it works perfectly in games.
Display and G-Sync
Good times, we have a 17.3" IPS display with 75Hz refresh rate and a good color gamut of 93% sRGB and 72% of Adobe RGB. Color tuning out of the box on the default sRGB mode was quite good and was suitable for professional graphics work and photo editing. It's also very bright at 323 nits and since it's a matte display it seems even brighter because it doesn't have to fight glare. This is a non-touch display with a resolution of 1920 x 1080. Black levels are average at 0.48 at max brightness and contrast is good at 670:1, but not as high as the 2015 Alienware models. 17" laptop displays don't get the R&D love that 13 and 15 inch panels do, so there are no 3K or 4K panels commonly available on the market as of this writing.
MSI standardized on the LG IPS panel with high refresh rate to comply with NVIDIA G-Sync requirements. What's G-Sync? It keeps the video card and display refresh rates in sync to reduce screen tearing and make gaming graphics look smoother overall. It's very effective and a better solution than Vsync that artificially caps games at 60 HZ (since that's a common display refresh rate). It's effective, and even when playing at lower frame rates games are playable thanks to the smoothness and proper syncing of screen with the game.
Horsepower, Performance and Temperatures
It's chillin' here: MSI has been making gaming motherboards, graphics cards, laptops and desktops for some time, and their expertise with cooling is impressive. The MSI GS60 Ghost Pro impressed us with its quad core i7 and GTX 970M graphics in a crazy slim, 4.5 lb. chassis--it got (relatively) hot and loud but has kept on ticking for 9 months since I bought it. With the much roomier and thicker 17" chassis on the GT72 Dominator line, MSI has room for larger fans that are both effective and quieter. There's also plenty of room for heat sinks and pipes, so this machine runs impressively quiet and cool despite being one of the most powerful laptops on the market. If you can bear the weight, the GT72 with the top of the line NVIDIA GTX 980M graphics card stays cool enough to game with the notebook on your lap (it helps that heat is vented through the back edge). You won't need to crank up the volume from the excellent Dynaudio 2.1 speaker system to drown out the fans. Sweet. When gaming with today's most demanding titles the CPU cores rarely passed 65 C, and the GeForce GTX 980M ran at 54 to 70 C. That's well below the thermal ceiling and we saw no thermal throttling even after an hour of gaming. Though the machine is quiet and relatively cool, I do suggest using a passive laptop cooler that keeps the bottom air intakes clear--it reduces CPU and GPU temps up to 10 C. The 230 watt power supply is adequate for this graphics card, so it doesn't throttle to reduce power consumption when plugged in.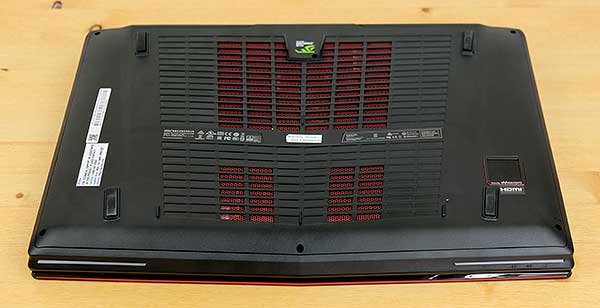 Broadwell 5th generation 47 watt quad core CPUs have been almost a no-show since Intel delayed them so long (soon, Skylake 6th gen will be announced). Better late than never, and we're glad that MSI chose to release laptops with the Core i7-5700HQ. This is a standard laptop BGA CPU that's soldered on board since Intel no longer makes socketed laptop processors (these were only used on a handful of high end gaming laptops, so we can understand why Intel didn't find it economically worthwhile). The 2.7 GHz CPU has Turbo Boost to 3.5 GHz and it can maintain that boost without throttling early. Broadwell represents a 5% performance gain over Haswell, and more important for laptops, it's a cooler and more power efficient 14nm CPU vs. Haswell's 22nm (Skylake and the next gen Kaby Lake will also be 14nm). That said, it's not a night and day difference from Haswell, but every little bit helps. Skylake should bring another 5% performance improvement but likely little new in the cooling department. For those of you who thought this paragraph was techno mumbo-jumbo, here's a quick translation: this laptop currently runs the latest generation quad core laptop CPU, and it's one of the very few to do so as of this writing. It's extremely fast and this laptop can handle the most demanding tasks from video editing to 3D gaming and CAD. You won't find a laptop appreciably faster than this.
The Dominator Pro G is available with your choice of a GeForce GTX 970M 3 GB DDR5 or the GTX 980M 4 GB DDR5 in our review unit. Both are latest generation Maxwell architecture and support NVIDIA G-Sync. The 980M is the fastest and most expensive graphics processor in this generation of NVIDIA graphics cards. Expect to play today's top titles on high settings and 1920 x 1080 resolution at 60 fps or higher. It can play quite a few games on ultra settings. If you want the best money can buy, the Pro G and the much more expensive 18.4" MSI GT80 Titan are it in MSI's lineup.