Home > Windows Tablet Reviews & Laptop Reviews > Wacom Cintiq Companion 2

Wacom Cintiq Companion 2

What's Hot: Excellent pen experience for art with little jitter, smooth flowing lines and great palm rejection. Lovely Wacom Pro Pen included.

What's Not: Heavy, stand is awkward and flimsy. Display not very bright and is grainy. Fan is often on and is loud. Battery life is poor.

Reviewed March 1, 2016 by Lisa Gade, Editor in Chief (twitter: @lisagade)

Several years ago, the Wacom Cintiq was the only game in town if you were serious about digital art. It was a vast improvement over Wacom pen tablets that connected via USB and acted as remote drawing boards, not unlike a trackpad that worked with Wacom's digital pens rather than your finger. Many pros got used to drawing at a remove, looking at their creation on screen, while drawing on the tablet. The Cintiq was a leap ahead--Wacom had been making tablet PC digitizers (displays you could write and draw on) for several years, so why not make an accessory tablet that was an actual display you could directly draw on. The Wacom Cintiq Companion and now the Cintiq Companion 2 are a further development: they are actual PCs in a tablet form factor. They supply the brains, ports, memory and storage. The Cintiq Companion 2 is not unlike Windows tablet PCs that have been around since circa 2001 and are now best represented by the Microsoft Surface line, various Lenovo ThinkPad Yogas and Vaio Z models. So why buy a Cintiq when Microsoft seems to have bona fide hits with the Microsoft Surface Pro 4 and Surface Book, and Lenovo's offering compelling ThinkPads that use Wacom's own technologies? Ergonomics for art work and Wacom's attention to the art community. The Cintiq isn't something you'd buy as a normal portable PC, it's purpose built for art.

Design and Ergonomics

So what does being built for art mean? The Cintiq Companion 2 looks nothing like a Windows tablet PC, though it can do the same tasks. It looks like a Wacom Cintiq (a display you can draw on) and the USB Wacom tablets that you draw on (with no display). As a Windows tablet PC it looks very strange, but as a drawing tablet, it looks perfectly normal. The Cintiq Companion 2 has a very large bezel by design (you have places to grip it and rest your hand, and space for the various ExpressKey quick controls). It has 4 feet on the back so you can rest it on a table when drawing. It's not super-thin and it's not in the least bit sexy. This isn't a consumer oriented design with looks intended to seduce you into whipping out your Visa card on a whim. The price ($1,399 for an undesirably weak configuration to $2,499 for our high end model) is beyond the typical consumer price range, though we've seen high end Surface Book and Vaio Z Flip / Vaio Z Canvas models flirt with the same price points.

The tablet weighs 3.75 lbs., which is heavier than most of us would feel comfortable holding in our hands or even on our lap for extended drawing sessions. It's designed to be used on a table, with or without the included plastic stand that offers three angles of repose. The stand looks and feels kludgy but it does get the job done as long as you make sure to align the plastic tips on the stand with the slots in the tablet's back. The Companion 2 is a sturdy unit that has absolutely zero flex and it hurts if you drop it from the table onto your foot as I did (the bruise lasted 5 days!). It's not designed for a tour in war torn areas, but it can handle more bumps and drops than a delicate consumer tablet.

The Companion 2 has 3 USB 3.0 ports, a mini DisplayPort, an SD card slot, microSD card slot, 3.5mm combo audio and an HDMI-out port should you wish to use it as a Cintiq display (with drawing capabilities) with a Windows or Mac PC. All ports are on the right side, while volume and power are on the left if you're right handed and use it with ExpressKeys on the right (Wacom has a left handed mode that reverses the arrangement, which I use in our video review). The battery is sealed inside and the machine has vents as would any Windows tablet computer. It never got burning hot in our tests, but the fan was often on and was fairly loud even when using it for drawing in Photoshop. The machine isn't designed to to be owner-serviced, though adventurous types might attempt to remove the back to gain access to the SSD and battery.

Specs at a Glance

This is a dual core Windows tablet that runs on Intel 5th generation Broadwell CPUs with Intel Iris 6100 graphics. It's available with 4, 8 or 16 gigs of DDR3 RAM (soldered on, not upgradable). It has a 13.3", 2560 x 1440 matte IPS display with pen and touch support. The tablet ships with Wacom's excellent Pro Pen in a case that holds 9 spare standard nibs and a nib puller. You can use other Wacom pen-enabled pens with the tablet. It has single band WiFi 802.11n (Intel), rather than the faster, dual band WiFi AC we'd expect at this price point. Bluetooth 4.0, stereo 1.5 watt speakers, a 2MP front and rear 8MP camera are standard. Currently, the tablet is still shipping with Windows 8.1 rather than Windows 10--surprising given how many months Windows 10 has been available. But Wacom makes few PCs, and they're not aggressive with hardware refreshes and software updates (we're still waiting for 6th generation Intel hardware, likely due in part to the delayed release of Intel Iris graphics for the 28 watt Skylake CPU line).

Wacom's Bluetooth keyboard shown in this review is sold separately for $49.95.

Display

The Cintiq Companion 2 has a 13.3", 16:9 QHD 2560 x 1440 IPS display with near full sRGB color gamut (93%) and 74% NTSC coverage. That's competitive with many $1,000 and higher Windows tablets and Ultrabooks, but not class leading. Wacom claims it has 150 nits of brightness, though our Spyder 4 Pro colorimeter measured ours at 120 nits. That's pretty dim--Surface Pro 4 and Surface Book flirt with a very high 400 nits and many high end tablets and laptops are 300 nits. It's fine for use in a softly lit room, but we had trouble with the display fading under bright lights. Ideally, an artist or photo pro will work in a weakly lit room, where 100 nits is ideal for saturation-luminance accuracy, but I'm not sure how many real world offices allow for cave-like lighting.

The matte surface enhances pen feel, but it adds very noticeable grain that makes text look a wee bit fuzzy. This is a serviceable display, not a sexy wide gamut display with breathtaking contrast. You'd likely choose to watch movies on another device.

The Companion 2 can act as a secondary display for a Windows or Mac PC and the cable is included in the box (it plugs into the HDMI port of your PC). For those who have a powerful desktop computer for their day job but lack a Wacom Cintiq pen display for artwork, this is a useful feature. I suspect that many Cintiq 2 buyers have a lovely Cintiq 22HD or 27QHD pen display provided by their employers, and are purchasing the Companion 2 so they can take work home. But for those who don't work for a large company with a corresponding big budget, the feature is certainly welcome.
Wacom Cintiq Companion 2 Video Review

Performance and Horsepower

In terms of performance, the Cintiq Companion 2 is very similar to the 2015 13" MacBook Pro with Retina display, since the two share the same 28 watt dual core Intel CPU paired with Intel Iris 6100 graphics. Iris graphics has more oomph than HD graphics used in 15 watt Intel Core Ultrabooks and tablets, but less than even low end dedicated graphics like the NVIDIA 940M. Still, it adds a bit of speed when working in Photoshop, 3D modeling and other programs that make use of the GPU.

The 28 watt CPU, as you might expect, is faster than the standard ULV 15 watt Ultrabook and tablet Core line. You'll see a performance boost that is noticeable when using more demanding programs such as the Adobe CC suite, 3D software and even less demanding programs like Clip Studio Paint and Painter 2016. This puts the Companion 2 ahead of the 15 watt Microsoft Surface products and Lenovo Yogas in terms of performance. The Sony Vaio Z uses a similar CPU and graphics, but it's newer generation for a bit of a graphics boost (Intel's integrated GPUs are getting faster while the CPUs creep forward). The Sony Vaio Z Canvas tablet is the fastest of all, with a quad core 45 watt CPU and even faster Iris Pro graphics that you'd normally see only in 15 to 17 inch workstation laptops.

The tablet is available with Core i3, i5 and i7 CPUs. The base $1,399 model is very weak with a Core i3 and only 64 gigs of storage. The Core i5 with 8 gigs of RAM and a 128 gig SSD is the more likely baseline for most folks, and that's $1,599. Our top of the line $2,499 model has a 3.1 GHz Core i7, 16 gigs of RAM and a 512 gig SSD.

Benchmarks

PCMark 8: 3272
wPrime:  14.28 sec
Geekbench 3 (64 bit): 3441, multi-core 7432
3DMark 11: P1905 / X539

Advertisement
Pen and Art
Wacom is the granddaddy of pen input technology. They were the first and thus they've been at it the longest. Some have suggested that they've stagnated thanks to a long and strong lead, but they recently released Wacom AES products to compete with N-Trig. Both Wacom AES and N-Trig use active electrostatic digitizers and pens, where the pen supplies to needed power (usually via an AAAA battery or a rechargeable battery). The two technologies are very compelling and offer competitive pressure levels, palm rejection and passable jitter control. They lack pen tilt sensing--Wacom old school EMR used in the Cintiq and Intuos tablets support tilt detection, as does the upstart iPad Pro. Tilt detection makes a world of difference because we tilt the pen to shade or simulate a palette knife. For those who have high average tilt in normal drawing, tilt detection can help because the digitizer can discern between tilt and actual tip movement (some heavy leaners don't get along with N-Trig). The tablet has 2,048 levels of pressure sensitivity, which is more than most of us can discern--honestly it's hard to tell the difference after 512 or 1,024 levels.
All this adds up to a very smooth, natural and flowing line when drawing. It's not perfect though, and in some ways EMR (electro magnetic resonance) is showing its age. Edge of display detection isn't very good, which is something you can deal with easily by not drawing to the very edge of the screen. But it can make simple tasks like selecting a menu item or tool (these tend to be at the very top and sides of the display) frustrating. The other issue is parallax--pen tip offset from where you think you're actually drawing. Calibration certainly helps, but it will always be there, and until you adjust to this offset, it's awfully easy to accidentally draw cross-eyed people or to miss the mark when going over existing lines to darken them. EMR is however more precise, according to Wacom and I find its palm rejection to be better than AES and N-Trig (and similar to the iPad Pro). What causes the parallax? The pen digitizer layer adds thickness to the display area, so your pen is actually not very close to the LCD layer. That's why it can't be cured by using optically bonded super-thin glass.
What's my preference when it comes to art? My background is as a serious hobbyist who's been drawing and painting (oil and pastel) analog style for decades. I've been using Wacom pen tablets for years too, and have tested or owned N-Trig based solutions as well as the iPad Pro. Personally, I have fallen in love with the iPad Pro's pen--ink flow, tilt response, palm rejection... it's all great stuff. I like N-Trig and Wacom AES but wish the palm rejection were a bit better (worse for me because I'm a lefty and we rest our hands on the glass even more), and their lack of tilt makes things less natural. While the iPad Pro has a fantastic "Pencil", as Apple calls it, the professional art app selection doesn't come close to Windows and Mac OS. If you're a pro and have years racked up in Photoshop, Illustrator, Manga Studio or the title of your choice, the iPad Pro likely won't replace your workflow. So it's back to the Cintiq... assuming you can afford it, or a pre 2015 Lenovo ThinkPad with Wacom EMR if you need a general purpose, cheaper portable.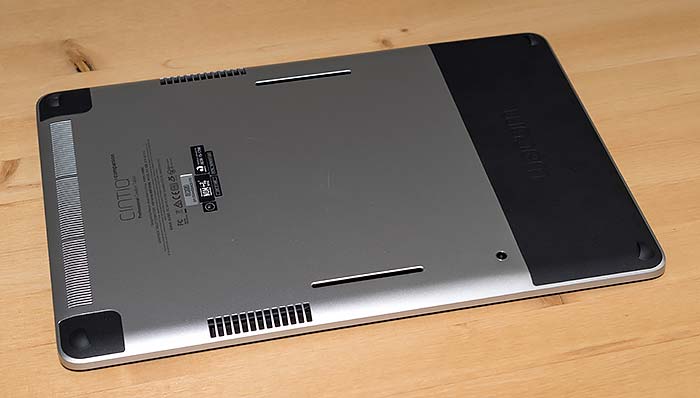 Battery Life
Wacom claims up to 4.5 hours runtime on a charge, but like many PC manufacturers, their claims are optimistic. We ran the tablet at full brightness since the display is relatively dim, and in a mix of work with MS Office, email and web and art (Photoshop CC, Corel Painter 2016 and Clip Studio Paint), we averaged 2.5 to 3 hours. Ouch, that's simply not good, and there are power hungry quad core laptops and tablets that last longer on a charge. The Companion 2 has a 50 Whr Lithium Ion battery that's sealed inside and it ships with a compact charger.
Conclusion
It's not easy reviewing a product like the Wacom Cintiq Companion 2. Not only is it a vertical market product with a specific audience, it has no direct competitors. Indirect competitors aren't exactly abundant, but there are quite a few to choose from (the MS Surface line, Lenovo ThinkPads with Wacom EMR or AES, Vaio and even HP and Dell). If you're a professional artist, then the Cintiq Companion 2 can make a lot of sense, particularly if Wacom products have been a part of your workflow for some time. There's a great deal of ergonomic consistency, and you'll be using the same pen technology, drivers and even WinTab if you like. If you're not entrenched in Wacom's ecosystem, or you need a general purpose PC, then those indirect competitors with normal tablet and convertible laptops make more sense.
Website: www.wacom.com
Price: $1,399 to $2,499
Related Reviews:
Microsoft Surface Pro 4 Review
Lenovo ThinkPad X1 Yoga Review
Lenovo ThinkPad Yoga 260 Review
Specs:

Display: 13.3", QHD 2560 x 1440 IPS display supporting touch and Wacom EMR pen (Wacom EMR pen-enabled pens). Intel Iris 6100 integrated graphics. Mini DisplayPort.

Battery: 50 Whr Lithium Ion rechargeable, sealed inside.

Performance: Intel Broadwell 5th generation Core i3, i5 and i7 dual core, 28 watt processors available. 4, 8 and 16 gig DDR3 RAM configurations (soldered on, not upgradable). 64, 128, 256 and 512 gig SSDs available.

Size: 14.7 x 9.8 x 0.6 inches. Weight: 3.75 pounds.

Camera: 2MP front camera and 8MP rear camera.

Audio: Built-in stereo1.5 watt speakers, mic and 3.5mm standard stereo headphone jack.

Networking: Integrated single band Intel 7275N WiFi 802.11b/g/n and Bluetooth 4.0.

Software: Windows 8.1.

Expansion and Ports: 3 USB 3.0 ports, HDMI out for use as a drawing tablet with a Windows or Mac PC, mini DisplayPort, 3.5mm audio and SD card slot and microSD card slot.