Home > Android Phone Reviews > HTC Droid Incredible 4G LTE

HTC Droid Incredible 4G LTE (video review)
What's hot: Speedy, compact with good camera.
What's not: Specs not as exciting as top Verizon smartphones like the Samsung Galaxy S III.

Reviewed July 18, 2012 by Lisa Gade, Editor in Chief (twitter: @lisagade)
Is bigger always better? Not for those of you who simply can't stand carrying today's gargantuan phones. The Droid Incredible 4G LTE is all about livin' small. Downsizing. Less is more. OK, this 4" Android smartphone isn't all that small compared to the now diminutive iPhone 4s. But you will notice that your pocket doesn't have as embarrassing a bulge, and you won't need hand stretching exercises to train for your next phone.
The third generation Droid Incredible by HTC may be smaller than the 4.8" Samsung Galaxy S III and other big boys on Verizon Wireless, but it has plenty of top notch features. A sharp Super LCD display running a qHD resolution, a 1.2GHz dual core Snapdragon S4 Krait CPU and a sharp 8 megapixel camera with BSI sensor and simultaneous 1080p plus still photo recording grace the feature list.
The Droid Incredible 4G LTE runs Android OS 4 Ice Cream Sandwich with HTC Sense software. Unlike the HTC One X, it has a removable back so you can access the 1700 mAh battery and there's a microSD card slot to expand on the 8 gigs of built in storage. There's no dedicated imaging chip here, but the phone is a capable shooter.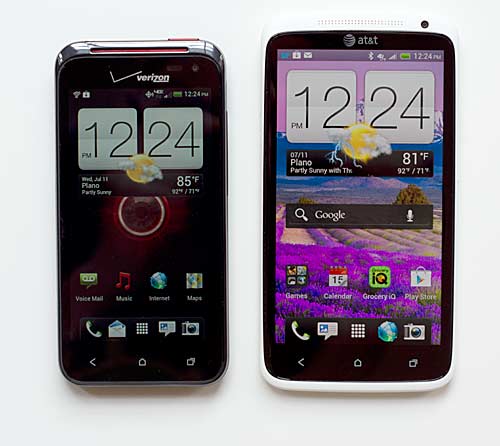 The Droid Incredible 4G LTE and the HTC One X.
The phone has that distinctive Droid Incredible look with a sculpted waterfall back and red accents (power button, lens ring). The red Beats logo fits right in, and like HTC's other recent Android phones, the Incredible 4G LTE has Beats Audio that enhances audio.
The Droid Incredible 4G LTE sells for $199 with contract, though Verizon's website has a web special for $150. The Incredible's biggest problem on Verizon? The Samsung Galaxy S III that sells for $199 and has every feature except a virtual kitchen sink.