Home -> Phone Reviews -> LG Chocolate 2- LG VX8550

LG Chocolate

Editor's rating (1-5):
Discuss this product


Editor's note July 2008: Check out our review of the LG Chocolate 3 that replaces the Chocolate 2.

LG's original Chocolate phones took the world by storm with its delicious colors, strong music features and innovative, trend-setting touch-sensitive controls. Though the GSM version of the Chocolate was available only through importers, we were glad to see that Verizon offered the CDMA version of the original Chocolate (the LG VX8500). Like everything in cell phone world, the Chocolate gets an update- the LG VX8500 is now replaced by the new Chocolate phone, the LG VX8550. What does the update bring? The new Chocolate phone offers a hefty memory upgrade from the original, lighter weight, built-in location based features and comes with the new Verizon's Flash-based UI (User Interface) that goes with the disco-light equipped navigation-wheel.

The LG VX8550 is a digital dual band CDMA phone that's offered by Verizon in the US. It supports EV-DO for high speed data and Verizon's V CAST content. It sells for $179 with a 2-year contract and comes in three yummy colors: Black, Blue Mint and Black Cherry (red).

Design and Ergonomics

The slider design on the new Chocolate is largely unchanged from the original Chocolate with very similar dimensions and the new Chocolate is slightly lighter than the original one. In addition to the LED trace motion lights added to the navigation wheel that light up when you spin it to make your menu selections, LG has wisely added another menu row to the slide-out keypad to house the call Send, End and camera launcher buttons. This is a big user-interface improvement on the new Chocolate phone since the original Chocolate put the call send and end buttons on the touch-controlled front panel where they were easy to accidentally activate. The Speaker and Clear keys replace the call control keys on the front, just below the two soft keys illuminated with "–" symbols. The touch sensitive buttons offer vibration feedback. You can also set the level of the touch-sensitivity for the keys and the navigation wheel. As with the original Chocolate, most menus and applications support the touch control and spin wheel with exception of V CAST videos. For example, you can't spin the wheel to browse through V CAST video listings. Instead you must press down the 4-way directional pad on the spin wheel until it clicks like a normal d-pad to navigate through the listings. The keypad is backlit in a faint milky white that's dimmer than the bright red backlight on the touch keys, but this shouldn't prevent you from dialing numbers in the dark.

The side control buttons have improved as well. All the buttons now live on the sides of the phone's main body, none lives on the display slider panel. This makes the buttons easier to press, especially when using the phone one-handed. You will find the volume buttons, voice command launcher and the charging/headset/accessory port on the left, same as on the original Chocolate. But the new Chocolate adds an optional 2.5mm (though not standard) jack. On the right side of the phone, the call end button and the camera launcher are gone since they live on the main keypad now. You will still find the microSD card slot and the music quick launch button on the right, along with a key lock for the touch sensitive controls which is a great thing to have on the LG VX8550.

The rear-firing speaker lives up top on the back of the phone and sounds decent for music playback. The rear-firing speaker and the touch-sensitive music controls on the front are somewhat at odds: when you turn the phone over to hear the speaker, it's easy to accidentally press the touch buttons such as the Mute button.

Open the slider you will see the 1.3 megapixel camera and the self-portrait mirror on the top part of the slider.
Phone Features and Reception
The new LG Chocolate VX8550 is a digital CDMA phone that operates on Verizon's 800/1900 MHz networks and has EVDO for fast data. The LG Chocolate VX8550 has weaker reception compared to the original Chocolate and many other Verizon phones including the LG VX8600 flip-version of the Chocolate. If you are in a strong coverage area have no fear, but if you are in a marginally covered area you might only get 1-2 bars in EV and 1X. In our area where most Verizon phones get 2-3 bars of EVDO signal, the new Chocolate phone gets only 1-2 bars of EV and some times drops to only 1X which means you can't access Verizon's music, video and software stores. We didn't experience dropped calls even in areas with spotty coverage. The voice quality is good on the LG and volume on both incoming and outgoing calls is high. EVDO speed is good and when the signal is strong, music, video and software download speeds are quite fast. When signal strength isn't strong, the download speeds suffer accordingly.
The LG VX8550 offers general call management features including call waiting, last number redial, speed dial (95 entries) and a dedicated speakerphone key. The LG comes with a Phone Book that can store up to 1,000 contacts and each contact can store up to 5 numbers, 2 email addresses and a picture ID. You can assign unique ringtones, speed dial numbers and groups to your contact entries. As with the original Chocolate, the new LG Chocolate has VoiceSignal's excellent VoiceCommand software by for voice dialing and more. You can dial numbers and by name, launch messaging and find contacts, check phone status, battery life and more by giving voice commands. One of the few things you can't do is dictate the contents of a text message. The voice recognition is excellent and you don't need to pre-record voice tags as you do with some competing phones such as the Sanyo Katana DLX.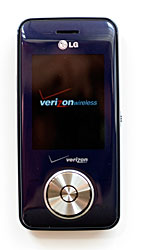 The LG supports Verizon's Mobile Web 2.0 and comes with the same Openwave browser found on many Verizon feature phones. There is no dedicated shortcut or menu item for the browser, you must launch one of Verizon's portals (like News and Info) and then enter the URL of your choice. The WAP browser has decent speed when loading WAP sites and can loading full HTML web sites into a single column view. Don't expect to see the HTML page layout transfer well to the mobile browser.
IM, Chat and email are all web-based on the LG, and you will get SMS and MMS support as you'd expect. Additional tools include Calculator, Calendar, Alarm Clock, Stopwatch, World Clock, Notepad and Ez Tip Calc. The new LG Chocolate also supports the Verizon Wireless VZ Navigator Service which offers turn-by-turn directions with voice guidance, searching for locations by address and a small number of POIs (points of interest). The GPS get signals quite fast, and accuracy is within a hundred yards in our tests in metro areas.
Display, Gaming and Multimedia
The new LG Chocolate has a 262k color TFT LCD with 240 x 320 pixel resolution. The screen looks bright and very color saturated. Verizon's new flash user interface looks lively with various animations and you can use different themes on the phone.
The LG Chocolate VX8550 is a nice music player with some basic features like playlist, repeat and shuffle. Like the original Chocolate, the VX8550 plays MP3 and WMA music files. Adding (in most cases) to the music experience are a dedicated music launch key on the right side of the Chocolate, a rear-firing speaker that sounds decent, an LG proprietary headphone jack and a 2.5mm non-standard stereo headphone jack. The dedicated music launch key will get you to your songs in one click. Since the VX8550 doesn't come with ANY headset, you will need to either get a headset with LG's proprietary connector or find a of 2.5mm stereo headset with a connector that fit the three-ring hole on the LG perfectly. We tried several 2.5mm stereo headsets including Nokia, Samsung, Treo and generic headsets, none worked with the LG for music playback in stereo. Sound only comes out mono. The only headset that came close was the 2.5mm headset that came with the Plantronics Pulsar 260: you must press the three ring plug hard into the jack and keeping holding it in place. Otherwise, no more stereo output. It's a shame that the package doesn't include a stereo headset given the phone's excellent audio. You can however buy the Verizon Music Essentials kit or an LG headset to enjoy your music.
Music track and video download speeds depends heavily upon signal strength. In strong coverage areas where the phone gets full signal strength, download speeds are very fast. And in spotty coverage areas where the phone gets 1-2 EV-DO bars, the download is slow and sometimes drops the connection to the server.
| | |
| --- | --- |
| | |
If you are a TV show junky and wish to watch them on your phone, look at the Mobile TV phones and service Verizon offers including the LG VX9400 and the Samsung u620. The Chocolate supports V CAST on demand videos that have inferior quality compared to Verizon's Mobile TV programs. But by on-demand video standards, Verizon's video clips on V CAST generally look better than the on-demand videos from Sprint's Power Vision service. Still you will experience slow frame rates, choppy audio and loss of audio sync when watching these clips. The collection and variety of content are a strong point for V CAST video- you get ton of channels, exclusive content and much wider selection of channels for free compared to Sprint's video services at the moment.
To store content, whether your own music, pictures and video or those downloaded from V CAST, you get a beefy 64 MB of internal memory just for your music tracks and another 60 MB for other content. That's good amount of space for a feature phone and we hope to see more multimedia phones offering decent built-in storage as well as storage card slot for the ever-growing media library we all have. The Chocolate has a microSD card slot that supports up to 4 GB microSD cards. There is no starter card included with the phone, but you can either purchase cards separately or get as a part of Verizon's Music Essentials kit ( 2GB or 4GB cards come with the kit).
Camera
Even though there's no upgrade in the camera department on the LG VX8550 from the VX8500, weren't terribly disappointed. The LG VX8500 Chocolate had an excellent 1.3 megapixel camera that took sharp photos with balanced colors. The LG VX8550 Chocolate continues that tradition and offers an excellent 1.3 megapixel with fixed focus lens. The photos are sharp by 1.3 mp camera phone standards, colors are balanced with no obvious colorcast, have good level of exposure and noise is minimal even in indoor shots. You can tweak the settings for brightness, colors and more, and the phone has options to send photos as MMS, print them, transfer to the desktop and more. The LG camera phone can take still photos in three resolutions: 1280x960, 640x480(default) and 320x240 pixels. It also comes with a self portrait mirror.
| | |
| --- | --- |
| | |
The new LG Chocolate can also record videos with audio. The camcorder records video in 3G2 format and you have the option of shooting 30 second videos for messaging or up to1 hour long video to save on your storage card. You can record video clips in 176 x 144 pixels resolution.
Bluetooth
While the status quo camera wasn't a let down, Bluetooth 1.1 will feel like one especially when many new feature phones and Bluetooth accessories have Bluetooth v2.0. One saving grace is that the LG VX8550, like the VX8500, supports a broad range of Bluetooth profiles including A2DP for listening to music via Bluetooth stereo headphones. Other supported profiles include Headset, Hands-free, Dialing-Up Networking, Phone Book Access, Basic Printing, Object Push for vCard and vCal, FTP, Basic Imaging Profiles. Sending vCard and vCal items worked like a charm with both Windows and Mac OS X in our tests, but sending photos taken with the camera phone did not work on an Intel-based iMac running Mac OS X. The Chocolate can save up to 20 paired devices.
We tested the LG VX8550 Chocolate with several Bluetooth mono headsets and stereo headphones, the LG paired with all easily. Music playback quality was very good when working with the Plantronics Pulsar 590A and the Cardo S2 stereo headphones. The Plantronics sounded best with full sound and great volume. The Cardo sounded good as well but had noticeable (though not too loud) white noise (hiss) background noise. The sound was slightly dull compared to the Pulsar 590A which had more dynamic and brighter sound on high notes performed by piano and strings.
The LG Chocolate worked well with mono Bluetooth headsets for hands-free calling. We tested the phone with the Plantronics Voyager 520 and the Jawbone Bluetooth headsets, and the phone paired with both easily. The Plantronics Voyager 520 had fuller voice on both incoming and outgoing ends but some distortion was noticeable. The DSP worked reasonably well and muted most low to mid level background noise. We could still hear a faint swooshing sort of noise in the background though. The Jawbone worked better for both voice clarity and DSP. The voice was clearer on the Jawbone compared to the Plantronics, though not as full as with the Plantronics. The Jawbone's voice is clean and easier to understand on both calling ends. The DSP worked great using the Jawbone, most of our call recipients couldn't hear background noise even when we were next to loud humming machinery. The only thing the DSP didn't work well for was wind noise, though that's not Chocolate's fault because the Jawbone is OK but not great at wind noise reduction. The Chocolate had very good range, getting about 25 feet with the Plantronics and 30 feet with the Jawbone. The Bluetooth software had a minor bug on our unit: you can't delete paired devices even though there is an option to delete them. The Chocolate can store 20 pairings and the older ones will get bumped off the list.
Battery Life
Like many LG feature phones in the same class, the LG Chocolate comes with a rechargeable Lithium-ion battery that's 800 mAh in capacity. That's the same capacity as the last Chocolate model. The talk time is decent reaching nearly 4 hours but its multimedia runtime isn't that stellar. Music playback is about 8 hours and if you use Verizon V CAST via EV-DO the battery will drain quickly. If you watch V CAST videos for 45 minutes to 1 hour a fully charged battery will be almost completely drained. For longer battery life you can get the extended battery that's 1,500 mAh in capacity. If you use the phone for music playback and watch videos a lot on top of making phone calls, investing in the extended battery is a good idea. The battery life indicator fluctuated quite a bit on our unit, so be sure to let the battery indicator settle down a bit after a long period of usage. The LG Chocolate comes with a world AC charger.
Conclusion
When the first-gen LG Chocolate came to market, a cell phone was never so appetizing. Though still looking good in three delicious colors, the new LG Chocolate faces stiffer competition in the music phone market this year. The iPhone, various Nokia GSM phones, and even LG themselves have whipped up more choices including the LG MUZIQ, VX8600 and the Shine series. The Chocolate with its strong support from Verizon still has a lot going for it: a fun touch control that's all the rage these days, tight integration with V CAST content and attractive pricing. For the fun-loving crowd who don't need constant texting or a flip design the LG Chocolate is a worthy competitor in a space that's getting more competitive by the minute.
Pro: Cool form with touch controls and LED lights. Easier to use than the first generation Chocolate. Has a good set of phone features and software tools. Generous amount of memory and a memory card slot that supports 4 gig cards. GPS and VZ navigator support is a big plus. Very decent camera by US camera phone standards.
Con: No headset included for hands-free dialing or music playback. Battery life isn't stellar.
Price: $179.99 with 2-year contract.
Web sites: www.lgmobile.com, www.verizonwireless.com
Display: 2" TFT LCD, 262K colors, 240 x 320 Pixels, 11 Lines.

Battery: Lithium Ion rechargeable. Battery is user replaceable. 800 mAh. Claimed talk time is up to 4 hours and standby is up to 350 hours. Optional 1500 mAh battery sold separately.

Performance: Undisclosed CPU, 64MB internal memory dedicated to storing music and 80MB internal memory for other content.

Size: 3.85 x 1.87 x 0.67 inches. Weight: 3.24 ounces.

Phone: CDMA digital dual band (800 MHz and 1900 MHz). 1xRTT and EV-DO for data.

Camera: 1.3 megapixel camera and camcorder. 2x digital zoom exception in the highest resolution. Camera resolutions: 1280x960, 640x480(default) and 320x240 Pixels. Camcorder records 3G2 format, can take 30 second videos for messaging or 1 hour videos. Video resolution: 176 x 144 pixels.

Audio: Built-in speaker, mic, LG headset jack and a 2.5mm headset jack (non-standard). VoiceCommand and speakerphone included. Has standalone mode (radios off) and vibration mode. Supports Bluetooth A2DP for wireless stereo.

Networking: Integrated Bluetooth v1.1. Supported profiles include: Headset, Hands-free, Dialing-Up Networking, A2DP, Phone Book Access, Basic Printing, Object Push for vCard and vCal, FTP, Basic Imaging Profiles.

Software: Contacts, Calendar, Alarm Clock, Stopwatch, World Clock, Notepad and Ez Tip Calc. GPS and VZ Navigator support included with turn-by-turn directions and voice guidance. Web 2.0 support with Openware browser for the web, email and IM. Has V CAST integration and supports V CAST music, video and games.

Expansion: 1 microSD card slot supporting up to 4 GB card.

In the Box: The LG VX8550 phone, a standard Li-Polymer battery, world travel AC charger and documention.