Performance and Horsepower
The Qualcomm 800 CPU is another shining star. Though phones are getting faster than we need, I know a lot of you like to have the fastest and feel your gadget is at least reasonably future proof. Clocked at an impressive 2.26GHz, the quad core Snpadragon 800 with Adreno 330 graphics is top of the line for Qualcomm. It holds up well against NVIDIA's Tegra 4, which we've seen in the NVIDIA Shield and a few tablets so far. Benchmark numbers are through the roof and the phone is wickedly fast. Even LG's huge suite of custom software doesn't bog down the phone. 3D games play flawlessly on the G2, and the back gets warm but not hot when playing demanding 3D games. The display remains cool to the touch.
The US LG G2 models have 32 gigs of internal storage, but there's no microSD card slot, so you won't be able to expand storage. The phone does support USB host and we used it with USB flash drives. You'll need to buy a USB OTG cable if you want to use this feature. And yes, you can also use USB game controllers, keyboards and portable hard drives that don't draw too much power from the USB port.
Benchmarks
Quadrant: 19,762
AnTuTu: 32,990
Sunspider: 823
Geekbench 3: 852  single core / 2137  multi-core
3DMark, Ice Storm test (extreme): 9803. Demo: 46.8 fps
Quadrant, AnTuTu, 3DMark & Sunspider Comparison:

Quadrant

3DMark

AnTuTu

Sunspider JavaScript Test

LG G2

19,762

9803 (extreme)

32,990

823

HTC One M8
24,527
20,896 (unlimited)
36,087
776
Samsung Galaxy S5
23,643
18,329
35,357
398
LG G Flex
22,323
16,658 (unlimited)
36,309
831
Nexus 5
8808
17,828 (unlimited)
27,017
718
Sony Xperia Z1S
21589

16,135 (unlimited)

35,008
837
Moto G
8485
2778 (extreme)
17,396
1311
Samsung Galaxy Note 3
22,006
15,092 (unlimited)
35,823
587
Samsung Galaxy S4
12,276
11,601 (unlimited)
24,776
826
HTC One

12,252

11,324 (extreme

)

24,589

1155

Sony Xperia Z

7916

6353  (extreme)

20,403

1306

Moto X
8357
6800 (extreme)
21,377
1097
LG Optimus G Pro
11,994
N/A
18,561
867
Samsung Galaxy Note 2

6001

N/A

14,056

1052
Geekbench 3:
Calling and Data
Call quality on our AT&T and Verizon review units was excellent with clear voice that sounded full and natural by cell phone standards. The G2 joins other top voice phones like the Nokia Lumia 1020, HTC One and Samsung Galaxy S4 as well as the iPhone 5s for excellent call quality.
The smartphone has 4G LTE with fallback to HSPA+ on GSM carriers and EV-DO Rev. A 3G on CDMA carriers. Data speeds matched other top phones according to the Speedtest.net app, and the phone can act as a mobile hotspot for your tablet or laptop.
Software
Speaking of software, there's an incredible helping here, from items like Quick Memo and QSlide multitasking that we've seen on other recent LG phones, to the Samsung-like features that include a floating transparent and resizable video player, the function where the phone uses the front camera to watch you so it won't turn off the screen while you're looking at it, and conversely it will pause video playback if you look away. LG offers much more user UI customization than we've seen on other brands, and that's a nice touch. You can change icons, change the app drawer layout, set folder colors and you can even select the set of on-screen Android buttons that appear along the bottom (the G2 has on-screen rather than capacitive or hardware front buttons). Yes, it's a lot of software, but I actually find much of it pleasant and easy to use. I really enjoy LG's Knock feature where you tap the screen twice to wake up the phone or put it to sleep. Having the phone answer an incoming call simply because I'm pulling it from my pocket and raising it to my ear is excellent and the QSlide multitasking (think of them as persistent floating widgets) is handy. Overall, LG's software appeals to me, even though I generally prefer phones with a clean Android experience. I find most of LG's apps and add-ons intuitive to use while Samsung's TouchWiz is moving toward devilish complexity on phones like the Galaxy Note 3. The phone ships with Android 4.2.2 Jelly Bean.
Camera
Here's why I love the G2: the camera. Though not the only smartphone to use Sony's capable 13MP Exmor RS sensor, the LG pulls ahead for excellent image processing and optical image stabilization. There's plenty of image data thanks to the megapixel rating, and happily LG resists over-sharpening what's already sharp enough. That means photos look detailed and they're very natural looking with good tonal variation and warmth. Exposure is generally balanced with none of the white out that the Samsung Galaxy S4 is prone to, and it takes better low light shots than the GS4. The HTC One is still one of the best low light phones, but you won't get the resolution on the One that you do with the LG G2. Does it take better photos than the also very good iPhone 5s? Yes it does in terms of image detail (the added resolution helps) and optical image stabilization outperforms the iPhone's digital stabilization for video recording. In terms of exposure, color balance and saturation they're on equal footing. The iPhone 5s' larger pixels capture more detail in very low light settings like nightclubs. Does the LG G2 beat the 41MP Nokia Lumia 1020 and its PureView camera? Nope. But unless you're a photo buff, the LG will be plenty good enough.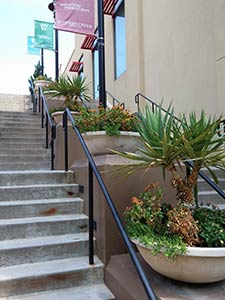 LG offers plenty of features including a variety of filters, full control over manual settings, macro mode and even Intelligent Auto that works much like the same feature on Sony cameras and smartphones. The camera can shoot using the 2.1MP front and rear cameras simultaneously and the rear camera has fast HDR (likely thanks to the fast CPU). Thanks to optical image stabilization, video is smooth and there's more detail captured rather than noise from movement. As you'd expect, the rear camera can shoot 1080p video.
Battery Life
Past LG Android phones haven't been Energizer bunnies. Happily that's changed with the LG G2, thanks in part to the unusually high capacity 3,000 mAh battery that's sealed inside. The phone has to power a fast quad core CPU, large full HD display panel and 4G LTE radio; and it's up to the task. With moderate to heavy use I easily made it through the day on a charge. This included phone calls, an hour total of web browsing, shooting 40 photos and a few short videos, streaming YouTube HD video, listening to music with the display off and playing games for 30 minutes. For actual screen on time, the G2 lasted an hour longer than my Galaxy S4 (standard edition, not Google Play Edition) and 40 minutes longer than my HTC One. Since the battery is sealed inside, you won't be able to swap in a spare on the road. As with the HTC One and iPhone, you can use external micro USB battery packs to extend runtimes if you'll be away from a power outlet for long periods of time.
Conclusion
The LG G2 is assuredly the company's best Android phone yet. We were bullish on the also very good Optimus G Pro, but the G2 is all that and more in a more mainstream size. The display is top notch, performance is fast and fluid, the camera is excellent and the rear buttons actually work nicely. We'd love to see a more interesting and attractive casing that didn't turn murky with fingerprints so quickly, but the phone is nonetheless solidly built and curved nicely to fit in the hand. I can easily recommend the LG G2 if you're looking for a full figured Android flagship smartphone.
Price: $199 with contract, $575 without contract (full retail price varies by carrier, T-Mobile doesn't do contracts but rather payment plans or full retail purchase).
Website: www.lg.com/mobile
Related Reviews:
Sony Xperia Z1S vs. LG G2 Comparison Smackdown
LG G2 vs. Samsung Galaxy S4 Smackdown Comparison
LG G2 vs. HTC One Smackdown Comparison
LG G2 vs. Moto X Smackdown Comparison
LG G2. vs. Samsung Galaxy Note 3 Comparison Smackdown