Home -> Smartphone Reviews -> Nokia E62

Nokia E62

Editor's rating (1-5):
Discuss this product


Editor's note, August 2008: Check out our review of the Nokia E71 that replaces the Nokia E62 as an unlocked US phone (not an AT&T phone).

Editor's Note: If you're a Nokia S60 smartphone fan but prefer a clamshell design and 3G, check out the Nokia N75, released in May 2007 by Cingular.

Review posted October 4, 2006 by Lisa Gade, Editor in Chief

Deja vu time here at Mobile Tech Review; just over a month ago we reviewed the Nokia E62's Euro twin, the Nokia E61. Ah, but they're not quite identical twins: the E61 has WiFi and Euro-only 3G and the E62 has various software customizations including 4 push email solutions and a good IM client on board. While the E61 uses Nokia's standard Pop-Port stereo headset connector, the E62 has a standard 2.5mm headset jack. The E61 has Bluetooth 1.2 and the E62 has Bluetooth 2.0. The lovely E61 is sold only by importers in the US, while the E62 is offered by Cingular for a very reasonable $149 with 2 year contract. For those of you who've been following the E61 and are wondering about other differences, I can tell you that having used both extensively, there are no other differences. IMAP email works well on the E62, while early firmware E61's had some problems fixed by a firmware upgrade, and that's the only item worth mentioning. Given the two models near identical status, our E61 and E62 reviews share some copy.

The Nokia E62 is a quad band GSM world phone with EDGE for data. It's a smartphone running Symbian OS 9.1 with Nokia's S60 3rd Edition software. You can sync it to Outlook, browse the web in full HTML glory, add 3rd party software, listen to music using the included stereo headset and watch videos. It has a brilliant 320 x 240 pixel color display, QWERTY thumb keyboard and Bluetooth. It competes with the Treo, Motorola Q, Cingular 8125 and BlackBerry devices. It's much slimmer than the 8125 (though wider), slimmer than the Treo and more fun and sexy than the BlackBerry 8700c and g. It's metal body and quality construction put the BlackBerry 8700c to shame. Since the Nokia E62 targets corporate users who are often forbidden to have camera phones, the E62 has no camera.

In the Box

With the E62 you'll find a 1500 mAh battery, world charger with US prongs, USB sync cable, software CD with PC Suite, getting started guide, 2.5mm stereo headset and NO miniSD card.

Design and Ergonomics

Though very slim, the E62 is wide to accommodate the thumb keyboard and tall to fit the large display above that keyboard. It dwarfs the Cingular 3125, but fits in nicely with the Palm Treo 700p / 700w, T-Mobile MDA (Cingular 8125), BlackBerry 8700g and other keyboarded smartphones and PDA phones. The phone is finished in silver and the casing is made of metal which makes for a sturdy device. Score one for the E62: none of its direct competitors feature a metal casing. It's thinnest at the keyboard end and gets a bit wider in the display area, with a gentle slope marking the transition.

The power button is located on the upper right face and it's so small that you'll likely never accidentally press it. The blue LED that indicates new email is at the upper left. There is no LED that flashes when the phone is asleep. As you'd expect, the earpiece is dead center above the display while the loudspeaker (for speakerphone, ringers and alarms) is on the phone's left edge. The IR port is located somewhat oddly on the bottom edge next to the mini USB connector and the volume up/down and voice recorder keys are located up on the upper left side. The volume controls fall perfectly under your index finger when holding the phone to the ear with the right hand. The voice recorder button, though not raised, is too easily pressed when pulling the phone out of a pocket. The E62 is one of the few Nokia phones that has a standard mini USB port for syncing, with a separate power jack (same connector as other S60 phones) and a 2.5mm stereo headset jack all on the bottom edge. Cingular kindly includes a stereo 2.5 mm headset with inline mic.

Below the display you'll find the usual Nokia selection keys which do different things, depending on context. You can change their home screen assignment in Standby under phone settings. The S60 programs launcher is located just to the left of the 5-way joystick and the email key is to the right. Call send and end buttons live just below the shoulder keys and the thumb keyboard takes up the remaining front face.
The Cingular version adds an "Own" (short for My Own) button on the keypad to the right of the spacebar. This functions as a quick launch application for four applications of your choosing. You must press the Fn button and the Own key to bring up the launcher. The QWERTY thumb keyboard's keys have good spacing and are domed so you can tell when you've homed in correctly on a key. The keys have very little travel which reduces tactile feedback and can lead to finger fatigue. That said, the keyboard is still very usable and we found ourselves adapting quickly, though it's not as good as the BlackBerry 8700. The number keys are located in the keyboard's center and are masked in blue so they're easy to pick out. Should you need to dial a number with letters (e.g.: 800-CALL-ME), hold the chr key while pressing the letter and the phone will translate that to the correct number.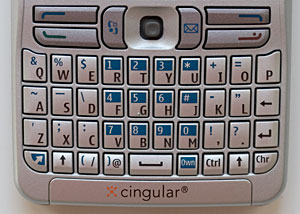 There are two shift keys (one to the right and one to the left of the spacebar), Nokia' s usual Chr and Ctrl keys (think of Nokia Communicators such as the Nokia 9300 which use those two) and a blue Fn key with an arrow to switch to numeric entry. You can turn on shift lock by pressing the shift key twice in quick succession and use the chr key to enter symbols. You can lock the keyboard to prevent accidental button presses by briefly pressing the power key and selecting "lock keypad". We noticed that the E62 switched back to the default Nokia ringer rather than our selected ringtone when the keypad is locked. . . strange. If we used the other keypad lock method (press the left soft key then the Fn key in quick succession) the ringtone wasn't changed.
Phone Features, Data and Reception
The E62 is a quad band world phone that will work anywhere GSM service is available. It supports the 850/900/1800/1900MHz bands with EDGE and GPRS for data. Unlike the E61, it does not have 3G, though the E61's 3G is on the 2100MHz band is used only in Europe so it did no good here in the US. The E62 is locked to Cingular, which means you must use a Cingular SIM with the phone. For data, we averaged 160k as measured on dslreports' mobile speed test in the Dallas area, which is good.
As with most Nokia GSM phones, reception is excellent as are both incoming and outgoing voice quality and volume . The phone has a loud and clear speakerphone that's one of the best we've heard, speed dialing, photo caller ID and voice command software which does true speaker-independant speech recognition rather than voice tag matching. Voice command seems to work a bit better than the E61's, though it's not among the best we've used.
| | |
| --- | --- |
| The real star on the E62 and other recent S60 3rd Edition smartphones including the E61 is Nokia's web browser. It's the best browser we've ever seen on a mobile device, combining the best of Thunderhawk, Opera and Safari in one package (no, it doesn't really use Thunderhawk or Opera technology but it does share some of the same features). The web browser provides a desktop-like experience with support for Javascript, frames, dHTML and CSS. Even dynamic menus on web sites such as ours work correctly, and in fact most sites render as they do on a PC. The browser uses the joystick as a virtual mouse and you'll see an arrow cursor, which is so much nicer than moving tediously from link to link through a page. It has a full page overview mode that you can use to select the part of a page to which you'd like to scroll, and the back button doesn't simply move you back one page at a time: it gives you a visual overview of the last pages you've visited which you can scroll through similar to photos in Gallery. The web browser also supports multiple windows and SSL. Nokia S60 3rd Edition phones can become memory starved when running the web browser, but the E62 (like the E61) is more stable, perhaps thanks to its larger amount of free RAM to run programs. Nokia's web browser beats Palm and Pocket PC offerings hands down. In addition, the phone comes with a WAP browser (the interface looks almost identical) which is used when you click on a link in an email or select the MediaNet icon in the application launcher (called Services on the E61). Should you need to view the page in the full HTML browser, copy and paste the link into the full browser. The web browser also has a very fast small-screen optimized single column layout for those times you want it fast rather than pretty. | |
Messaging, the email client, is a powerful application that handles SMS, MMS, POP3 and IMAP email (with SMTP for sending email). Though it lacks a camera, the Nokia can both send and receive MMS messages and supports photo caller ID. The E62 comes with installers for BlackBerry Connect, GoodLink, Mail for Exchange, and Cingular Xpress Mail, making the phone a push email addict's dream.
We found the E62 to be better than the first firmware revision E61 and on par with the most recent firmware Nokia E61 for IMAP reliability when set to automatically download email headers (using the IMAP IDLE command). Note that if you have a MediaNet or MediaMax data plan, Cingular's server may time out your connection after a 5 minute idle period which can interfere with Messaging's email checking. If you receive mail at least every 5 minutes you're golden, but if you don't then the phone might not know about new emails until 29 minutes have passed (the standard time for a device to resend the Idle command to the IMAP mail server). Cingular's PDA data plan doesn't time out that quickly as far as we can tell, making it a better choice if you wish to use Nokia's Messaging application rather than one of the many other services supplied with the phone. POP email works perfectly.
Display and Multimedia
The E62 (like the E61) has one of the nicest looking displays we've seen on a phone: it's got great colors, is super sharp and large enough to do justice to photos and display very readable text. It's capable of displaying 16 million colors and has the same resolution as Windows Mobile 5 Pocket PC and MS Smartphones. The display measures 2.8" diagonally which is similar to Windows Mobile and Palm competitors.
Though the E61 had strong video playback capabilities, we found the E62 to support fewer formats and to playback video less smoothly. The phone uses RealPlayer for video which plays Real files, some 3GP and Divx (MPEG4) formats. Oddly, it couldn't play a video taken with the Nokia N73 in 3GP format (sound played but video was stuck on the first frame) . The E62's "My Stuff"application is Nokia's Gallery application renamed and it's a one-stop app for viewing photos, opening videos, playing music and listening to recordings taken with the phone's voice recorder. You'll find Nokia's Music Player and Flash Player for Flash Lite games and applications in the Office folder (not where you'd expect!). It does not have the FM radio found on more multimedia-targeted Nokia phones. Music is superb through the stereo headset and even sounds quite good through the loudspeaker.
Horsepower and Performance
The Nokia E62 has a Texas Instruments OMAP 235 MHz CPU. We felt that the E62 is a bit slower than the E61, and there is a delay when opening folders and launching applications that's similar to Windows Mobile 5.0 Pocket PC phones like the Cingular 8125, MDA and iPAQ hw6915. It's not as snappy as the Palm OS Treo PDA phones or the BlackBerry 8700 series models but it's not unbearably slow by any means. BlackBerry users are accustomed to instant response, and they're the ones who will likely notice. The phone has 80 megs of flash memory available for storage and typically 15.8 megs of free RAM to run programs just after booting compared to the E61's 22.5 megs of free RAM. That said, the E62 runs out of memory less often than older Series 60 devices and does better than the N80 on web browser stability.
We benchmarked the phone using FutureMark's SPMarkJava06 (a Java application that benchmarks the Java VM performance which provides an indication of the phone's processing power, and both 2D and 3D graphics performance). Here are the results:
SPMarkJava score: 1998

2D game: 17.7 fps
3D game: 9.1 fps
fill rate: 2980k texels/s
polygon: 35.0k vertices/s
PNG: 75
JVM: 2094
That's a bit lower than the Nokia E61 in overall score, 2D and 3D results but there's not enough of a difference to be remarkable. E62 has a miniSD card slot for storage expansion but no card is included in the box. If you want to use the phone as an MP3 player, you'll likely want to get a large card and Nokia states that it accepts cards up to 2 gigs. We tested it with a 2 gig SanDisk card and it worked fine.
Software
Cingular made relatively few customizations to the phone. You'll hear the Cingular tune on power up / down tune rather than Nokia's, and there are icons for Mall (Cingular's portal for selling ringtones, games and more) and Media Net which is the WAP browser otherwise known as "Services" on other S60 3rd Edition phones. Cingular has added an IM client for AIM, MSN and Yahoo by OZ Communications that's decent though no competition for Agile Messenger.
The E62, like the E61, comes with a great software bundle including a GPS application that works with any Bluetooth GPS, a full Office suite which allows you to view, edit and create Word, Excel and PowerPoint documents, a PDF viewer, the afore mentioned web and WAP browsers, Messaging, music (MP3 and AAC) player, RealPlayer, My Stuff (Gallery), full PIM applications, a very cool golf game (Pro Golf Contest 2) and more. The PIM applications are as powerful as any PDA's, with contacts, calendar, tasks and notes, all of which easily sync to Microsoft Outlook using the included PC Suite. The contacts application supports every field in Outlook and has groups (categories), the calendar has week, day and month views with support for repeat events, alarms and all-day events. Mac OS X users: Apple hasn't added a Nokia E62 plugin for iSync yet. There is hope however; you can install the free mactomster iSync plugin which does support the E61. If you open the metaclasses.plist file in the mactomster plugin and change each occurrence of E61-1 to E62-2 you will have iSync support for syncing calendar and contacts to Address Book and iCal. If that sounds too complicated, then you might want to buy nova media's iSync plugin which is very easy to install.
Since S60 3rd Edition isn't backward compatible with older S60 versions, you will need to find 3rd party applications that explicitly support 3rd Edition. And because it's so new, you won't find a large selection yet— something to keep in mind if you're a software junky. Tip: By default the E62 is set to only allow installation of signed applications (a certification process). Few applications are currently signed and as a result you'll get error messages when attempting 3rd party software installation. To fix this, go into Settings folder and open the App Manager. Select options and set Software installation to "All" and turn off Online certificate check.
Battery Life
The Nokia E62 is powered by a beefy Nokia BP-5L 1500 mAh Lithium Ion battery (that's the same battery found in the Nokia 770 handheld). That's a high capacity battery that's more than adequate for a device with a large display, Bluetooth, and serious email features. Since the phone is based on the E61 which has power hungry WiFi and 3G, the E62 inherited the E61's large battery which translates to even longer runtimes on the E62. The phone has excellent battery life, beating the already stellar E61, and it will last average users several days on a charge, which can't be said of many PDA phones. Even if you have it set to check email all workday long, browse the web for 30 minutes, look up PIM info and work with Office docs, the phone will have plenty of charge at the end of the day. Excellent.
Bluetooth
The Nokia E62 has Bluetooth 2.0 which made for fast file transfers averaging 85k with Bluetooth 2.0 equipped Sony Vaio UX180P and Mac Pro computers. It supports handsfree and headset profiles and we had no trouble pairing it with the Plantronics Discovery 640, Motorola HF800 car kit and other recent popular headsets. Voice volume and clarity were very good with these devices. The phone also supports DUN (dial up networking), HID, printing and serial port profile for use with GPS.
Conclusion
The E61 is one of our favorite smartphone / PDA phone devices, and the E62 is also near the top of our list. Had Cingular left WiFi intact, the phone would've earned another half star. Though some of Cingular's changes were for the better: the standard mini USB sync port and 2.5mm headset jack are more IT friendly than Nokia's Pop-Port connector. The E62's low price tag, large and exceptional display, QWERTY keyboard and smartphone features make it an excellent choice. It syncs easily to Outlook, supports several push email solutions including BlackBerry connect and it makes a good MP3 player too. We wish the phone were a little more responsive when opening folders and launching applications.
Web site: www.cingular.com, www.nokia.com
List price: $149 with 2 year contract and data plan, $349 without contract extension
Display: 16 million color 320 x 240 (QVGA) display. Screen size diagonally: 2.8 ", landscape orientation.

Battery: Nokia BP-5L Lithium Ion rechargeable. Battery is user replaceable. 1500 mA. Claimed talk time up to 5 hours. Claimed standby: 14 days.

Performance: Texas Instruments OMAP 235 MHz CPU. 80 megs of flash memory for storage and typically 15.6 megs RAM available for running programs after boot.

Size: 4.6 x 2.74 x .55 inches. Weight: 5.08 ounces.

Phone: GSM quad band world phone supporting the 850/900/1800/1900MHz bands with GPRS and EDGE.

Camera: None.

Audio: Built in speaker, mic and 2.5mm stereo headset jack (stereo headset included). Voice Recorder, Music Player (MP3) and RealPlayer included.

Networking: Bluetooth 2.0. Hands free, headset, OBEX, ftp, serial port, HID, printing and DUN profiles.

Software: Contacts, calendar, tasks, notes, Office suite (read and write Word, Excel and PowerPoint documents), IM client, Navigator GPS application (requires optional Bluetooth GPS), Pro Golf Contest 2, memory card manager, Java VM, Messaging client (SMS, MMS, POP3 and IMAP email), web and WAP browsers, voice recorder, My Stuff (Gallery), Converter, Calculator, File Manager, RealPlayer, Flash Lite, Zip Manager, theme manager, application manager, Transfer (transfer contacts, calendar and some phone settings to or from another S40 or S60 phone), music player, clock.

Expansion: 1 miniSD slot.

Syncing: Syncs contacts, calendar, tasks and notes to Outlook under Windows using the included PC Suite software. Mac iSync plugin not yet available, workarounds (free and commercial) are available to sync contacts and calendar.