Home > Windows Phone Reviews > Nokia Lumia 710

Nokia Lumia 710
What's hot: Bargain priced smartphone with solid specs and good quality.
What's not: Front buttons aren't easy to use, no mobile hotspot feature.

Reviewed January 5, 2012 by Lisa Gade, Editor in Chief (twitter: @lisagade)
The Nokia Lumia 710 is T-Mobile's second Windows Phone Mango second generation smartphone, and it's Nokia's second Windows phone. For a phone that's defined by its "secondness", it's nonetheless an attractive and interesting example of Windows Phone hardware. It has a sharp display, that distinctive Nokia look with curved corners and pleasing lines, and a few Nokia signature touches like their Nokia Drive app. The Lumia 710 might not have the unibody polycarbonate design and Super AMOLED display of its more high end overseas companion, the Lumia 800, but it's a great smartphone for $49.99 on contract.
High end or low end, or somewhere in between; Windows Phones all share the same basic specs thanks to Microsoft's strict guidelines. That means this $49 phone runs on the same CPU and its display has the same resolution as the higher end Lumia 800 and AT&T Windows Phones like the HTC Titan. You get a second generation single core 1.4GHz Qualcomm Snapdragon CPU with Adreno 205 graphics, a 3.7" 800 x 480 pixel capacitive touch screen, 3G and 4G HSPA+ 14.4Mbps (currently the fastest data connection Windows Phone supports), a 5 megapixel rear camera and the usual WiFi 802.11b/g/n, Bluetooth 2.1 + EDR and a GPS. Not bad for the price!
Typical of lower priced Windows Phones, you get less storage: 8 gigs vs. 16 gigs on higher end phones. The Lumia 710 has about 5.33 gigs free for your use, and that might be a bit tight for those of you who embrace the Zune ecosystem for syncing music and video. Zune is as ever one of the slickest and most enjoyable mobile music players, and it makes the iPhone's music player look a bit old school. It has album art, and side-scrolling to see related music, artist bios and more. If you have a Zune pass ($10/month), you've got an all you can eat subscription music service and you can stream music to the phone without side-loading using the Zune app in Windows or the Mac Windows Phone Connector (with iTunes sync) in Mac OS X. If you wish to purchase music and videos from the Zune Marketplace, you'll pay using the Microsoft Points system, just as you do with XBOX downloadable content. The Lumia 710 has good sound quality from the speaker, and very good sound quality through headphones and Bluetooth stereo headphones. The rear-firing speaker is surprisingly loud for a small phone.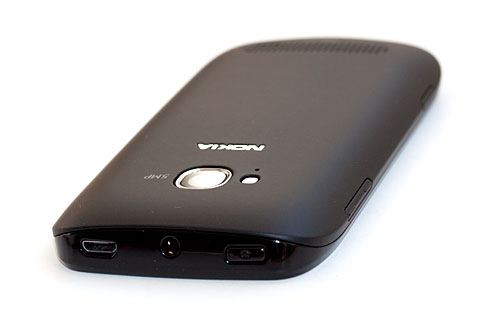 Thanks to the 1.4GHz CPU, the Lumia 710 hums right along. Windows Phone is optimized for the Qualcomm Snapdragon single core CPU, and speed is always impressive. It's as fast as the iPhone 4S and you don't see the occasional lag that pesters Android phones. XBOX Live games play fluently on the phone, and even demanding 3D titles play well. Speaking of XBOX, Windows Phone integrates with XBOX Live and there's a healthy selection of quality games ranging in price from .99 to $6.99, with most high quality titles selling for $2.99 to $4.99.
Again, thanks to Microsoft's broad ecosystem, you get very good MS Exchange support and a mobile MS Office suite for viewing and editing MS Office files. In addition it handles Gmail and Google Contacts and Calendar sync along with POP3 and IMAP email. The phone can pull documents and photos from the SkyDrive cloud too. The Lumia 710 has 4G HSPA+ on T-Mobile, and speeds in our solid coverage area were very good, with documents transferring quickly and music streaming without a hiccup. T-Mobile TV streamed perfectly over HSPA+, as did Netflix. When streaming lots of video or music, you might want to use WiFi when available to avoid hitting your data cap. T-Mobile doesn't cut off customers who exceed their data plan allowance, but they will slow down your connection to EDGE speeds for the remainder of your monthly period.