Home -> PDA phone and Smartphone Reviews -> Samsung Epix i907

Samsung Epix

Editor's rating (1-5):
Discuss this product


Reviewed October 26, 2008 by Lisa Gade, Editor in Chief

The Samsung Epix, also known as the i907, gives the Treo Pro and the HP iPAQ 910c a run for their money. It's slimmer than most Windows Mobile Pro (Pocket PC) phones and it's actually about the same size as the non-touch screen Samsung BlackJack II smartphone, though a tad thicker at the bottom. If you've pined for a touch screen version of the ever-popular BlackJack or BlackJack II, you can jump for joy. Though the Epix adds more than the touch screen: it's got WiFi, an optical mouse pad and a larger, higher resolution display. For those of you who follow import phones, the Epix is the US version of the Samsung i780. It runs Windows Mobile 6.1 Professional on a 624MHz processor, and it has 256 megs of flash ROM and ~80 megs of free RAM to run programs. The smartphone has 3G, a 2 megapixel camera, Bluetooth 2.0 with A2DP, CV (ATT's streaming video service), various IM clients, a GPS with AT&T Navigator and an SDHC microSD card slot.

The Epix is among the fastest Windows Mobile Pro phones, running on a 624MHz XScale processor. As Windows Mobile Pro phones go, it's very responsive with little to no lag when opening the Start menu or programs/settings windows. A fast CPU usually translates into poor battery life, but the Epix has been a champ so far, easily lasting 2 days with moderate use (push email not turned on). In contrast, our Treo Pro only made it a day with the same usage pattern. The Epix runs on a high capacity 1800 mAh Lithium Ion battery, in part explaining that stamina. But the HP iPAQ 910c has an even higher capacity battery and a slower CPU, yet it runs out of juice before the Samsung. Whatever Samsung's doing, we like it!

Design and Keyboard

The Epix i907 comes in just one color: dark silver metallic. Given the proliferation of BlackJack II colors, who knows what other hues might pop up in the months to come. The phone looks business-like and modern in its monochromatic palette. There's no soft-touch surface here, just smooth plastic-- watch out if you've got sweaty paws.

Though the keyboard can't beat our beloved Moto Q9 Global's, the Samsung is much less wide; and part of what makes the Moto's keyboard so good is the device's sometimes annoying width. We like the Epix keyboard better than the BlackJack II keyboard: the surface is still slick but the curve of the key tops has changed and we didn't find ourselves slipping off the keys as much. There are dedicated keys along the bottom row for the camera, web, calendar, email and silent mode. Pressing and holding these keys brings up other functions (long press the camera key to zoom in on the current screen, long press the web key to start MS Voice Command). Gone is the BJII's feature where you could press and hold a key to get the alternate number or character. Now you've got to hit the Fn key for alternate characters, and double-press it to turn on number/symbol lock.

As with prior Samsung PDA and smartphones, you can assign Fn quick launch keys to any letter on the keyboard. Several are pre-defined: hit Fn and the b button to open the Bluetooth settings screen, for example.

The keyboard is backlit in white which contrasts well with the black keys. Likewise the d-pad area buttons light up, and that's the only time you'll be able to see their masking. The call send and end buttons are in standard locations as are the two Windows Mobile softkeys so it's not that great a tragedy, but the Windows start menu and OK keys are something you'll just need to memorize or hit a key to turn on their backlighting.

Deals and Shopping

get it direct from AT&T

Advertisement
The SDHC microSD card slot and Samsung blade USB connector (same as that used on the BlackJack II) are located under covers on the right side. The USB port handles syncing, charging and stereo audio. AT&T and Samsung include a blade to 3.5mm adapter should you wish to use standard stereo headphones with the phone's music and video players. The volume up/down rocker is on the left side, as is the power button. Like all Windows Mobile Pro phones, by default keyguard is on and you can only turn on the device by pressing the power button (all buttons and the display work if a call comes in). Should you wish the phone to turn on when any key is pressed you can change this setting using a control panel applet.
The stylus lives at the upper left hand corner, and it's a fairly beefy, telescoping model. Given the flush display with no bezel to get in the way, we seldom needed to reach for the stylus (a fingernail does help).
The Samsung Epix, like its Euro cousin the i780 has an optical mouse: a small sensor pad that takes the place of the d-pad. This works much like a touch pad on a notebook, and you'll see a mouse pointer on screen when it's in mouse mode. While we were underwhelmed with the i780's sensor in mouse mode, we love it on the Epix i907. It's accurate, has proper sensitivity (adjustable via a control panel applet) and works well in documents and web pages. It also works well in d-pad mode: run your finger across the sensor to scroll and press down to select an item. Though not the best choice for action gaming, the optical mouse is otherwise a welcome alternative to a traditional d-pad.
Phone, Reception and Data
The Epix is a quad band GSM world phone that works on all the world's GSM and EDGE bands: 850/900/1800/1900MHz. Like all phones sold by US carriers, it's locked to its carrier (AT&T in this case), though you can get an unlock code after 3 months of service (immediately if you've purchased it at full retail price rather than new contract pricing). The Epix is a 3G phone with 3.6Mbps HSDPA on the 850/1900/2100MHz bands that will work in the US, Europe and Asia (when in a 3G coverage area).
Reception on 3G HSDPA and call quality are excellent. The Epix gets a stronger signal than the BlackJack II and rivals our Nokia S60 phones (notorious for their good RF). Voice is loud, crisp and clear through the earpiece and the speaker is likewise loud and clear for calls and multimedia. MS Voice Command 1.6 is included (turn it on in settings and launch it by long-pressing the web/Media Net key on the keyboard). This is an excellent speaker independent voice command program that handles voice dialing and a wide selection of other commands including launching programs and getting status info. It works with Bluetooth headsets and well, and we tested it with the Samsung WEP-200 and Plantronics Discovery 655. Those of you who were deranged by the HTC Touch Diamond's instant-off display when in a call feature will be happy to learn that you can set the in-call display timeout on the Epix. Unfortunately, like most Windows Mobile touch screen phones, the Samsung's display washes out in bright sunlight outdoors.
Data speeds on AT&T's HSDPA network are good, averaging 700kbps on the DSL Reports mobile speed test (those numbers are a bit lower than our 3G Nokia E71 and US GSM HTC Touch Diamond). The real joy comes courtesy of the i907's fast performance and CPU. Internet Explorer mobile renders pages quickly and the 3rd party web browsers NetFront and Opera Mobile 9.5, which are taxing on slower WinMo Pro phones, likewise run speedily.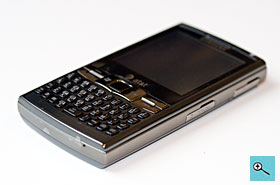 For email, SMS and MMS there's the usual Outlook mobile program, called Messaging. It handles POP3, IMAP and Exchange email as well as MS Direct Push email. Messaging can check email on a user-specified schedule if not using MS Exchange with Direct Push for immediate delivery. The application can notify you of new email via sound, LED and vibration, though we noticed the Samsung didn't play a sound when the phone was in standby (screen off)... hopefully Samsung will fix this. Alerts and alarms otherwise work as advertised.
GPS
Need help getting where you're going? The Epix has an integrated GPS and AT&T Navigator (formerly called TeleNav). You can either use the provided AT&T solution, which is subscription-based and costs $9.99/month (it also requires a data plan since maps are downloaded over the EDGE/3G data connection) or the package of your choice. If you wish to use something other than AT&T Navigator, we suggest you download AT&T Navigator using the pre-installed download link on the phone, then run it once. Why? It seems to setup the GPS for use, and after doing so, we had no trouble using other mapping and navigation programs. We've tested Google Maps, Windows Live Search and Garmin Mobile XT and all worked. For some reason Windows Live Search didn't default to "GPS intermediate driver" in settings, so we had to set that to get Live Search working. We tested CoPilot Live 7, and that package didn't work with the Epix (couldn't speak to the GPS).
The GPS has impressed us, managing to get a satellite fix indoors near a window on a rainy day. In fact, indoor cold starts are unusually fast at 20 seconds-- we don't know what Samsung's doing here, but we love it! Their GPS has so far outperformed dedicated SiRF Star III phone-based GPS chipsets.
Multimedia
AT&T includes their CV service, a streaming video service that's included free with a data plan (some content like HBO requires a monthly fee, but most video is free). The Samsung does a great job of playing CV using Windows Media Player mobile and video plays back full screen by default. With a good 3G signal, video looks sharp and audio mostly stays in sync with video. We expected the Epix to be fantastic for video playback of locally stored content given its responsiveness and fast CPU. Windows Media Player mobile did just an average job at video playback, and we found that anything over 650kbps could tax it. Core Player (the commercial version of TCPMP) in contrast did wonderfully: even 800kbps files in a variety of formats played smoothly with good audio sync even in full screen mode. Our usual test file, a 320kbps MPEG file benchmarked at 580% with a bench data rate of 1.8Mbit/s, which is quite good. If you're into playing video on the go, consider getting a copy of Core Player Mobile.
Like all WinMo phones, the Epix can play music using Windows Media Player mobile or a 3rd party music player. The Samsung can play WMV (including copy protected Plays for Sure content), MP3 and AAC (unprotected iTunes format). It supports Bluetooth stereo A2DP for playback via Bluetooth headphones. The PDA phone sounded very good with Samsung's own SBH-500 stereo Bluetooth headphones and with Motorola's S9 stereo headset. The built-in speaker is surprisingly full sounding by phone standards and it's loud enough to fill a small room with music. Though the Epix uses Samsung's proprietary blade connector (same as the BlackJack II's), they include a short adapter that converts it to a standard 3.5mm stereo jack, so you can use high quality wired headphones with the phone.
Camera

The Samsung Epix has a 2 megapixel camera with fixed-focus lens and no flash. That might not sound terribly exciting but the phone actually takes pretty decent shots for a 2MP model. Indoor shots are particularly good-- surprising given the lack of a flash, with good exposure, nice color saturation and relatively low noise. Outdoor shots in bright light are sometimes too high in contrast, making them both very sharp and artificial.

Max photo resolution is 1600 x 1200 and max video resolution is 320 x 240 in 3GP format at 15fps. Video is well saturated with little ghosting-- overall nice for a camera phone, though it obviously won't compete with extremely high end camera phones like the Nokia N95-8 gig. There are settings for resolution, brightness (you can use the d-pad to change brightness and see the changes before taking the shot), burst mode, timer, effects and white balance.
Software
The Epix comes with the usual Windows Mobile Pro built-in applications, including Mobile versions of MS Word, Excel, PowerPoint, One Note, Windows Media Player Mobile for music and video, Internet Explorer and Outlook. The smartphone syncs contacts, calendar, tasks and notes with Outlook on Windows PCs and MS Exchange. Mac users will need to purchase Missing Sync to sync to the Mac's PIM applications. We tested the Epix with Missing Sync on a Mac Pro and it sync-ed fine.
Samsung includes a nice selection of their own programs: an RSS reader, stopwatch, unit converter and a Java VM. AT&T includes their usual Mall, Music Store, Fox Sports Mobile (requires a monthly fee to use), The Weather Channel Mobile, Mobile Banking, CV (streaming video service from AT&T) and AT&T Navigator.
Conclusion
The Samsung BlackJack II has been one of our favorite Windows Mobile phones, and judging from sales, we're not alone in liking it. There were a few things that would have made it perfect: a touch screen and WiFi. Here they are in the Samsung Epix i907, and better yet with a fast CPU, excellent battery life and a higher resolution flush touch screen. Nice. It might not be the poster child for sexiness like the iPhone or HTC Touch Diamond, but it's got the speed, usability and functionality to get the job done well. The phone offers great one-handed operation, is fast, has plenty of memory, an impressive GPS, very good voice quality and great reception. We're hard pressed to think of something we don't like about the Epix. If QWERTY bar smartphones are your thing, the Epix should be on your short list.
Price: $199 with a 2 year contract after $100 AT&T rebate. $449 without contract
Web sites: wireless.att.com, www.samsung.com
Display: 65K color color LCD. Screen size diagonally: 2.5". Resolution: 320 x 320.

Battery: Lithium Ion rechargeable. Battery is user replaceable. 1800 mA.

Performance: Marvell XScale ARM920T PXA311 624 MHz processor. 150 MB built-in RAM with ~80 megs free at boot. 256 MB Flash ROM with ~147 megs available.

Size: 4.6 x 2.4 x .5 inches. Weight: 4.4 ounces.

Phone: GSM quad band world phone with EDGE 850/900/1800/1900MHz. Triband 3G HSDPA 3.6MBps 850/1900/2100MHz. SIM locked to AT&T.

GPS: Yes, with aGPS (GPS with assisted tower triangulation).

Camera: 2.0 MP, can take still photos and video with audio. 4x digital zoom, max photo resolution: 1600 x 1200. Video formats: MPEG4, H.263 and WMV.

Audio: Built in speaker, mic and Samsung Blade connector (3.5mm standard stereo headphone adapter included in the box). Voice Recorder and Windows Pocket Media Player 10 included for your MP3 pleasure.

Networking: Integrated WiFi 802.11b/g and Bluetooth. Bluetooth profiles include headset, handsfree, A2DP, AVRC, serial port, FTP and PAN.

Software: Windows Mobile 6.1 Professional operating system. Microsoft Mobile Office suite including Mobile versions of Word, Excel, One Note, PowerPoint Internet Explorer, and Outlook (Messaging). Other standard apps include Windows Media Player 10, Solitaire, Bubble Breaker (game), Voice Recorder. Additional applications: Java VM, MS Voice Command, RSS reader, Task Manager, Photo Slides, and an IM client that handles AIM, Windows Live Messenger and Yahoo IM services. AT&T includes their XPress Mail, CV (streaming video service), AT&T Music (Napster), MobiTV, Mobile Banking, Fox Sports Mobile and The Weather Channel. ActiveSync 4.5 and Outlook 2007 trial for PCs included.

Expansion: 1 SDHC microSD card slot, compatible with cards up to 32 gigs.