Home > Windows Phone Reviews > Samsung Focus 2

Samsung Focus 2 (Video Review)
What's hot: Affordable, colorful display and LTE 4G.
What's not: Not much internal storage for a multimedia phone.

Reviewed May 19, 2012 by Lisa Gade, Editor in Chief (twitter: @lisagade)
The Focus 2 is Samsung's first LTE Windows Phone, and it's more portable and affordable than the Nokia Lumia 900 and HTC Titan II LTE Windows Phones on ATT. The Focus 2 has a 4" Super AMOLED display running at the usual 800 x 480 resolution, and it's powered by the same 1.4GHz Snapdragon second generation CPU used in many current Windows Phone 7.5 Mango smartphones. The Focus 2 fights the popular Nokia Lumia 900 with its low $49.99 price tag with contract.
The Focus 2 is a bit storage challenged, and it has just 8 gigs of storage with 6 available for your use. There is no removable storage unlike the original Focus. The phone has LTE 4G and HSPA+ for fast data, and you'll definitely notice the difference on either network vs. the relatively slow data speeds on the first Focus. The Focus 2 has the mobile hotspot feature so you can use the phone as a wireless high speed model for your laptop or tablet. The Samsung has WiFi 802.11b/g/n, Bluetooth 2.1 + EDR and a GPS with Bing Maps and AT&T Navigator. There's a front video chat camera that works with Skype and Tango and a rear 5MP camera with LED flash that can shoot 720p video.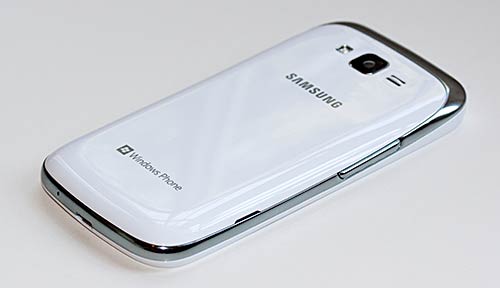 The phone is gloss white and while it resists dirt, it does show fingerprints and is slippery. The design is easy on the eyes but the phone does scream plastic (hey, it's only $50 with contract). Still, the Lumia 900 is a much more attractive phone for $99 with contract, and it sports a larger and better display and Nokia's compelling apps and services.
The Focus 2 fights back with a removable 1750 mAh battery and a more pocketable form. If you want to be able to swap in a spare battery on the go and detest pocket-stretching big phones, it's worth a look.