Home -> Phone Reviews ->Samsung SCH-a990

Samsung a990

Editor's rating (1-5):
Discuss this product


Review posted August 21, 2006 by Tong Zhang, Senior Editor

Editor's note, Jan. 2008: Check out the Samsung FlipShot on Verizon, their latest 3MP autofocus flip phone.

It seems like just yesterday we were excited by cell phones with 1.3 megapixel cameras in the US, and you just knew that the megapixel war was about to begin. Today if you are an overseas GSM phone user, you have a good selection of mobile phones that have integrated 2-3 megapixel cameras offered by Nokia and Sony Ericsson. But CDMA users in the US were stuck in 1.3 megapixel land, until Verizon released the Samsung SCH-a990 which has a top of the line 3.2 megapixel camera with an auto-focus lens. And since a US carrier offers it, it's available at a pretty good price: $350 with contract. That's a good deal less than the $500 or more you'd pay for the imported Nokia N73 or N80, both cost over $500. On top of the 3.2MP camera, you will also get a solidly built clamshell phone in a small package, microSD storage slot, bright and vibrant LCD, EVDO for data, integrated Bluetooth, basic PIM applications and the V CAST support.

Design and Ergonomics

If you're a photographer and in love with clamshell phones, the Samsung a990 might just be the thing for you. From form factor stand point, the Nokia N80 and N73 take comparable photos, but the N80 is a bit thicker and the N73 a bit longer, and neither has clamshell form. The Sony Ericsson W810i is the slimmest in the lot and takes good quality photos, but it's a candy bar phone and has fewer megapixels. Though not a large phone, the Samsung feels solidly built with some heft to the body and it looks expensive with its black and silver color combo housing. It has two distinct looks when the clamshell is closed: the front looks like a phone and the back looks like a compact digital camera.

The front of the a990 has a clean look in black with a good sized external LCD in the middle and a strong silver hinge on top. You can flip the LCD panel 360 degrees to turn on the camera on the back and use the large internal LCD as the viewfinder. This design allows you to take photos and video without opening the clamshell. The camera buttons live on the right side of the phone where you will find the camera Option button, Zoom buttons (which also function as volume up and down while in a call), the speakerphone launch key (very peculiarly located among the camera controls) and the camera shutter button. The keys are large enough to operate. The left side of the phone doesn't have as many buttons but harbors the microSD slot, the headphone port and the music player controls which include fast forward, play/pause and rewind keys. There is a stereo speaker on each side of the Samsung and the power charging port lives on the bottom of the phone.
Turn the Samsung SCH-a990 around, you will see a compact digital camera. The small 3.2 megapixel camera lens lives under a protective door along with a self-portrait mirror. The flashlight sits on the outer ring of the camera lens and outside of the ring, you will find a manual lever that opens and closes the lens door. You must open this door before taking any photos or video. On the opposite side of the camera lens, you will find a raised grip to help you hold the phone like a camera and assist you to open the battery door which is right below the lens. The included rechargeable battery lives under the door and is user replaceable.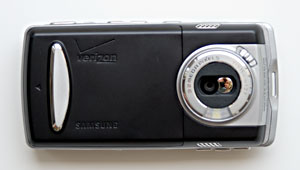 Since many functions buttons are on the sides of the phone, the number keypad and navigation manual keys feel spacious. The alphanumeric keys are raised slightly to give you some tactical feedback when blind-dialing and the "5 jkl" key has two ridges for you to center on the keypad. The 5-way navigation control isn't perfectly square (larger on the top and narrower on the bottom) but large enough as good gaming controls. Other than the menu key in the center of the navigation group, you will also find the quick launch buttons for apps such as calendar, browser, Get It Now, Camera, PIX/FLIX (Verion's lingo for photos and video), voice command and the usually Call/End buttons and the back key along with two soft function keys that can call up Contacts and Message applications and perform various functions in different apps. All the keys are backlit in white except the call Send key which has green backlight and the End key which has red backlight. The mic lives just below the number keypad.
Phone Features, Data and Reception
The Samsung SCH-a990 is a digital CDMA phone that operates on Verizon's CDMA 800 MHz and 1900 MHz digital network. Verizon's coverage is spotty in our location in the North Dallas area. The Samsung gets lower signal strength than the LG VX8300 and the LG Chocolate phone and gets 1-2 bars of EV and 1 bar voice coverage in this area; but in good coverage areas, the phone gets full EV-DO strength and usually 1 bar fewer in 1x. Call clarity is good but drops a syllable or two in every other sentence. The volume is quite loud and the stereo speakers are clear and loud for conference calls. Voice quality is good via wired headsets.
The Samsung a990 supports voice dialing, speed dialing, alarm and vibration mode among other popular phone features. The speed dialing features 1-touch, 2-touch and 3-touch speed dials that allows you to assign speed-dialing spots to 500 in Contacts application (you'll need a good memory!). As a special treat, the Samsung bundles the VoiceSignal software that gives you true voice recognition in not only dialing numbers by voice but also accessing applications, dictating text using speech and more. VoiceSignal works very well for voice dialing and you needn't record voice tags.

For data, the Samsung supports Verizon's EV-DO 3G data network which comes in handy when you are sending those large photos or videos and downloading music or video from V Cast. Given the phone's WAP browser, we couldn't get a meaningful reading on dslreports for data speed tests. But judging from the video, music and image download of the V Cast content, we'd say that the speed is on par with the LG VX8300 on Verizon. For video playback on V Cast you will experience some buffering moments, but nothing too glaringly slow.
For messaging you will get the usual Verizon text and MMS (PIX & FLIX in Verizon lingo) services. Text messages are almost instantaneous regardless of the receiving carrier but the multimedia messages work the best within theVerizon network (then it takes only takes a few seconds for a photo or a video to arrive). We tried sending a photo from a Sprint phone to the a990, and never received the message. The Samsung provides only web-based email with default links to MSN Hotmail, AOL Mail and Yahoo Mail. If you want to access other web-based email accountssuch as gmail, just go to the URL using the web browser. Speaking of the browser, the Samsung comes with a capable mobile WAP browser. You can access WAP sites and Verizon's own free WAP portal.
Expansion
To store messages, photos you take with the 3.2 megapixel camera or the music tracks you download from V Cast web site, you can use either the internal memory or microSD cards. The Samsung SCH-a990 has 70MB of memory of which 16.6MB are used for applications that come with the phone. It has an expansion slot that can work with microSD cards, though no card included with your phone and you must buy the cards separately. We tested it with a 512MB Patriot microSD card and it works like a charm. The only issue with the microSD card slot on the Samsung is the card slot is deep and the spring is strong, you will need strong fingernail to get the card in and out, or have a small pin ready when using the microSD cards.
Display, Gaming and Multimedia
The Samsung SCH-a990 has a 2.1" (diagonal) TFT display that's bright and vibrant. It can display 240 x 320 pixels (QVGA) with 262K colors (18 bit). The resolution isn't as high as the Nokia N80's and is the same as the Nokia N73's, but the Samsung screen looks slightly dimmer than those two Nokia phones. That said, video and images look sharp and color saturated. The screen doesn't white out in bright sunlight which is very handy when you are taking a photos using the main display as the viewfinder.
The Samsung has stereo speakers that are loud and have good quality. It works wonder in conference calls and does a decent job of playing music. For better results, you can plug in a stereo headset or purchase the Music Essentials Kits which includes a stereo headset, USB cable for transferring music from a PC to the phone and software for ripping music from your CDs. The sound through the Samsung stereo headset is good but it lacks strong bass. The Samsung a990 has a music player, but the catch is that it doesn't play MP3s -only plays WMA files. This cripples this phone as a strong music player since MP3 is an extremely popular format.
Video playback is a bit slow on the a990 when vewing V Cast content. Audio was clearly out of sync with video and it dropped frames. This hurts even more since Verizon keeps adding content to V Cast where you can get lots of free TV programs including news from major TV news stations, sports including ESPN, Fox, SI and more, weather and entertainment channels including Comedy Center, MTV, E! and many more. The download speed is reasonably fast on the Samsung thanks to the EVDO.
While not stellar at playing videos, the Samsung SCH-a990 rocks when it comes to gaming. The games download faster than the LG VX8300 even with a weak EVDO signal. Pac Man by Namco and Mission Impossible III by Gameloft run smoothly on the Samsung. The d-pad and the number keys are large enough to control games comfortably though we wish the d-pad was a square shaped for even more balanced gaming control.
Camera
Though not quite as good as a dedicated 3MP digital camera, the Samsung a990 comes close enough that you just might leave your point-and-shoot digital camera at home. The 3.2 MP camera takes very sharp pictures that look crisp and color saturated. The phone's autofocus lens is still a relative rarity on camera phones and it certainly improves sharpness and can add a touch of depth of field in macro and portrait shots. When compared to 1.3MP camera phones, there's no contest. The a990's images have much more detail, significantly less artifacting and better exposure. The photos are great for the web and good enough to print up to 5" x 7". We compared the Samsung a990 photos with the recent Nokia Nseries camera phones which come with 2-3 megapixel cameras. The a990 photos have more color saturation than the photos taken by the Nokia N80 (with 2 MP camera), though they do have a brown-ish cast. The images are sharp with great depth of field and indoor shots have less noise than the N80 photos. Compared to the Nokia N73 which has a 3 MP camera with autofocus lens, the A990 photos looked more digital (image processing and compression) while the N73 photos represent the colors more realistic. The Samsung handles exposure well with a minimum of white-out under bright sunlight, and good exposures indoors in poor light.
The camera offers 8 resolutions with max resolution at 2048 x 1536 and the minimum resolution for Picture ID. You can launch the camera either by the long route (GET IT NOW/Get PIX & FLIX)/Take PIX, or by the shortcut: open the clamshell and swivel the display. You will need to manually open the lens cover in both cases.

The camera application offers plenty of options if you wish to tinker with the photography aspect. The Picture Mode includes Auto, Portrait, Landscape, Night, Daylight, Backlight and Macro. You can set picture qualities, flash options, self timer, multi-shots, white balance, brightness, metering options and more. While we are very happy to see the camera software comes with these options, we don't dig the hardware buttons that control the options. It takes no techno genius to realize that the shutter button is way overloaded. The small shutter button has two functions: when you press quickly it takes a photo; when you press the button longer it switches to video record mode. Since the shutter button isn't all that big, you will need a delicate touch to avoid switching between photo and video modes unexpectedly. Since the camera has an auto-focus lens you'll need to hold the camera still until it focuses to take a picture (1 to 2 seconds).
| | |
| --- | --- |
| | |
Like most camera phones, you can send the photos you've taken via MMS, share them online or put them on a TransFlash (also called microSD) card to share them. The SCH-a990 offers support for PictBrigde which allows you to print your photos to a printer via USB cable or via Bluetooth. Should you wish to share your photos with friends and family, you can use the included TV-out cables to show off the images on a big screen.

The Samsung a990 camera can also take video at 320 x 240 and 176 x 144 resolutions. You can take video of any length as long as you have the storage space, and only MMS videos have a 15 second limit. You can adjust settings and use flash and self timer for taking video as well. The video quality is good with audio in sync.
Bluetooth
The Samsung has integrated Bluetooth v1.1 and supports Headset, Hands-free, Serial Port, Dial Up Network and Basic Print Profiles. The phone pairs with all headsets we've tested with ease and has decent performances when working with Bluetooth headsets. Voice quality via the Cardo scala 500 was good on both incoming and outgoing ends with slightly low volume on the incoming calls. You can turn up the volume on the headset to remedy this. The Jabra FreeSpeak 250 works even better with the Samsung with clear voice on both ends and good volume. There was no noticeable digital noise via either headset. Like many Bluetooth phones, we could get about 15 feet between the phone and the headset before we started to experiencing crackling sound and breakups. Having Bluetooth turned on in standby doesn't have huge impact on battery life.
Battery Life
The Samsung SCH-a990 comes with a rechargeable 1000 mAh Lithium Ion. The battery capacity is large enough for most of the tasks on the phone except accessing V CAST and downloading multimedia files from V CAST which drains battery like nothing else (this is true of many V Cast phones). The claimed talk time is 4 hours and that's a bit optimistic. You should get about 3.5 hours of talk time and 8 days of standby. If you talk for 20 minutes, shoot 10 photos, look up a few contacts and calendar events and pair the phone with a couple of Bluetooth headsets, you will use up a quarter of the battery life. But if you suft V Cast content and watch some news or sports, and download some music tracks, you will use up a charge in about 2 to 2.5 hours. Should you feel the need to get a boost on battery life, you can purchase the 1500 mAh extended battery from Verizon.
Software
The Samsung a990 comes with a basic set of PIM applications including Contacts, Calendar, Calculator, World Clock, Alarm Clock and Notepad. The Contacts application is beefed up by a huge number of speed dialing slots and easy voice dialing when using VoiceSignal software. You can enter 4 phone numbers and a fax number for each contact and the Contacts database supports Groups. The Calendar app has monthly, weekly and Today views and you can add alert, repeat and time zone settings to your events. Samsung includes business card scanner software, which utilizes the camera and built-in OCR software. You can take a photo of a business card and the software will do its best to recognize the info on the photo and turn it into a contact entry. The software get about 70-80 percent of the info right in most cases.
Conclusion
The best camera on a CDMA phone in the US, period. The camera takes excellent photos that can rival some of the best Nokia and Sony Ericsson high-end camera phones. The auto-focus, microSD expansion slot and variety of camera settings make for an excellent camera and turns the Samsung a990 into a convergence device. The Samsung performs well as a phone and has a strong set of features including Bluetooth, EVDO, PIM apps, messaging and multimedia players.
Pro: Awesome camera with auto-focus, the camera apps give you plenty of options for photo and video taking. EVDO and V Cast content add huge value to the entertainment factor. Stereo output and TV cables are nice touches.
Con: The music player lacks support for MP3 and other major audio formats.
Price: $349.99 after $50 online discount with 2 year contract
Web sites: www.verizonwireless.com, www.samsung.com
Display: 240 x 320 pixel resolution 262K TFT color display. Screen size diagonally: 2.1". TV out cables (RCA) for viewing photos on TV.

Battery: Battery is user replaceable.1000 mAh.

Performance: 70 megs of internal flash storage for applications and data.

Size: 3.8" x 1.88" x .82". Weight: 4.4 ounces.

Phone: CDMA dual band phone, 800, 1900 MHz. Digital only. EVDO and 1xRTT for data.

Camera: 3.2 Megapixel camera with auto-focus lens and LED flash.

Audio: Built-in stereo speakers, mic and proprietary stereo headset jack. Music player included but doesn't play MP3. Supports alarms and vibration mode.

Networking: Integrated Bluetooth v1.1 with Headset, Hands-free, Serial Port, Dial Up Network and Basic Print Profiles.

Software: Contacts, Calendar, SMS/MMS client, World clock, Notepad, Calculator, Mobile IM (downloadable), camera, Get it Now (download Pix and Flix, ring tones, games and applications), WAP browser that's Verizon's Mobile Web 2.0 service compatible.

Expansion: 1 microSD card slot.

In the Box: The Samsung SCH-a990 phone, a standard Lithium Ion battery, a travel charger, TV-Out Cable, a headset Adapter, a hand strap and a Quick Reference Guide, a printed User Manual and a Welcome CD.