Home -> Smartphone Reviews -> Sprint Touch by HTC

Sprint HTC Touch

Editor's rating (1-5):
Discuss this product


Editor's note, April 2008: Also check out the Verizon XV6900, Verizon's version of the Touch.


Review posted November 2, 2007 by Lisa Gade, Editor in Chief

When HTC announced the Touch earlier this year, the iPhone competitor (sorta) caused quite a stir, and has since sold over 800,000 units. That's a large number for a high end PDA phone, especially when the lion's share are unlocked GSM phones with no carrier subsidy. The Touch did a few things remarkably well: it's uncannily small for a Windows Mobile Pocket PC phone, it looks simply great, feels wonderful in the hand thanks to it's soft-touch finish and Moto PEBL-like organic curves, and it's powerful thanks to Windows Mobile 6 Professional, and a very usable touch screen with HTC's TouchFLO touch-centric UI. What it didn't do so well were performance thanks to a 200MHz CPU and paltry memory, slow EDGE data speeds rather than 3G, and the touch UI didn't extend very far beyond the custom Today Screen--and in fact it worked only in portrait mode, rotate the screen and you were out of luck.

Sprint is the first US carrier, and the first CDMA carrier at that, to offer the Touch. But it's an improved version that addresses most of our complaints about the original GSM version. The Sprint model has a 400MHz CPU, EVDO for fast data and a more sensitive touch screen (we sometimes felt like we were mercilessly poking the original Touch to get it going). Alas, one major feature was removed: WiFi 802.11b/g, but given Sprint's fast EVDO data network and relatively reasonable data plan prices, that may not be a biggie. While most PDA phones and smartphones are strong on work but short on entertainment, the Touch works with Sprint Music Store, Sprint Radio, Sirius and Sprint TV, which currently offers one of the best channel lineups in the US. Given the phone's entertainment features, hip looks, friendly home screen and small size, we think the Touch will attract both smartphone buyers who don't need a keyboard and high end fashion/feature phone mavens. In short, Sprint's $249 Touch (with 2 year contract) is hot, and may well become one of their most popular smartphones.

In the Box

Like the GSM Touch, Sprint's version comes in a classy and heavy black gift box. Sprint and HTC include a stereo headset, 512 meg microSD card, world charger, USB sync cable, two cable adapters (one splits the combined HTC ExtUSB sync/headphone port into two so you can charge while listening to music, and the other splits the HTC ExtUSB connector to 2.5mm audio and ExtUSB), software CD with ActiveSync 4.5 and Outlook 2007 trial, and printed documentation.

Design, Ergonomics and Touch UI

This is the phone for button-phobic folks. Unlike most Windows Mobile Pocket PC phones, the Touch has a total of four hardware buttons: front-facing call send and end buttons, a camera button on the phone's right side and the power button up top. Simple, yes; though Windows Mobile Power users may miss the myriad other buttons usually present-- especially the Windows Start Menu and OK keys. HTC and Sprint hope the TouchFLO UI will wean you away from hardware buttons in favor of finger-tapping on the screen, a la iPhone (in fact, the iPhone has even fewer buttons). The two Windows Mobile softkeys are there, but only in on-screen touch form, no hardware buttons; and we had no problems with this since the target touch areas are large.

Other than the Sprint logo below the display, the Sprint Touch looks identical to the original GSM Touch, and indeed the casing and dimensions are the same (of course the Sprint version loses the SIM card slot). The 2.8" display is bright but not impressively clear or sharp, though it does look a tad more colorful than our GSM Touch's display. The flush-mounted special screen used for these finger-friendly models just isn't quite as sharp as a standard touch screen such as that used on the Mogul.

The non-telescoping stylus lives in a silo in the top right corner and the camera lens with self-portrait mirror are on the back. The battery lives under the back door and to access it, you'll slide the entire back cover off the phone. The microSD card, located under the chrome trim on the Touch's right side is hot-swappable. But you can't pop up that section of trim unless you first remove the phone's back cover, which is a minor annoyance.
The square d-pad is easy to use and gaming-friendly and the camera button can be re-assigned to launch a different application such as Voice Speed Dial since there's no dedicated speed dial button. A software applet lets you decide what the smartphone will do when the call end button is long-pressed: turn on/off flight mode, lock the device, terminate the data connection or switch between vibrate and ring.
We've already dug deep into the HTC's TouchFLO UI in our original Touch review. We'll try not to repeat ourselves too much while covering what's new and different. First thing to note: TouchFLO does not completely make-over the Windows Mobile user interface. Rather it adds a very finger-friendly and useful Today Screen plugin, touch-scrolling in any app or window and support for the upward finger swipe gesture which brings up HTC's finger-friendly application launcher and photo caller ID screens. The rest still looks like and works exactly like other Windows Mobile 6 Professional Pocket PC phones. That includes the tiny close "x" box to dismiss applications, the same handwriting recognition software and so on. New for the Sprint Touch are enhanced on-screen keyboards that make it easier to enter text with fingers rather than stylus.
You can select an input method as per usual, and the 20 key "Touch keyboard" and 12 key "Touch Keypad" keyboards are the custom ones. The 20 key on-screen keyboard has two personalities (see the left two images above). The smartphone selects the version you get based on what app you're in, so Word Mobile gets the SureType (center) version while File Manager gives you the traditional layout (left). However, things get a little iffy if you switch between apps and one keyboard might stick (switch from Word to File Manager and back to Word and you'll get the standard (left) keyboard as it forgets to switch back. The SureType style keyboard works fairly well, though I'd prefer being able to switch between them myself. The 12 key, shown on the right is basically an on-screen version of a phone's keypad with the letters labeling more dominantly than the numbers. At times this keyboard doesn't come up, say in Internet Explorer: if you select it, you'll get the standard 20 keyboard (left) instead. So things are a bit unpredictable, but moving in the right direction since the standard Windows Mobile on-screen keyboard is too small to use with fingers.
| | |
| --- | --- |
| | |
Today Screen enhancements and TouchFLO items: As with the original Touch, the Today theme offers quick access to basic phone status + appointments and other today screen plugins, an application launcher, the weather and a new on the Sprint version is a tab to control the ringer. The theme is black, gray and yellow which looks good on the unit and fits Sprint's branding. Swipe your finger from the bottom of the display to the top to bring up a spinnable cube. Swipe from right to left (or left to right) to move through these sides. One has a palette of user-assignable images for your contacts. Put your contacts' photos in their, then tap on the picture to bring up their contact info in the address book. No, it doesn't dial them, you have to then hit the call button at the bottom of the screen. Flip your finger left or right to move to the next face of the cube which is a Sprint multimedia and On Demand application launcher that has large "buttons" for Sprint Music, Sprint TV and Handmark's On Demand (otherwise known as PocketExpress). The next face is another large target application launcher for Sprint's Software Store, IM (a free download of OZ IM), Internet Explorer, SMS, Comm Manager and Mailbox (email).
| | | |
| --- | --- | --- |
| | App launcher | Sprint multimedia launcher |
These software enhancements have proved so popular on the original Touch that sophisticated users have loaded them onto non-Touch HTC phones. But just in case you don't like the Today screen, you can disable it in favor of the traditional Windows Mobile Today Screen themes. TouchFLO also has gesture-scrolling: drag your finger up, down or sideways to scroll the current window. Unfortunately the gesture launcher doesn't work in landscape mode, but scrolling does.
Phone Features and Data
The Sprint Touch is a dual band digital CDMA phone with 1xRTT and EV-DO rev. 0 for high speed data. Needless to say, web browsing is much more enjoyable on Sprint's version thanks to the high speed data connection which is roughly 4 to 6x faster than EDGE on the GSM unlocked Touch. Browsing is also faster thanks to all that lovely memory and we never got memory low warnings when surfing on the Sprint model. Voice quality is good, though not as good as the Moto RAZR2, and volume through the earpiece is adequate (you'll need the speakerphone or a headset when in very noisy locations). The speakerphone is adequate: not impressively loud but it is clear with little distortion at high volumes. The included stereo earbud headset's volume and sound quality are excellent. The Touch works well with most Bluetooth headsets, though range is average and not quite as good as the far-reaching Mogul.
Unlike the GSM Touch which came with Cyberon Voice Commander, a full-fledged speech recognition app, the Sprint version comes with Cyberon Voice Speed Dial which requires that you record voice tags for contacts and applications. Voice Speed Dial is accurate and reliable, and works with Bluetooth headsets and car kits as a consolation. The Bluetooth headsets we tested worked well with the Touch, offering average range and good voice quality for incoming and outgoing calls. We tested the Plantronics Discovery 655, Jawbone and Samsung WEP-200 and each worked well with no static when within 15 feet of the smartphone.
The phone has the usual Windows Mobile Internet Explorer (a pared-down version of the desktop browser) and Messaging which handles SMS text message and email. There's no support for MMS or Picture Mail as Sprint calls it, so you'll have to send photos and video via email. The PDA phone supports POP3 and IMAP email along with Microsoft Direct Push mail and Exchange. There's a link to download OZ Instant Messaging (no charge) and that app handles AIM, Windows Live Messenger and Yahoo IM.
Horsepower and Battery Life
The Sprint Touch shines here, offering the same CPU power as its much larger brother the HTC Mogul on Sprint, with even more memory. This PDA phones runs on a 400MHz Qualcomm MSM7500 dual core processor, which translates into good performance by Windows Mobile standards: menus open quickly, windows open with reasonable speed and scrolling is fast. Video playback is quite good with taxing bitrates and no significant frame drops.
The Touch has 128 megs of RAM (used like RAM on your computer to run programs), with 73 megs free at boot (that's nearly 3x available memory on the Mogul and almost 4x compared to the GSM Touch). This means apps will run more smoothly and you won't have to quit apps to free up memory very often. We hope that all Windows Mobile devices come with this much RAM going forward! For storage, the Touch has 256 megs of flash memory with 151 megs free for your use to install programs and store data. For video and music collections, you can use the microSD card slot which is SDHC compatible for use with cards 4 gigs and over. The Touch ships with a 512 meg starter card.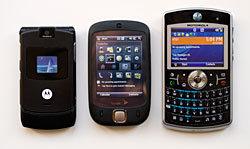 We expected the Sprint Touch to have mediocre battery life at best given the 2x faster CPU compared to the GSM Touch plus power-hungry EVDO. We were pleasantly surprised that the 1100 mAh battery held up well under average use. Granted, with a phone that can do so many things, it's hard to refer to "average" use; but with 30 minutes of talk time each day, an hour of music playback with screen off each day, 40 minutes surfing the Net and downloaded email once/hour from 9-5, the Touch lasted 2.5 days. If you spend an hour each day streaming Sprint TV, turn on MS Direct Push email or play your own movies for an hour or more per day, expect to charge nightly.
Sprint Multimedia
Who says a smartphone can't be fun? The tiny Touch has Sprint TV, the Sprint Music Store and support for streaming radio along with Sirius (we couldn't test Sirius and radio on our unit). Sprint has 50 channels of on demand TV and video programming (available for a monthly fee, with tiered channel offerings) we were impressed with video playback performance on the Touch. The player works only in landscape mode and the screen orientation switches automatically when you run the application. The player uses the entire screen and the video, while not full-screen, does use a large portion of the display rather than playing a postage stamp sized video. Channel selection and variety is very good, from TV programming to news, weather and lots of sports. Sprint TV Live mimics broadcast style programming with programs that change each hour or half hour. We had to download a 1.86 meg update before we could watch Sprint TV, and all went well for several days. After that we got channel not available errors for all channels, but we assume that's because the Touch hasn't officially launched yet and Sprint may be tweaking their program delivery for this model.
Sprint Music Store is a Java based application (yes, the Touch comes with the Jbed Java VM by Esmertec). It handles music store browsing and purchase as well as playback of purchased music. Note that Windows Media Player Mobile on the device won't music purchased from Sprint's Music Store which uses its own DRM. Sprint, like iTunes, charges .99 per song and you can download a second copy to your Windows PC. In addition the phone handles streaming radio as well as Sirius, though Sirius wasn't pre-installed on our unit.
Sound through the included stereo headset is excellent when listening to music, and the Touch is better than the average Windows Mobile device when it comes to audio quality. Likewise, sound through the Plantronics Pulsar 590a Bluetooth stereo headphones was very good, while we heard a bit of hissing from the Moto S9 Stereo Bluetooth headset (the S9 has faint background hiss with most A2DP phones except some Moto phones and recent Sony Ericsson phones). Should you wish to listen to your own ripped music rather than Sprint Music Store tunes, Windows Media Player Mobile handles MP3, WMA and AAC files along with WMV, ASF and some MPEG4 format videos. The dual core 400MHz CPU does a good job of video playback and it played videos encoded up to 700kbps well.
Camera

The 2 megapixel CMOS camera with fixed focus lens takes decent photos that have better exposure and color than the original Touch (likely due to software improvements). It also takes better photos than the Mogul which oversharpened and colorized photos. Color balance was generally accurate: the gray buddha below shows no color cast and the rocks are true, while the indoor still life further below has correct colors despite dim lighting. Sharpening isn't overdone, highlights aren't terribly blown out as they are on many camera phones and indoor noise levels are acceptable for a camera phone with no flash.

While this isn't a high end imaging phone like the import Nokia N95 or Sony Ericsson K850i, it competes favorably with competing US camera phones. The camera can take photos at a maximum resolution of 1600 x 1200, as well as smaller sizes suitable for email or photo caller ID. It has 2x digital zoom and a wide variety of settings including white balance, hue, metering area and shutter on/off, all of which are easy to control with a finger.

The Touch can shoot video with audio in MPEG4, H.263 2GP and Motion JPEG formats. Max video resolution is an uninspiring 176 x 144 at 15fps, which are generally too small to view on a computer unless you're desperate.
Conclusion
The Sprint Touch is a thoroughly pleasant PDA phone with great looks, incredibly small dimensions, a low price and a touch display that means you won't have to whip out the stylus quite so often. Unlike the AT&T Tilt, it doesn't offer every feature in the book, but not everyone needs a GPS, WiFi, a hardware keyboard and the significant increase in size and price they bring. If you want a PDA phone that syncs with Outlook, has great multimedia features and good performance, the Sprint Touch is well worth a look.
Pro: Great looks and super-small size and weight. Fast CPU, EVDO for fast data, A2DP Bluetooth stereo headphone support. Surprisingly good battery life for a device with a relatively small battery. Touch screen enhancements make it easier to interact with the device for common tasks. Sprint and HTC give you all the goodies in the box: headphones, cable adapters, a decent capacity card and a carrying case-- you won't have to hunt down basic accessories or shell out extra bucks to get going right away.
Con: TouchFLO improves usability, but it doesn't remake the entire OS; you'll still need the stylus occasionally.
Web sites: www.sprint.com, www.htc.com
Price: $249.99 with 2 year contract after Sprint $100 rebate
Display: 65K color transflective TFT color LCD. Screen size diagonally: 2.8". Resolution: 240 x 320, supports both portrait and landscape modes.

Battery: Lithium Ion rechargeable. Battery is user replaceable. 1100 mA.

Performance: Qualcomm MSM7500 400 MHz processor (dual core 400MHz ARM11 application processor and 133MHz ARM9). 128 MB built-in RAM (73 megs free at boot). 256 MB Flash ROM with 151 megs available.

Size: 4.0" x 2.4" x 0.6" inches. Weight: 4 ounces.

Phone: CDMA dual band digital with EVDO rev. 0 for data and 1xRTT.

Camera: 2.0 megapixel with fixed-focus lens, self-portrait mirror and no flash.

Audio: Built in speaker, mic and HTC's proprietary ExtUSB combined stereo headphone jack and sync/charge port. Splitter adapters included so you can charge while listening to music or use a 2.5mm headset. Stereo headset with inline mic included. Voice Recorder and Windows Pocket Media Player 10 included.

Networking: Integrated Bluetooth 2.0.

Software: Windows Mobile 6.0 Profession Edition operating system. Microsoft Mobile Office suite including Mobile versions of Word, Excel, PowerPoint (view only), Internet Explorer, and Outlook. Also included: HTC's Today Screen and touch-aware "cube-launcher" application, HTC Task Manager, HTC Zip (un-zipping app), Adobe Reader LE, Jbed FashDAC Java VM by Esmertec, Cyberon Voice Speed Dial 1.2, Pictures and Videos, MSN Instant Messenger, Windows Live, Windows Media Player 10, Solitaire, Bubble Breaker (game), Voice Recorder as well as handwriting recognition and standard as well as 2 enhanced on-screen keyboards. Additional applications: Camera, Wireless Manager, MS Bluetooth software, Clear Storage (wipes out all data and resets unit to factory defaults). Sprint value-added and multimedia apps: Sprint TV, Sprint Music Store, OZ Instant Messaging. ActiveSync 4.5 and Outlook 2007 trial edition for PCs included.

Expansion: 1 microSD card slot supporting SDHC.