Home -> Phone Reviews -> T-Mobile G1, Google Android phone by HTC

T-Mobile G1

Editor's rating (1-5):
Discuss this product


Editor's note, August 2009: Read our review of T-Mobile's second Android phone, the myTouch 3G.

Reviewed October 20, 2008 by Lisa Gade, Editor in Chief

There's been quite a buzz about the world's first Google Android powered phone, the T-Mobile G1. Android is an open source phone operating system developed by Google, and the OS runs on the Linux 2.6 kernel with Java applications on top. Since the platform is open and customizable by manufacturers and carriers, we expect to see a wide variety of Android phones running the gamut from feature phone to smartphone. The G1 isn't quite your standard smartphone-- it's more like the Sidekick grown up. There are smartphone elements: a serious HTML web browser, syncing (limited) and the ability to install 3rd party applications. However, there's no Office suite, no direct syncing with Outlook or Exchange and no support for VPN or corporate email running on Exchange or BlackBerry Enterprise Server.

Instead, the G1, somewhat like the iPhone, targets the tweeners: those who want customizability, add-on applications, a seriously good web experience and multimedia. Unfortunately, the G1 can't compete with the iPhone in terms of multimedia: there's a basic music player with no desktop syncing or DRM support, and no built-in video player. The G1 does have a YouTube player like the iPhone and HTC Touch Diamond. There's a free MPEG4/3GPP video player available on the Android Market, which improves the G1's multimedia experience, and we're sure more players will launch over time.

What's the Android Market? It's the Google phone counterpart to the App Store in iTunes. You access the store via the phone (no desktop access), and browse applications by category. Apps are ranked by popularity and there's an alternate sort by release date. As of this writing, the G1 isn't even released, yet there are about 50 apps in the Market including a few good games. These are free but commercial apps should show up in the Market by late January 2009.

Again, like the iPhone, you've got to set up and log into an account with the OS maker. You can't use the phone until you've created an online account with Google. We suspect that most folks who purchase an iPhone are already iPod users, and thus have iTunes accounts, making this somewhat less onerous for iPhone buyers (though we're still not thrilled with any phone that makes you create and use an online account). Though Gmail is popular, it doesn't have quite the reach across demographic groups as iTunes and the iPod, and Google's other account-based services, great though they may be, are less popular than Gmail. That said, Google has made it pretty easy to create an account using the G1, or otherwise log in with an existing Google account during initial setup.

There's yet another reminder that you've just signed on to become a part of the Google ecosystem: PIM syncing. The concept here feels similar to the Sidekick, with email (in this case Gmail), contacts and calendar data and syncing to the cloud (Google's servers). Once you log in with your Google account, your Gmail, contacts and calendar are automatically downloaded and thereafter synced with Google's online services. If you don't use Google's contacts or calendar features, you'll need to enter the data via the web interface (likely using a computer), or check out 3rd party services that pipe Outlook and Exchange data to Google. This rules out business users who 1) don't want to store their PIM data on Google's servers, 2) are married to MS Exchange, 3) are married to BlackBerry BES or BIS, 4) prefer to sync to Outlook (or the Mac OS X counterparts) over USB or Bluetooth. For Mac users, there's a Google app that will add your Google calendar to iCal (only items entered into the Google calendar will sync back to Google), and a sync to Google option in the latest version of the Mac OS X address book (this requires syncing to an iPhone or iPod Touch in addition).

Design and Ergonomics

The G1 is manufactured by HTC, a well-known and respected Windows Mobile phone maker, and quality is up to their usual good standards. The G1 has a SideKick-style slide-up keyboard, but there's only one hand grip on the right side. It's easy enough to hold the device without dual grips zones, but the right hand prominence, where the buttons and microSD card slot reside is a bit bulky. The phone's design is both interesting and plain-- it won't win any beauty contests. It's currently available in brown (reminds us of a UPS truck) and black (Editor's note: it's now also available in white with a gray back). The black model is all black while the brown version has a silver keyboard with mid-gray letter masking that's hard to see. The black version's keyboard has white letter masking that offers better contrast.
The 5.6 ounce Google phone is on the large side, but Sidekick and HTC Wing users will feel right at home. The soft plastic back has a subtle soft touch finish that helps it stay safely in hand and the handset feels balanced in both portrait and landscape orientations. There are buttons for call send and end, but the call end button doesn't close applications as it does on most phones; it merely turns the screen off, and if long-pressed turns the phone off (with and additional confirmation dialog). Instead you'll use the Home button or back key to return to the home screen or back out of an application. The left side has volume up/down buttons and the right side has the camera button. The HTC ExtUSB port (same as that used on recent HTC Windows Mobile phones) is at the bottom. This port is used for charging, USB and for the included stereo earbud headset. Alas, there's no 3.5mm standard stereo headphone jack, which is unfortunate since the phone also lacks Bluetooth stereo A2DP support.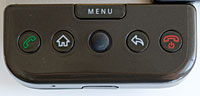 To access the SDHC compatible microSD card slot, you must slide open the display to reveal the keyboard, since the display section blocks the edge of the slot cover. You can hot swap cards without using the rooted-in-Linux unmount card option in settings. The phone can also format the card and provide information about free space. The G1's camera application requires that a card is installed before you can take photos. No idea why it won't save images to internal memory.
Video review
Here's our 10 minute video review of the T-Mobile G1, covering the web browser, maps with GPS, games, Android Market (application downloads) and the user interface.
Phone Features
The T-Mobile G1 is a quad band GSM phone with EDGE and 3G HSDPA on T-Mobile US' 1700/2100MHz bands. The SIM card lives under the back door and the phone is locked to T-Mobile. The G1 has good reception on EDGE/GSM compared to a range of T-Mobile and unlocked GSM phones. HSDPA reception in the Dallas metroplex has been good, though we still have relatively little to compare it to since T-Mobile has few 3G phones given the newness of that network. The phone supports common call features like call waiting, call hold and it even has a voice dialing application. When the keyboard is closed, you'll use a large on-screen dial pad to make calls. When the keyboard is open, you must use the keyboard which has a traditional computer keyboard top number row rather than an embedded phone-style number pad. We're not sure why HTC, Google and T-Mobile decided to kill the on-screen dialer when the keyboard is open.
Texters will likely love the hardware keyboard, and in fact that's the only option-- there's no on-screen keyboard in any application! That may come as a part of the "Cupcake" branch of Android OS updates some time in 2009. Likewise A2DP and video recording might come if and when Cupcake makes it to the G1.
Call quality is excellent on both ends when on 3G and even GSM (3G offers better voice quality than GSM). Call recipients commented that this was one of the loudest, clearest phones they'd heard, even when we were using a Bluetooth headset.
Display, web, messaging and email
The G1's 320 x 480 display is sharp, bright and a pleasure to use. When set to max brightness, the display is as bright as the iPhone's, though this setting will reduce battery life, and half brightness looks plenty good enough. Though the phone has an accelerometer, the OS and built-in applications don't make use of it to set screen orientation. Instead the display is set to portrait mode when the keyboard is closed and landscape when the keyboard is open. The G1 changes screen orientation quickly and graphics are responsive overall. 3rd party applications can make use of the accelerometer: for example we downloaded a free video player that switches to landscape mode when the G1 is turned on its side.
This is one of the few touch screen phones whose screen is viewable outdoors in sunlight-- good going, HTC. It's a capacitive touch screen, which means it needs your touch to work, or at least something organic. That means a finger, elbow or pear will work but not a stylus, pen butt or fingernail. The 3.2" display is large enough to make photo viewing pleasurable and web pages easy to read without zooming. Unlike the iPhone and Nokia S60 webkit based browsers, Google's web browser doesn't rely on page overview mode. Initial web page views are zoomed in to a section of a web page at a readable resolution. When you touch the screen, zoom in and out buttons appear, and you can scroll by dragging the page with your finger or using the excellent jog ball that reminds us of the BlackBerry.
The web browser does an excellent job of rendering full HTML web sites, and you get the full version of sites like CNN and the New York Times by default. T-Mobile's 3G network is alive and kicking in our area and web pages downloaded reasonably quickly over their network. We averaged 900kbps on the DSL Reports mobile speed test, which is pretty good, but found that pages didn't download as quickly as they did on the iPhone 3G. This has more to do with the browsers' rendering speeds than the network connection, since the same was true over WiFi.
Google has two email clients on board: one for Gmail and another for POP3 and IMAP email accounts. The Gmail client is lovely, handles HTML email beautifully and it can view Office but not PDF attachments. The other email application can't view the same attachments-- go figure. There is no Office suite on board, something that will likely turn off hardcore smartphone and business users. There's also no support for MS Exchange, BlackBerry email or VPN connections. We love the notification icons and quiet tones that notify you of new Gmail, email and text messages among other things.
Like the Sidekick, the G1 is a messaging demon. The included IM application handles Google Talk, Windows Live Messenger, Yahoo and AIM. All the important items are here: friend lists, new message notifications (visual, auditory and vibrate) and the app can run in the background.
GPS
Like the iPhone (we get to say that a lot for this review), the T-Mobile G1 has Google Maps and an internal GPS. By default, the GPS is turned off in settings and the phone instead relies on cell tower triangulation to estimate your location. Turn on the GPS to get an exact location, and you'll see a little symbol in the top menu bar in Google Maps indicating the phone is using its GPS chip. We have two G1 phones in-house for review, both running identical firmware. Oddly, one was quite poor in terms of GPS reception while the other was average compared to other non-SiRF GPS-enabled phones. We'll use the better one for our discussions here and assume something was amiss with the weaker unit. The GPS has a hard time getting a satellite fix indoors, but did a fine job outdoors with clear access to the sky. Cold fix times were ~45 seconds while warm fixes were 20 seconds or less. Google Maps works much like it does on other smartphones and the iPhone. You can tell it to locate you, and it will download a zoom-able map of your area. There are options for text-based and map-based directions (no spoken directions), compass display and several maps views. These include map, satellite, traffic and street view. This is the first time we've seen street view on a phone-- very cool and useful if you're trying to ID landmarks at a new destination. There is no charge for using Google maps, though you must have a T-Mobile data plan to use it when away from a WiFi access point (so it can download maps).
Camera

The T-Mobile G1 has a 3.2 megapixel camera with autofocus lens. Still image quality is similar to HTC's Touch Diamond and HTC Fuze whose cameras have identical specs. Contrast and sharpness are higher on the G1 however, and it loses the ability to shoot video. Likewise gone are camera settings of any kind! The only settings available pertain to saving GPS info with pictures and whether to prompt to save/delete after capture. Thus all JPEG photos are shot and saved at the highest quality setting, which averages between 400 and 800k per image. The camera only saves images to a microSD card, which is unusual. There's no flash, so forget night shots.
WiFi and Bluetooth
The Google phone has WiFi 802.11b/g with support for WEP and WPA encryption. In our tests it made reliable connections with good transfer speeds and good range. Given T-Mobile's small initial 3G footprint, WiFi is an excellent consolation, especially indoors where the 3G signal may not penetrate well since it runs at the high end of the spectrum. WiFi does impact battery life, and the G1 doesn't have the best battery life to start with. In our 3G coverage area, the G1 barely made it through the day with moderate to heavy use and no WiFi. With WiFi on, we had to charge the phone by 4pm. Keep in mind that with light to moderate use, the phone should last the day, even with an hour of WiFi use.
Bluetooth profiles are limited, though Google will likely add more in the future. Right now there's only support for Bluetooth headsets. In our tests with a variety of mono Bluetooth headsets, the G1 had good audio quality and volume (HTC generally does a good job with Bluetooth headset support).
Battery Life
The G1's 1150 mAh Lithium Ion battery has less capacity than the average smartphone battery and it shows. As we mentioned, the phone lasts just a day with light to moderate use, and less than a day with heavy use. WiFi and the GPS really drain the battery fast, so turn those off when you don't need them. Likewise, if you turn of automatic PIM syncing, battery life improves a bit (though you'll have to remember to sync manually to get updated contacts and calendar items from the Google cloud). The battery lives under the back cover and is user-replaceable, but finding a spare seems impossible even several months after the G1's launch.
Conclusion
The T-Mobile is a great start for Google's first Android phone. While it might lack features like video recording, A2DP and a built-in video player, usability is top notch and the core functions work well: phone, web and basic email. The G1 isn't a good fit for business users given its lack of desktop and Exchange syncing and its Gmail, POP3 and IMAP-only email support. But for the casual phone user who wants a good touch interface and more application expandability than a feature phone offers, the G1 is a good choice. It's not the multimedia maven that the iPhone is, but it does have copy and paste and you can add your own ringtones easily

.
Pro: Fast and responsive, very easy to use, easy to download applications via the Android Market directly to the phone. Very good capacitive display, good camera photo quality and obviously excellent Gmail support. Excellent call quality.
Con: No 3.5mm headphone jack, can't shoot video, no A2DP, keyboard on brown model lacks contrast. On-board multimedia applications are weak other than the good mobile YouTube player. No desktop or Exchange syncing.
Price: $179 with 2 year contract, $299 with a 1 year contract. Also available on FlexPay no-contract plans for full retail $399.
Web sites: www.t-mobile.com, www.htc.com, code.google.com/android
Specs:
Display: Color TFT 3.2", 320 x 480 resolution capacitive touch screen that supports both portrait and landscape modes.

Battery: Lithium Ion rechargeable. Battery is user replaceable. 1150 mA. Claimed talk time: 5.8 hours on 3G and 6.76 hours on GSM.

Performance: 528 MHz Qualcomm MSM7201A processor. 192 MB built-in RAM. 256 MB Flash ROM.

Size: 4.60 x 2.16 x 0.62 inches. Weight: 5.6 ounces.

Phone: GSM quad band with EDGE, dual band 3G HSDPA on the 1700/2100MHz bands. Up to 7.2 Mbps download with support for 2.0 Mbps HSUPA uploads. Sold SIM locked to T-Mobile.

GPS: Yes, internal GPS and can use tower triangulation as well.

Camera: 3.2 MP with autofocus lens.

Audio: Built in speaker, mic and HTC ExtUSB stereo headphone jack. Music player included. Ringtone formats supported: AC, AAC+, AMR-NB, MIDI, MP3, WMA, WMV.

Networking: Integrated WiFi 802.11b/g and Bluetooth 2.0 +EDR.

Software: Google Android operating system running on Linux 2.6 kernel (open source). Software included: alarm clock, calendar, contacts, g-mail application, e-mail application (POP3 and IMAP), music player, youtube player, web browser, Google Maps, Android Market, IM client, SMS client, MyFaves, Amazon MP3 store, calculator, voice dialing, photo viewer and settings.

Expansion: 1 microSD card slot, SDHC high capacity card compatible.

In the box: G1 phone, slip case, world charger, stereo earbud headset, strap, getting started guide.