It's Apple's best iPhones ever. Each year Apple tells us this, and thankfully for them (and consumers), they've been right. Of course most products do improve with each iteration, but we didn't expect to see significant bumps in an "s" year, Apple's off year where they often don't add significant new features and never implement design changes. This year the new Apple A9 CPU is one of the bigger speed bumps we've seen (more significant than the A7 to A8). RAM has doubled and the cameras have gotten a serious resolution bump. And then there's 3D Touch, a new way of interacting with the touch screen. The LTE 4G radio is even faster, matching the evolution of cellular technology and the phone still supports WiFi calling and VoLTE. There's a new color too: rose gold, which is actually pink. The new Touch ID sensor recognizes fingerprints so quickly you won't believe it's actually doing anything (it is).
Apple has further simplified the hardware models used in the US, and most folks will get the same model since it supports all LTE US bands and both GSM and CDMA. At time of activation it will be unlocked if you paid full retail or locked if you've selected a carrier contract or carrier payment plan. Apple's new iPhone Upgrade Program finance program nets you an unlocked iPhone and you'll make monthly payments to Apple for 24 months, though you can trade in your iPhone for a new one every year. This works similarly to some carriers' payment plans, but Apple includes Apple Care in the deal for roughly the same monthly installment amount as the carriers.
Apple's still not breaking from the "s" equals no design change on the outside. The iPhone 6s and 6s Plus designs are unchanged from the iPhone 6 and 6 Plus. Cases for the 6 and 6 Plus will in general fit and work perfectly with the 6s and 6s Plus. The phones have gotten .2mm thicker and a few grams heavier--this is the first time in memory that Apple's allowed their products to grow rather than shrink. We're glad to see their obsession with thinness has limits and that they're willing to add new features even if it means a slight size and weight increase here and there.
3D Touch
Why did the phone get almost imperceptibly thicker? The new display with 3D Touch sensors and Taptic engine is a wee bit thicker and heavier (you likely wouldn't notice those differences if someone didn't tell you). 3D Touch is somewhat akin to the new Force Touch trackpad in MacBooks. Press harder on an icon in the home screen and you'll see a popup menu of actions, and the background will blur to give focus to that menu. So if you 3D Touch on the Photos app icon you can go straight to your newest photos or your favorites. 3D Touch on Mail and you can go straight to composing a new message, visit your inbox or check your VIP messages. If you hard press on a Live photo (Apple's new animated photo feature) in the Photos app, you'll see the full animation. This only works with Apple's own apps right now, but 3D Touch is open to 3rd party developers, so I'm sure we'll see more apps make use of it soon.
If you're in mail you can do a peek and pop to preview a web page in a link, saving time and giving you an idea if that link is safe. This new pressure sensitivity also allows for more natural drawing--press hard and you get a thicker line, just like a Wacom digitizer in a Samsung Galaxy Note 5 smartphone or in a Windows tablet with that tech. It's still a strictly capacitive display though, so you're still stuck with either your finger or a relatively thick capacitive stylus for drawing. In contrast, the Wacom digitizer uses a thin point, precise pen for input.
Display, Still Retina IPS and Lovely
To look at the displays, you'd never guess there's new tech underneath. These are 16:9 Retina IPS laminated displays with the same dimensions and resolutions as last year's models. That means 4.7" and 1344 x 750 (326 PPI) for the iPhone 6s and 1920 x 1080 (401 PPI) for the iPhone 6s Plus. The displays have wide color gamut, excellent 1300:1 (6s Plus) or 1400:1 (6s) contrast ratios and are very bright at 500 nits. They're the only smartphone IPS displays that don't make me long for the Samsung Galaxy S6 and Note 5 family. Viewing angles are excellent and better than average even for IPS thanks the "Dual Domain" pixel technology, and Apple says they're using an even more scratch resistant Ion-X glass.
7000 Series Aluminum, Prettier in Pink?
iPhones are scratch-prone, and aluminum is a relatively soft metal. Apple's moved to the supposedly more expensive but harder 7000 Series aluminum with higher zinc content to resist scratching and bending (remember Bend-Gate?). SquareTrade Labs says their tests show that the new phones are 50 to 60 percent more rigid (less likely to bend). I've been using the phones naked for a week and haven't gotten any scratches yet, but it's still an aluminum alloy and I'd expect it eventually will, just not as badly as the old model. The new aluminum is a bit silkier and grippy, and the iPhone 6s Plus doesn't feel like a slippery bar of soap as did the iPhone 6 Plus.
Last year gold was the hot new color, and you can still get it this year along with silver with a white front and space gray with a black front. The new color for 2015 is rose gold, which is unabashedly pink. It has the same matte aluminum finish as the other colors and it has white contrasting antenna lines. I personally am enamored with it on the iPhone 6s, but find it a bit much on the big iPhone 6s Plus. That's me--you may be different and that's why Apple offers color choices. Undoubtedly as with gold last year, rose gold will likely be hard to find in stock for some time after launch.
Performance and Horsepower
Smartphones get faster every year, though that progress has gone from insanely faster to a little faster in many platforms. Why? It's hard to make CPUs and graphics super fast without generating lots more heat, and phones have little room for heat dissipation. Witness the slowing of Qualcomm Snapdragon speed improvements, and this year's Snapdragon 810 turning some phones into hand warmers. Then there's NVIDIA's Tegra CPUs that are indeed some of the fastest mobile chips on the market, but they're too hot for phones and so are only used in tablets. Samsung's latest Exynos chip in the Galaxy S6 and Note 5 shows improvements over its predecessors, but it's not the quantum leap we've seen in the old days.
The Apple A9 is a dual core, 64 bit chip that is actually significantly faster than the A8 used in the iPhone 6 and 6 Plus, yet it's no hotter and it seems to have even better battery life (Apple is using smaller batteries this year without diminishing runtimes). In terms of performance, it beats most current CPUs on the market. The Tegra K1 (another dual core, 64 bit CPU) comes the closest in performance, but it's only available in tablets. This is quite a big processor leap for an "s" year, and we're impressed with Apple's SoC (system on a chip) engineering. The iPhone 6s and 6s Plus (they use the same internals) beat the Samsung Galaxy S6 and Note 5 except in multi-core performance (the Exynos CPU in those phones is an 8 core design with 4 high power and 4 low power cores vs. the iPhone 6s' two cores). Even then, the A9's single core performance is much faster than the single core Exynos in those Samsung phones. The iPhone 6s and 6s Plus graphics scores in cross platform benchmarks are at the top of the heap, though it will be interesting to see what Qualcomm comes up with in the coming year before the iPhone 7 and Apple's next CPU refresh arrive.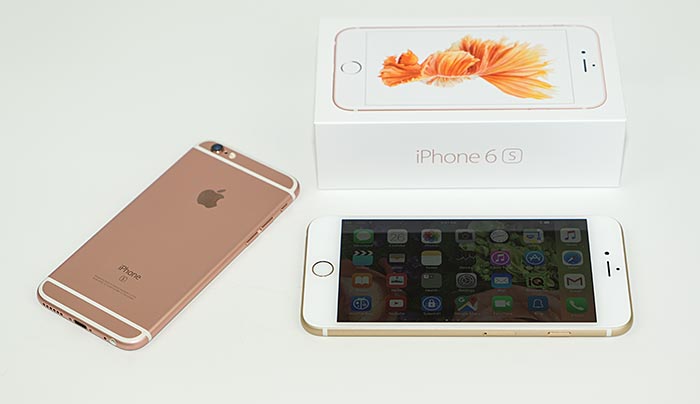 I don't often hear folks complaining that their recent generation iPhone is slow, so the value of these speed improvements might not excite you that much. But it does allow Siri to handle more complex queries quicker and it affords 4K video recording and even better gaming. Some iPhone 6 Plus owners felt their phones were never as fast as the smaller iPhone 6 thanks to the greater number of pixels the iPhone 6 Plus had to push. This should be moot now, given the speed improvements in the iPhone 6s Plus.
Apple has also doubled RAM to 2 gigs, thank goodness! 1 gig of RAM was simply an embarrassment in a flagship phone with a complex feature set and multitasking. 2 gigs gives the iPhone room to breathe, and as with the iPad Air 2 and iPad mini 4 with 2 gigs of RAM, you'll see more fluent multitasking and fewer tab reloads in Safari. Yes, some new Android phones have 3 and even 4 gigs of RAM, but they also have heavy skins over Android in some cases, which consume RAM. Apple also has an advantage since they design and control both the iOS 9 OS and the hardware--they can optimize and streamline the experience. Given how inexpensive RAM is and how healthy Apple's profit margins are, I suspect that if they felt more RAM would make a serious difference in performance, they'd have given us more.
Storage for the base model, is still what I can only call borderline offensive. For high end phones whose prices start at $649 and $749 respectively, the iPhone 6s and 6s Plus really should have more than 16 gigs of storage. Really. Most competing Android flagship phones have 32 gigs, and the iPhone, as ever lacking a microSD card slot, really needs more. The only consolation is that $100 more nets you 64 gigs of storage, which is a healthy bump and plenty of room even for power users. There's the 128 gig option for yet another $100 ($200 above the base model). As a consolation, cloud storage is all the rage and everything from Microsoft's OneDrive to DropBox and iCloud provide additional storage. Netflix and Amazon Videos are streaming video services and then there's Apple Music, Spotify and more for streaming music. That said, we'd like to see Apple include more than 5 gigs of storage with their free iCloud plan--that's simply stingy when other services offer much more storage for free.