Display
The Kindle Fire has a pleasing 7" IPS display running at the fairly common (for 7" tablets) 1024 x 600 resolution. The display has wide viewing angles typical of IPS technology, is colorful and reasonably bright. Not all IPS displays are created equal, and we'd put the Fire's at the middle for quality. It could be brighter (not so much for reading but for photo/video playback and gaming) and colors don't jump out, but it's certainly a great display for $199.
The specs are quite similar to the BlackBerry PlayBook's, and it shares the overall design esthetic as well. This is a basic black 14.6 ounce slab with a soft touch back and minimal hardware controls. The power button is annoyingly small, and it's located at the bottom. The power button is easy to press and given its location, we found we couldn't place it in portrait mode in some of our tablet stands without causing it to power down.

User Interface: What you See Everyday
Amazon went with a hybrid interface. Depending on the content type you're looking at (Home, Books, Newsstand, Music, Video, Docs and Apps), you'll either see an iTunes cover flow presentation bookshelf or visual grid of content. The home screen uses cover flow with your most recent apps, books, magazines, newspapers and apps listed. The Newstand, Books and (oddly) apps use a bookshelf metaphor. Videos are in a grid with large thumbs of each video. In all there's a handy selector that lets you see stuff that's on the device and stuff that's in your cloud. You can sort by recent and title, as well as by author when in the books tab. It's clean and easy to use, and as you'd expect from Amazon, there's a shop button for each category. Since there are no hardware buttons other than the power button, you'll use the pervasive Home (house) icon at the lower left of the screen to get back to the home screen and the tabs for the various content types.
Web Browser
There's one more tab, labeled Web, and it takes you straight to the Android Webkit web browser with Adobe Flash and tabs for additional windows. Amazon touted their Silk web browser acceleration that uses Amazon's web servers to deliver cached content of popular websites more quickly, but in our 3 weeks of testing, Silk actually resulted in slower page load times over WiFi (the Kindle Fire's only method of connecting to the Net since it has no 3G). Try it for yourself and see by tapping the menu icon at the bottom of the screen and using the settings option to turn Silk off and on.
eBooks and Magazines
If you like or prefer reading books on LCDs rather than the E Ink displays found on dedicated eReaders, then the Kindle Fire is a good option. In fact, it's an excellent option if you're a heavy hitter Amazon customer who's invested quite a bit in Amazon eBooks. The Fire's eBook reader app is similar to their Android app, and it offers settings for margins, line spacing and a selection of serif and sans serif fonts. Is the Kindle Fire superior to the Nook Tablet or a good quality Android tablet like the Samsung Galaxy Tab 7 Plus or HTC Flyer in terms of the reading experience or display quality? No, it's not. But it is the least expensive 7" LCD tablet on the market with a good quality display that has wide viewing angles, crisp fonts and a big bookstore behind it.
Note that Amazon sends books to the Kindle Fire in .prc format rather than the ususal .azw format. For those of you who use Calibre and remove DRM, this might be an issue.
Amazon Video and Prime Instant Video
Though the Kindle brand has been synonymous with eBooks, the Kindle Fire really shines as a portable streaming video player. Amazon videos, including the approximately 10,000 available for free streaming to Amazon Prime members, look superb. They're ultra-sharp, stream smoothly and a simply a pleasure to view on the Fire's 7" display. One can use any modern Android tablet with Adobe Flash to play Amazon videos by logging into the desktop version of the Amazon website and streaming using their Flash-based player. But that's often balky and much less smooth and easy to control than Amazon's special Fire player that eschews Flash. For Amazon Prime members, this is certainly a plus, though I've noted that many movies I want to watch aren't included with the free Prime service and cost around $2.99 to stream.
Netflix and Hulu Plus are on board too, but these don't look as mightily impressive as Amazon's own videos. Netflix actually looks a little bit sharper on the Nook Tablet, but it's by no means poor on the Kindle Fire.
Battery Life
Amazon claims 8 hours of continuous reading or 7.5 hours of continuous video playback with WiFi turned off. That's accurate according to our tests: when using the Fire as an eBook reader it lasted 7 days with a little power still left, when we read an hour per day. We had no trouble watching 4 movies over the course of two days when using it as a video player.
Conclusion
The Kindle Fire isn't a game changer in the world of tablets, but it's a very intelligent evolution of the Amazon ecosystem. With one device, Amazon can sell you eBooks, MP3s, videos and apps--they're all just a dangerous "1 Click" away. As an affordable Android tablet, the Fire does a passable job thanks to good quality hardware like the IPS display and dual core CPU, but it lacks the Android Market, Bluetooth, cameras and a GPS, which are all standard fare on general purpose Android tablets. Yes, you can root the Kindle Fire to add the Android Market for a much wider selection of downloadable applications and you can side load apps using a computer, but if that isn't your cup of tea, then the Fire remains a tablet in Amazon's walled garden. If you're frequent shopper with Amazon and like to read on LCD rather than E Ink displays, the Fire makes perfect sense. If you're a Prime customer and love portable videos, Amazon Prime videos look superb on the device.
Price: $199 $159
Website: www.amazon.com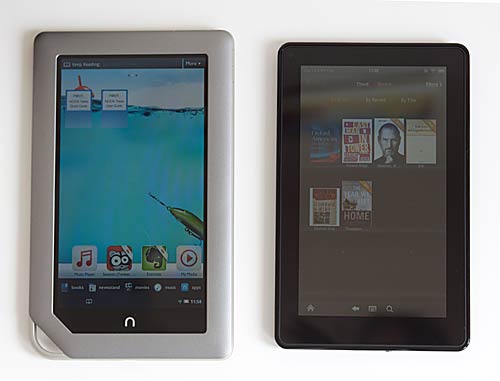 Above: the Nook Tablet and the Kindle Fire.