Link me
The upper and lower displays can be linked and unlinked which Spring Design calls Sync and Unsync modes. Alex is like that-- there are plenty of features, and you'll sometimes have to play a memory game to remember what all the icons mean for ebook reading control. And it takes a while to get used to the idea that the lower screen has two personalities, controlled by the red button that sits between the displays. When the displays are linked you'll see the same thing on both, though the bottom display is lower resolution so you won't see as much. To overcome that, you'll scroll with your finger. Thus if you're reading an ebook or PDF, you can view a small section of the page in color. While that isn't terribly exciting, it does give you an easy way to tap on links in texts or web pages. There's no pinch zooming since Alex runs the very first release of Android (1.5 Cupcake), which lacks that feature.
Wireless and downloading books
Alex has WiFi 802.11/g. It doesn't have 3G of any sort. That means you'll need to be in range of a WiFi access point to use the web browser and download books from the web. If you detest using a computer to load books on your reader over USB, then Alex might not be your best choice. The good thing about having WiFi and no 3G is that there's no cellular carrier prohibiting Internet access so you can use the web browser and email client to your heart's content.
The on-device Bookstore is really a set of web shortcuts to Google's public domain books, Project Gutenberg (public domain books mostly in plain text and HTML format), Web Books, ePUB Books, Feedbooks and Smash Words. You can use the Android web browser to log into other bookstores, say Kobobooks.com to get books and you can download public domain books from any site you wish.
ePUB, books and document management
You'll use the touch screen to put books into "collections". Alex won't automatically make collections based on folders you create on the microSD card using a computer. In fact, Alex doesn't see subdirectories, so don't create them inside the original set of directories on the card. Books, PDFs and periodicals are listed in the lower display as a scrollable text-based list. Each document gets an icon that says "ePUB" or "PDF", and if you put book covers on the microSD card along with your books, you'll see tiny covers. You can sort by date, title and author and you can search for books if the list becomes too long to easily scan.
Alex supports PDF and ePUB formats including Adobe DRM files in both formats. Thus you can load books from a variety of online stores that deal in the ePUB format including Barnes & Noble, Kobobooks.com, the Sony ebookstore and more. Like the IREX DR800SG, you'll activate the device with Adobe using the reader itself rather than a computer via USB. Once you've done that, you'll be able to use Alex with Adobe Digital Editions on the desktop to load books including library books (plug in Alex before launching Digital Editions so the app sees the reader).
There are plenty of ePUB book features, and thus there are a small scrolling army of icons that appear on the touch screen when you're reading a book. These include a return to library feature, access the table of contents, view bookmarks, create a bookmark, look up a word in the dictionary, view highlights, view annotations, view hyperlinks you've created and create a new note (audio/highlight/annotation/hyperlink to another book or a web page). You'll use the touch screen to select a word for dictionary lookup (the text is super-sized on the touch screen to make it easier to tap on a word). The dictionary is OK but sometimes weird when it comes to things like plural nouns: looking up "clocks" didn't bring up the definition for clock but rather clock-watchers and a selection of other even less appropriate words. To create a note, you'll select the kind you wish to create, then go at it (using yet another set of small icons on the touch screen, then working with large text on the lower display). It works and gets the job done, though it's somehow not as expedient as I'd expected-- selecting all the text I wanted was hit and miss.
Alex also supports all forms of annotation as well as bookmarks for text and HTML documents. You can view annotations separately in the Library application and sort and search for annotations. As with most e-ink ereaders, you can select from five font sizes but there's only one font or typeface on board. There are no settings for justification or margins in documents, so Alex goes with the original source formatting.
Video Review
Here's our video review of Alex where you'll get to see most features in action along with comparisons to the B&N nook and IREX DR800SG.
Android: Web, email, Gallery and Music
The bottom screen is pure Android, minus a few standard applications like the Android Market. Spring Design includes their Bookstore, Reader, Library and quick WiFi on/off applications and standard Android apps include settings, YouTube, Gallery, Music, the web browser, email and a calculator. The web browser is the standard Android webkit browser, which means it's quite good. The relatively low resolution display means you won't see nearly as much of a web page on screen compared to high end Android phones like the HTC Incredible and Nexus One, but text is large and easy to read. You'll use your finger to drag the page to scroll and the standard Android keyboard to enter text such as URLs. There's no pinch zooming here, and you have the option to browse in the lower display while the upper screen displays a book-- handy if you want to look up something in the Wikipedia while reading. Alternatively, you can put the displays in Sync mode and see the same web page in upper and lower screens, which is useful when you wish to see more text on-screen (the upper display is higher resolution). The downside is that e-ink refreshes slowly so page scrolls are a bit tedious.
Likewise you can check email without leaving your book, watch a YouTube video or start music playback using the standard Android 1.5 music player that can run in the background (Android is a multi-tasking OS). If you hack Alex to add apps like Twitter and Facebook, be mindful of battery life. For example, Twidroid by default will constantly try to update your tweet list even if WiFi is off. The end result is that the lower display turns on every 5 minutes and battery life goes down the drain. Turn off those automatic updates when not using Alex!
We're not sure why Alex has a 2.5mm stereo headset jack, usually reserved for phones of old. These days even phones have standard 3.5mm jacks, but Spring Design does include earbuds so you need not go hunting for a pair. Stereo speakers flank the back and are surprisingly loud, and there's a mic for making voice annotations (you geeks are dreaming of VoIP too).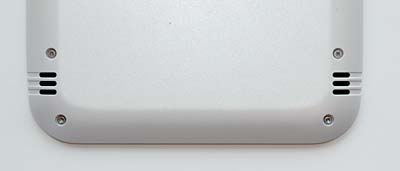 Conclusion
No doubt, Alex is a very cool, high end ereader. And it's interesting to see what we assume is Spring Design's dream reader since they parted ways with Barnes & Noble and the pared down nook design. Surprisingly, I didn't find direct text manipulation in the lower display more expedient than the nook's touch screen directional controls. Perhaps it's part mind set: the focus is on the e-ink display and taking it away from there to a smaller scroll-and-hunt representation is jarring. But even more an issue is the not always easy to control touch screen where it can be hard to select a section of text for annotations (single word selection is a breeze). In the end, neither the nook nor Alex design is the best solution; Sony's touch screen Reader Touch Edition PRS-600 and Daily Edition PRS-900 are. You simply touch the e-ink display to work with text directly. The drawback is the Sony touch models have some glare and reduced contrast. So we go with the less optimal user interfaces of Alex, the nook and the Kindle 2 to keep that eye-friendly e-ink clarity.
Unlike any other digital e-ink reader on the market, Alex is a dual purpose ebook reader and mini-computer thanks to Android on the bottom. If you want the web, email and YouTube (not to mention social networking in the future or sooner if you're willing to hack just a bit), then Alex is the only one for you. Personally, as an already over-connected and over-taxed web worker, I want reading to be my escape and relaxation. The temptations and taunts of email, tweets and the web interfere too much. Yes, you can turn off the lower display and pretend all those goodies aren't there, but then why buy an Alex? That doesn't mean Alex isn't right for you, it means that only you can know what kind of reading and/or computing experience you want.
Price: $399
Web Site: www.springdesign.com
Display: Main display is a 6", 600 x 800 pixel e-ink display capable of displaying 8 shades of gray. Secondary touch screen: 3.5" capacitive color display, 480 x 320 resolution.

Performance: 624MHz Marvell XScale PXA303. 256 megs RAM, 2 gigs storage.

Size: 8.9 x 4.7 x 0.4 inches. Weight: 11 ounces.

Supported file formats: Books: TXT, HTML, PDF, ePUB including Adobe DRM-protected ePUB and PDF files. Music: MP3, AAC, WMA, MIDI, WAV, OGG Vorbis and AMR. Image and video: JPEG, GIF, PNG and MPEG4.

Audio: 2.5mm stereo jack (earbuds included), stereo speakers on rear of reader. Built-in mic.

Power: 1530 mAh Lithium Ion polymer (no battery access door, must unscrew the reader to access the battery). Charger included and mini USB to USB cable. Can charge via USB. Claimed reading time: up to 7500 page turns. Media playback: up to 6 hours. Charging time: 3 hours.

Expansion: MicroSD card slot on the reader's back, 2 gig card included.

In the box: Alex, charger, USB cable, earbud headphones, slip case, quick start guide.