What's the world coming to when I get to say that Alienware gaming laptops are a good value? Oh yes--they've slimmed down and lost weight too, so they're no longer fit to use as ballast on a stormy sea. Not that I haven't appreciated Dell's high end gaming PC brand in the past, but the price put them squarely in the very serious investment category and the older designs were dated in a world where laptops have been on a crash diet for years. Happily, the designers at Alienware didn't swing too far in the fashionable direction. There are several Ultrabook-like gaming laptops on the market, but when we think Alienware, we think of ample sized machines with room for large, quiet fans that cool effectively, a deep keyboard and seriously good graphics cards. Those goodies are still here in the Alienware 15, a 7 lb., 1.34" thick gaming laptop with a futuristic lid that looks like it came from a spaceship wall and multicolored LEDs that could put a Christmas tree to shame. The price starts at $1,199 and that's a decent configuration. Our unit is a higher end model that brings the cost up to $1,949. For that price you get cream of the crop specs including a quad core i7 Intel CPU, NVIDIA GTX 970M (Maxwell generation) graphics, a 256 gig M.2 SSD plus 1 TB 7200 RPM HDD and a truly stunning 4K IPS touch screen. All models have AlienFX multi-zone, multi-colored backlighting and effects, Killer E2200 Gigabit Ethernet, Killer 1525 dual band 802.11ac WiFi, a webcam, Klipsch stereo speakers and support for the Alienware Graphics Amplifier.
For those who prefer the usual 17" gaming monster, there's the Alienware 17 (R2) with the same specs and options but with a larger display (1080p only). The Alienware 13 is the smallest and lightest model, but keep in mind that it runs on ULV lower power CPUs that are significantly less powerful than CPUs offered in the 15 and 17.
New Look, Same Excellent Quality but More Heat
The Alienware 15 maintains design continuity--you look at it and instantly recognize it as an Alienware. But it's slimmer and when you pick it up you don't think about that lapsed gym membership. At 7.07 lbs. it's still heavier than the average 15.6" laptop, and at 1.34" it's thin for a full size gaming rig, but thick compared to everyday laptops. It's interesting that Dell is slimming things down while Asus has been embracing massive with some recent ROG models like the G751. It's as if they're trading places. In fact, the highest end ROG model prices have been creeping up while the Alienware's has gone down.
The gaming laptop has a soft touch keyboard deck finished in matte black that feels absolutely luxurious under the palms. The top has a dark silver finish that tends toward the gunmetal and the rest of the machine is black. The display panel has no flex (it's quite thick too) and the beefy barrel hinge is extremely stiff (you'll need two hands to open it). There are large rear exit vents for the two internal fans and a large grille on the bottom for ventilation. Don't block the bottom vent area, and don't keep it against your legs when gaming because that area gets quite hot. It reached 122F when playing Battlefield 4 for 30 minutes. The surrounding bottom areas measured 102 to 109F (toasty but not as painful as that vent temperature), while the keyboard reached 103F near the WASD cluster and the OPL keys. To put these temperatures in perspective, our super slim and light MSI GS60 Ghost Pro gets about 20 F hotter under the same conditions on the underside, but it gets no hotter on the keyboard area. The Asus ROG G751 and the MSI GT72 Dominator Pro G, much roomier 17" gaming laptops, stay cooler than both. When using the Alienware for productivity work and creative work in Adobe Photoshop and Premiere Pro, temperatures are much lower and you won't hear the fans, but that bottom center area is still hot enough to make your legs sweat. When gaming, the fans are audible but not as loud and high pitched as skinny gaming laptops on the market. My MSI GS60 Ghost Pro gets loud when gaming, and much louder than the Alienware 15 (I have to turn up the audio to overcome the MSI's fan, which isn't the case with the Alienware).
Fit and finish are excellent and all seams mate perfectly. The casing is made of metal and carbon fiber according to Dell (Dell bought the Alienware brand many years ago). Beauty is in the eye of the beholder, so I'll let you decide if you like the machine's futuristic gaming look. It's certainly not an understated design that you could take to work without attracting attention, and perhaps admiration. But few heavy duty gaming laptops are subtle.
The Alienware 15 has 4 USB 3.0 ports (two on each side, which is convenient), separate mic and headphone 3.5mm jacks for those high end gaming headsets, RJ45 Ethernet and an SD card slot. The rear houses ports for the graphics amplifier, HDMI and a mini DisplayPort. It's a well-connected laptop, as we expect from Alienware. Note that is no optical drive on the Alienware 15, so you'll have to use a USB DVD drive if you need to install programs from discs.
Stereo Klipsch speakers fire from the front edge and the laptop has a Creative SoundBlaster card rather than the more common Realtek audio. The speakers are balanced and full, and are much better than Asus ROG offers, but not as good as MSI's gaming audio. Headphone audio is excellent and extremely loud.
Keyboard and Trackpad
Even though Chiclet style keyboards have been the rage for several years, Alienwares still have traditional beveled keys for a more desktop-like keyboard feel. This is an excellent keyboard with an unusually deep travel of 2.6mm key travel (1.6mm is standard). It works very well for gaming and for typing (I wrote this review and others on the Alienware 15). The keyboard feels spacious, but there's no number pad. Not many 15" laptops have a number pad, and it can reduce room for the main keyboard or require a larger chassis, so we understand Dell's decision. The usual Alienware column of macro keys live to the left of the keyboard and these can be handy for games or for quick access to functions in any program, though you'll have to get used to placing your hands a bit rightward when typing. There are 4 backlighting zones for gaming, and you can hit the AlienFX Fn button to go dark and turn all LEDs off.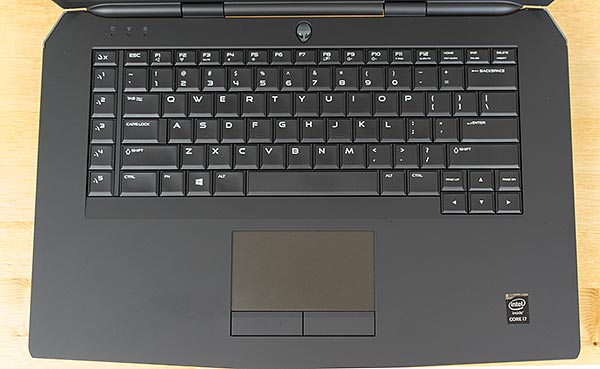 The responsive and accurate trackpad proves that PC manufacturers can make a good trackpad if they try. It's not particularly large, but it's precise and predictable by Windows trackpad standards. It has traditional clicking buttons that require just a soft press rather than the more common buttonless design (we like buttons!). The entire trackpad is LED backlit, and you can make it any color you like using the AlienFX app.
Display, Graphics Cards and Gaming Resolutions
Alienware display quality has long been a selling point for those who buy these for graphic design, photography or video editing. Of course, gamers enjoy lovely screens too, but precise color calibration capabilities, wide color gamut and good brightness are a must for pro app users. Dell offers the 15.6" panel with an IPS 1920 x 1080 anti-glare non-touch and 4K UHD 3840 x 2160 gloss IPS touch options. If you're buying the machine primarily for gaming, the 1080p matte display makes a lot of sense since laptops, even powerful ones like the Alienware, can struggle to drive some games at 4K resolution and it's honestly not easy to see the difference between 1080p and 4K in gaming assets on a 15.6" panel. That said, Tomb Raider ran well at 4K resolution even if we were hard pressed to see a wild difference in detail levels using the built-in display. GTA V tells you how much graphics RAM it requires, and it wants 20k more than the 3 gigs of VRAM that's standard with the NVIDIA GTX 970M to run at 4K (you can override the RAM requirement if you wish). It did however stay glued to the 60 fps vsync cap at 2048 x 1152 resolution. Most games either pre-selected that resolution or NVIDIA's game optimizer suggested it. Those games ran at 60 fps (or higher if not capped by vsync), including Battlefield 4, Far Cry 4, Mass Effect 3 multiplayer and the afore mentioned Tomb Raider and GTA V. This is a laptop that won't be humbled by today's most demanding titles at high or ultra settings, and it offers a decent amount of future proofing.
For those who want even more, there's the NVIDIA GTX 980M 4GB DDR5 (that's enough RAM to meet GTA V's 4K resolution preferred RAM requirement). That card will set you back $350 above the 970M price, which is a big chunk of change for 20% faster graphics. We haven't received a model with that card in for review, but some users have reported that the standard 180 watt power brick isn't sufficient to power that card when gaming, which results in throttling to avoid draining the battery when the laptop is plugged in. Dell plans to release a firmware update to change that throttling behavior at the end of August 2015. Alternatively, some owners have gotten a 230 watt charger from Dell, which seems to solve the problem (we can't confirm this since we don't have the GTX 980M model).
If you're on a tight budget, then entry level model comes with the NVIDIA GTX 965M 2GB DDR5 card, and it has enough power to run many of today's top 3D titles at 1080p and high settings. That said, the GTX 970M is $150 more, and that gets you a lot for your money--around 40% performance improvement and 1 gig more VRAM. If you're an AMD Radeon fan (anyone?), there's a Radeon R9 M390X 4GB DDR5 option for $200 more than the 970M.
For pro apps users, the 4K Sharp IPS display is enticing. It adds $300 to the base price (there are various pre-built options that include it too) and it's well worth the price if you're a designer, artist or anyone who needs high color fidelity. Like some high end mobile workstations, but unlike any consumer laptop offering we've reviewed, it covers 99% of Adobe RGB--very impressive! Of course it covers 99% of sRGB too (a lesser feat) and an excellent 94% of NTSC. Contrast is among the best at 1100:1 and brightness is 335 nits, which is also impressive since many competitors' 4K displays are in the 200's. This is a glossy touch screen, and while we love touch, glare can be annoying and it diminishes perceived brightness compared to a matte display.
One note to graphics pros: yes the 4K display has an ideal 99% Adobe RGB color gamut, but be warned the saturation or color intensity is very high. It reminds me of a Samsung Super AMOLED phone display with much more intense colors than what you'd see in pro photo sRGB 100% coverage. This can make it difficult to judge photo and video saturation in production environments since everything looks more vivid than normal. For content producers, this is a challenge. For content consumers, it's lovely looking.
The IPS 1080p non-touch matte display has 300 nits of brightness, also excellent contrast and color gamut that matches higher end Ultrabooks and laptops on the market with 75% of Adobe RGB and 99% of sRGB. It's color gamut isn't nearly as impressive as the 4K display, but if you're not a graphic professional looking for the best, it's still a darned lovely display.