The Lenovo Yoga series along with the Microsoft Surface Pro have been the poster children for successful Windows 8 portables. The Yoga's innovative hinge means it can be a normal laptop or a tablet or a presentation device, and unlike Surface it has a normal keyboard. The new Lenovo Yoga 3 Pro is the latest in that lineup, and it makes some changes that some will love while others will find it less "pro". The 360-degree hinge is here, albeit now as a flashy watchband hinge with 6 hinges rather than the simple 2 hinge design from other Yogas. It still has an extremely high resolution display running at 3200 x 1800 (QHD+), and it's improved over last year's model. At 2.6 pounds and 0.5" (12.7mm) thick, the Yoga 3 Pro is the Yoga on a crash diet.
The list price of the Lenovo Yoga 3 Pro is steep, but street price is a little better at $1,299 for the 256 gig SSD model and $1500 for the 512 gig SSD model. So far there's no 128 gig storage option. All models have 8 gigs of RAM soldered to the motherboard, dual band WiFi 802.11ac with Bluetooth 4.0 and a backlit keyboard.
Broadwell Y Series CPU, and what that Means for Performance and Design
How did Lenovo manage such slimming? They've cut down on battery size, and before that sets off alarms, let me say that the machine runs on a new 5th generation Intel Core M CPU that consumes less power. So battery life is the same as the Yoga 2 Pro at 6 hours. The less "pro" part is that this is an Intel Broadwell Y series CPU meant primarily for tablets, but also ultrathin devices. It's similar to the Y series CPU used in Haswell era tablets, but has punch closer to the Haswell U series Core i3 to i5 CPUs used in Ultrabooks like the Yoga 2 Pro. The Core M-5Y70 has a base clock speed of just 1.1GHz, but a Turbo Boost to 2.6GHz. That means it can scale power well, while still providing horsepower for more demanding tasks via Turbo Boost. In synthetic benchmarks, it does almost as well as the 4th gen Intel Core i5 ULV Ultrabook CPU found in the Yoga 2 Pro. So you're not gaining horsepower here, instead you're looking at lightening your load and brandishing a 13.3" Ultrabook that's as slim as some tablets. If that's disappointing, wait for Intel Broadwell U series convertibles that should be out by the spring of 2015. Note that it's highly unlikely that Lenovo will release a U series CPU version of the Yoga 3 Pro since the machine's designed for the lower power/lower heat Y series 4.5 watt CPUs. It's worth mentioning that the 5Y70 is designed for fanless machines, but the Yoga 3 Pro does have a conventional laptop fan inside. We heard it often enough, but it never got particularly loud nor did any surface become uncomfortably hot. Still, it's a slim machine with little space between you and the CPU, so you will feel it get warm on the bottom.
In benchmarks we see numbers that are close to the Intel Core i5 U series 4th generation CPUs used in Ultrabooks and in the Microsoft Surface Pro 3. The Yoga 3 Pro falls just shy of Core i5 performance, particularly in tests where extended high clock speed, multi-threaded processing is required where it acts more like the Core i3. In real life tests, we ran the Chrome web browser with 10 tabs open and a YouTube video playing in one, and the machine didn't falter. We played processor intensive games like Civ V and it played almost as well as the Core i5 competition (processing virtual player turns took several seconds longer). Multitasking wasn't quite as zippy as on the Yoga 2 Pro and Surface Pro 3, and despite the fast SSD and 8 gigs of RAM, we saw a little lag when switching programs here and there. For those who'll use the laptop for productivity, web and email, it's more than fast enough. But for those of you who like to push your ultraportable to do things like HD video editing, software development and 3D gaming, the Yoga 3 Pro might not feel fast enough. The Core M uses Intel HD 5300 integrated graphics, and that numerical jump indicates this is a new generation GPU series. It doesn't mean it's faster than Intel Iris 5100 graphics (it's not, in fact it's closer to the Intel HD 4400 pared with Haswell Core CPUs with a little lower real world performance).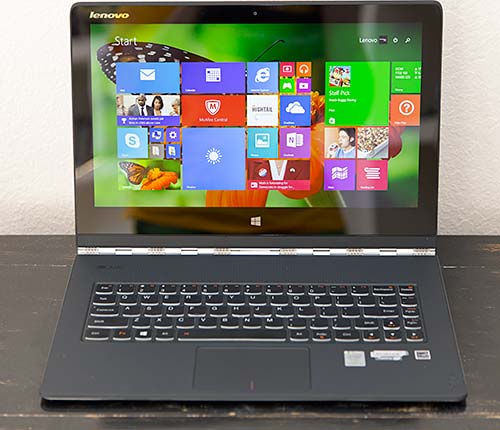 Note that our machine is an actual shipping model, and not pre-release, which may explain why we saw decent synthetic and experiential benchmark performance compared to pre-release reviews. The CPU ran at its full 4.5 watts, and we didn't see unusual thermal throttling (we shouldn't since it has a fan and heatsink here, despite the fact it can run in fanless designs). In fact, I held up this written review to do extra testing over a 2 week period to evaluate performance. Is the Yoga 3 Pro a dog? By all means, no! It's just not a performance upgrade from the Yoga 2 Pro or other Ultrabooks currently on the market. Given the high price tag and the "pro" name, it's fair to expect a performance boost from the newest Yoga. This time, you're paying for the light weight and super-slim design rather than horsepower.
RAM is soldered on board and isn't upgradable. The SSD is a gum stick-shaped M.2 drive that is upgradable, though given Lenovo's ample storage options, most probably won't upgrade the SSD soon. The PCI-e mini wireless card is removable too, as per usual for laptops, but since the Yoga 3 Pro ships with one of the better wireless cards on the market, most folks probably won't be thinking of upgrading it.
Design and Ergonomics

The Yoga 3 Pro is familiar yet new. The transition from laptop to tent, presentation and tablet modes works the same, as is the overall design esthetic except the hinge. Lenovo said that there are 800 metal moving parts in the 6 watchband hinges, and while more moving parts means more things that can break, the hinge does seem secure. We'll trust Lenovo since they're the king of laptop durability thanks to years of experience with the hearty ThinkPad line, and assume the finely wrought hinge assembly will last. Lenovo wanted to find a way to make the hinges more rigid to reduce display bounce when you use the touchscreen, and obviously they wanted a design element that would help the Yoga 3 Pro stand out now that so many companies have copied the once unique 360-degree Yoga design. Is the shiny silver hinge assembly that runs the full length of the computer's back cool looking or gaudy? Beauty is in the eye of the beholder, and we'll let you decide. It certainly is eye-catching and I'm sure more customers will be enticed to look at the Yoga 3 Pro than the staid competition beside it in a store. The laptop is available in silver, Lenovo's signature clementine orange and a new color--champagne gold. I wouldn't say it's a stunning design in the way the metal-clad Asus Zenbook UX303 or MacBook Air are, but it's a little more captivating than the Yoga 2 Pro thanks to the extreme slimness and the eye-catching hinge.
A black textured, almost rubbery keyboard deck greets you when you open the lid, as does Lenovo's backlit AccuType keyboard. The smile-shaped ergonomic keys and damped action are as always a pleasure, but the laptop's slimming unfortunately results in short key travel. It's not horrid, far from it, but if you're used to Lenovo's generally generous key travel, your fingertips will feel the jarring.
Speaking of lifting the lid, this is a very thin laptop and the lid flexes. That isn't necessarily a bad thing--Sony designed their high end carbon fiber Vaio laptops to flex but not break. Still, I know some of you only feel comfortable when your portable is rigid. The bottom section doesn't flex in the least, nor does the keyboard deck bounce when typing. The bottom firing JBL 1.5 watt-each speakers do a surprisingly good job of filling a small room with sound, even when facing a desk in laptop mode.
It's not easy being skinny: there's less room for ports and controls. The Yoga 3 Pro tapers at the front, so the tallest ports are on the sides' back ends. On the right there's a USB 3.0 port at the rearmost position, followed by the combo 3.5mm audio jack, and finally volume controls, rotation lock, One Key recovery and power buttons. These controls are tiny, even though they're at the midway point and farther back. Why are they even there? So you can control power, rotation and volume when the Yoga 3 Pro is in tablet mode. The left side houses the combo charging port/USB 2.0 port, a USB 3.0 port, micro HDMI (it's too thin for a full size HDMI port) and an SD card slot (cards will protrude from the machine rather than sit flush).

As ever with the Yoga, you can use it as a tablet with the keyboard facing downward and the machine will automatically disable the keyboard when it's not in laptop mode. You can also use it in presentation and tent modes. Though this lightweight Yoga is still a bit heavy and large to use as a tablet, it's very useful in presentation and tent modes when you're kicking back to watch a movie or using it to surf the web while sitting on the couch.