Gimmick or great? The LG V10 is a little of both. Clearly LG is throwing features at their new flagship phablet to see what (if anything) succeeds, much as Samsung's done in the past with their Android phones and tablets. The big screen LG has a secondary front display--a narrow strip at the top that provides shortcuts, status and can act as a control area for apps like the camera. Speaking of the camera, this phone has two front facing cameras; one ultra-wide angle and the other with a more normal view. See--gimmicks. That said, I actually appreciate the two front cameras since phones with a single ultra-wide camera (for group shots and to capture background context) are lovely, but when you simply want to video chat or take a simple photo of just you, that super-wide lens' distortion of facial features is unwelcome.
On to the normal stuff! The LG V10 runs Android 5.1.1 Lollipop (sorry, not 6.0 Marshmallow that's shipping on a few recent phones) on the high end (but not top dog) Qualcomm Snapdragon 808 6-core CPU. It has 4 gigs of RAM and 64 gigs of storage, putting it in the high end category, and there's a microSD card slot compatible with cards up to 2TB according to LG. The phone has a 5.7" Quantum IPS+ display (LG's marketing name for their better phone displays) and it runs at QHD 2560 x 1440, which equals 515 PPI-- even Superman won't see individual pixels. The display has good contrast, good blacks (not AMOLED deep, but good) and strong color saturation for IPS. Brightness is good but not stellar and off-angle viewing results in noticeable drops in brightness, which is typical of LG's recent phones. The color balance is cool (toward the blue), which is common in phones and laptops.
As you might guess, it's a large and heavy phone that's as big as the iPhone 6s Plus and the Nexus 6. It weighs 6.77 ounces and as we've come to expect of LG, it has a removable battery. Two things we love about LG: the microSD card slot and removable battery so you can swap in a spare on the road.

Design and Ergonomics

This is a typical LG design with the curved back that's thicker at the middle and power/volume controls mounted on the back. LG went with a durable, rubbery back that's not what we'd call attractive, though if you like the ruggedized look, you might find it cool looking. The back is impact absorbing and grippy, so it wins points for practicality, and it's available in black, white and opal blue (color availability varies by carrier). The sides are metal and the phone doesn't feel cheap, even if it isn't all metal and glass like some competitors.

We've never minded LG's rear-mounted power and volume controls, but this time the power button is also the fingerprint scanner, and that's problematic. When it's on the front, you can see if you're placing your finger in the proper spot, but on the rear, it's hard to tell. The power button, as per usual on LG phones, sits between the volume up and down buttons, and the difference isn't tactile enough to tell if your finger is centered. As a result, we didn't have the greatest results with fingerprint unlocking. Not that unlike the fingerprint scanner on the Nexus 5X and iPhone 6s, you must press and click the power button to turn on the phone--simply resting your finger on the scanner won't let you both power up and unlock the phone.

Calling and Data

Thanks to standardized chipsets, carrier oversight and government regulations, data speeds and call volume are uniform among mainstream brand phones. Call quality can vary, though rarely hugely, and that said, the LG V10 units we tested on AT&T and T-Mobile had excellent voice quality. Incoming and outgoing voice was rich, full and very clear. Speakerphone audio is passable, and typical of smartphones, isn't rich with bass or dynamic range. The speaker is located on the phone's bottom edge.

Performance and Software

The LG V10 has Qualcomm's upper tier CPU, and it's the lower among the two current Snapdragon 800 series CPUs. The Snapdragon 808 is a capable hexa-core 1.8 GHz CPU that generates less heat than the top 810, and in theory requires less battery power. It's coupled with Adreno 418 graphics, a GPU that's powerful enough to handle demanding games nicely. The phone has 4 gigs of RAM, and that's the most you'll see in a current high end phone. It has 64 gigs of storage and you can store photos, videos and other files on an SD card. Benchmarks show a bit of improvement over the LG G4 running on the same CPU, and experientially, the phone feels fast and responsive despite the very heavy skin LG places over Android.

Oh, that LG UI. If you're accustomed to it, or Samsung's TouchWiz UI, to which it bears a sometimes striking resemblance, then you'll be fine with the LG V10. If you're coming from a Nexus, HTC or Motorola Android phone, then the heavy-handed UI and endless custom settings might seem a bit much. We'd love to see LG tone down their UI customizations, but after a few years of complaining, we're assuming LG isn't listening. That heavy customization makes it hard for LG to be nimble with major OS updates, and the phone ships with Android 5.1.1 Lollipop rather than 6.0 Marshmallow that released this fall. Will it get the update to 6.0? It's very likely, but there's no timetable yet. Happily, LG's UI doesn't slow down the phone, it always feels peppy.
Benchmarks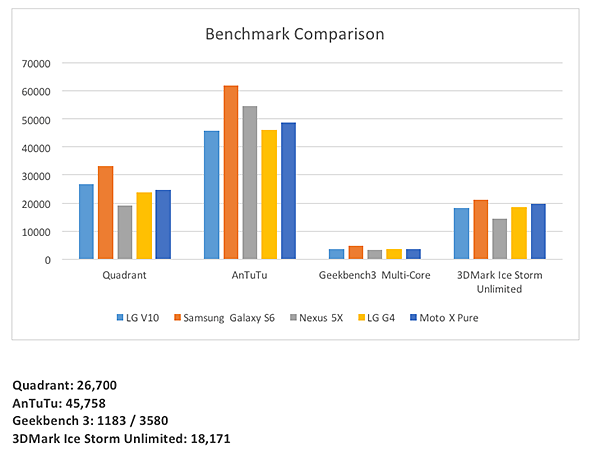 Deals and Shopping:
Advertisement