Home -> Phone Reviews -> Samsung Eternity SGH-a867

Samsung Eternity

Editor's rating (1-5):
Discuss this product


Editor's update Jan. 2010: Check out our review of the Samsung Eternity II that replaces the Eternity.

Editor's note: Like the Eternity but want a hardware QWERTY keyboard? Check out our review of the Samsung Impression on AT&T.

AT&T and LG released the Vu, a touch screen, slate design phone with broadcast TV just this Spring. The Vu was an attractive, light phone that offered multimedia services the iPhone didn't: TV, CV streaming media and the ability to send and receive MMS. Life was good, as LG says. But just six months later, it's even better thanks to the perhaps grandiosely named Samsung Eternity SGH-a867. The Eternity offers all of the Vu's features and adds Samsung's lovely TouchWiz UI with widgets, a GPS, a better touch screen interface, expanded music format compatibility and a higher resolution camera. Not bad for $149 with a 2 year contract after rebates.

The Vu and Eternity look similar, as do the Eternity and the Samsung Behold on T-Mobile. That's right, this time there's cross-carrier competition from the US' other major GSM provider, T-Mobile. The Behold lacks broadcast TV (T-Mobile doesn't offer that service yet) and carrier-based streaming media (T-Mobile doesn't have a service like CV because their 3G service is just starting up), but as a consolation it has a higher resolution camera with an autofocus lens and flash. Both are distant cousins to the Samsung Tocco F480 and F490 released in Europe.

The Eternity is a quad band GSM phone with 3G HSDPA on AT&T's US 850/1900MHz bands. It has a 3.2" touch screen with 240 x 400 resolution and haptic (vibration) feedback, an accelerometer that automatically rotates the display in all applications except non-AT&T provided Java applications (that means Google Maps, Opera Mini but Gmail works somewhat), a standard 3.5mm stereo headset jack, FLO TV, a music player, GPS with AT&T Navigator support, Outlook sync support, an MS Office and PDF viewer, an HTML web browser and Video Share (AT&T's one-way video conferencing service).

The Samsung is an attractive, though clearly plastic, phone. It's finished in gloss black and the large display dominates the front face. The back looks like brushed metal but it's actually plastic (the Samsung Behold has a metal back). There are few buttons: call send, end and a back button on the front, volume controls on the left side, a screen lock button up top and a quick launcher and camera button on the right side. The resistive touch screen relies on pressure (like PDA phone screens) and not the electrical resistance in our skin (like the iPhone and T-Mobile G1). This means you can use most any object including a fingernail and stylus unlike the iPhone and G1. But it lacks the iPhone's multi-touch technology for pinch gestures.

Here's our 7 minute video review of the Samsung Eternity that covers TouchWiz, making calls, the GPS, Mobile TV and more:
Touch Screen and Samsung's TouchWiz UI
The screen is sharp and bright. There's a light sensor above the display that sets screen brightness (you may override this if you wish) and the display is visible outdoors. The 3.2" display is capable of displaying 262,000 colors and rotates promptly when the device is turned. At 240 x 400 pixels (like the Samsung Omnia), the screen has greater than average resolution for a feature phone, which we appreciate. Unlike the Omnia, the Eternity is not a smartphone or PDA phone-- it's firmly in high end feature phone territory, and as a result you need only select AT&T's $15 Media Net unlimited data plan if you want to access the Net and email on the phone (cheaper than T-Mobile's $25 data plan for the Samsung Behold).
The screen's haptic feedback makes using the touch screen easier and more pleasant-- especially the on-screen QWERTY keyboard and dialer. The device vibrates gently when you touch it, and you can turn on (generally pleasant) sound effects for touch as well. Though like most every other phone, the touch experience isn't as good as the iPhone's, the Samsung Eternity's is very good and is head and shoulders above the LG Vu. It takes a light touch to tap an icon to launch a program, and a moderate press and hold to drag items on screen or scroll through lists. List scrolling and web page scrolling are very controlled, and don't go flying wildly as on some phones. The phone's on-screen QWERTY keyboard is available everywhere with a flip to landscape mode (except 3rd party Java apps not offered by AT&T's download service). It's simply a joy to type on-- the keys are large, haptics helps with feel and the layout is customized at times (in the web browser, there are .com and www. buttons and the / is easy to get to). The on-screen dial pad is likewise easy to use and supports T9. For those so inclined, there's also handwriting recognition that works best if you use your finger and write one letter at a time.
Samsung's TouchWiz UI appeared on overseas phones and was even ported to Windows Mobile as a replacement Today screen for the Samsung Omnia. It's a great home screen UI with a collapsible launcher dock on the left that holds "widgets". You can drag these to the phone's desktop and drag them back to the dock as you like. You can select which widgets appear on the dock via settings, but you can't add new widgets. Interestingly, the Behold offers a somewhat different set of widgets from the Eternity. The Eternity has quite a long list of widgets including a calendar, music player control, world clock, analog clock, digital clock, birthday reminder (Samsung seems to have a fondness for birthdays), Bluetooth, TV, photo viewer, alarm clock, calculator, alerts and more. The phone is very fast and responsive; even window animations and opening folders and applications happen instantly.
Keeping Track of Things
When you've missed a call, a widget pops up on screen that tells you about the call with an option to return the call. When a call comes in, an LED that rims the phone's bottom edge flashes (you can choose from several LED colors in settings), but the light doesn't flash to indicate a missed call. If a text message comes in, you'll see a similar window pop up telling you about the message.
There are a wealth of tiny icons at the top of the home screen that indicate signal strength, connection type (EDGE or 3G), Bluetooth on, Bluetooth headset connected, TV to indicate if you're in a TV coverage area (this indictor is a little shy, so if you know you're in a FLO TV coverage area but don't see the icon, try watching TV anyway), a microSD card icon (if a card is inserted), battery charge, time and more.
The right side quick launch button brings up a palette of icons for: phone, music player, main menu (programs), MEdia Net (web browser) and messaging. This works when in any application and is a handy way to quickly get to commonly used tasks.
Overall, the touch screen and Samsung's TouchWiz UI make for a fun and productive experience. We didn't find ourselves longing for more hardware buttons, a dialer or even a hardware keyboard since the Eternity's on-screen keyboard is superb.
Phone and Internet
The Samsung Eternity is a quad band GSM world phone with EDGE and 3G HSDPA on the US AT&T bands (850/1900MHz). Reception is good and better than the Vu's. 3G call quality is superb and volume is louder than average for an AT&T phone. The speakerphone is loud with decent sound quality and on-screen buttons make it easy to turn on speakerphone, access the dial pad, start Video Share (a subscription one-way video conferencing system offered by AT&T), switch between a Bluetooth headset and phone and more. Call quality is likewise good over Bluetooth. We tested the phone with Samsung's own WEP200 and the Plantronics Discovery 925, both of which sounded good and had average range for these headsets. The Discovery sounds good with most phones we test, but the Samsung gets along with some handsets better than others. It sounded better with the Eternity than any other phone we've tested, including other Samsung phones.
Don't want to pay for ringtones? You don't have to. Simply put MP3 files smaller than 300k in the phone's internal memory and you can set these as ringtones.
| | |
| --- | --- |
| The Eternity comes with the NetFront 3.5 browser (T-Mobile's Behold comes with version 3.4). For a non-smartphone browser, NetFront impressed us with its ability to handle HTML sites fairly well. Our own (not mobile optimized) site loaded with layout intact, and fonts well-represented. Javascript is supported, but advanced dHTML not so much. For example, our dHTML menus were hard to trigger on the Eternity, but Javascript-based ads displayed fine. If a mobile version of a site is available, the browser will pull that version. That means a quickly-loading, but not impressive desktop version of the New York Times, for example. The browser also supports cookies, SSL, cache control and bookmarks. The navigation and control bars up top and on the right automatically hide once a page has loaded, and there's a floating control in the lower right that brings them back (much like Opera Mobile 9.5 on Windows Mobile). It's easy to scroll by dragging web pages with a finger-- no need for scroll bar manipulation like the LG Vu and Windows Mobile's IE Mobile. Pages by default are zoomed to an easily readable level; to zoom in or out, use the side volume keys. | |
The Eternity's browser performed better than the Behold's and was easier to use. For example, the Eternity auto-hides the menus for a better view of web pages, and it has a shortcut to add a new bookmark on the right hand navigation, while the T-Mo version requires a few steps. We have good T-Mobile 3G coverage in our area, but T-Mobile seems to force the Behold through a proxy for each web page. We had intermittent problems loading full HTML sites through this proxy or gateway (though we had the full Internet package and not the basic T-Zones account), and got runs of gateway error messages. Often URLs in the nav bar were overwritten with cryptic IP addresses (we assume of T-Mobile's proxy or gateway since these weren't the IP's of the sites we visited). That makes bookmarking nonsensical. All in all, we'd say the Eternity and AT&T's 3G service give you the "real" Internet (though not as well presented as the iPhone) with HTML support but the Behold did not.
Email support comes courtesy of AT&T's Java-based Mobile Email application. it handles Yahoo, AOL, AIM, Hotmail, Bellsouth, Comcast, Earthlink, Juno, Mindspring and NetZero. Sorry, there's no Gmail support and you can't add your own POP3 or IMAP account for a provider not on the list. The same is true of the Samsung Behold, so no use jumping ship in search of broader email support.
Instant Messaging (a menu item in the Messaging application) handles AIM, Windows Live and Yahoo. The app offers most major features from these services including block lists, buddy lists and it can run in the background. It's a pleasure to use with the on-screen QWERTY keyboard!
Mobile TV and Multimedia
The Samsung Eternity is all about entertainment, from broadcast TV via Qualcomm's MediaFLO service to CV to streaming YouTube. There's also XM Radio, which requires a monthly $8.99 fee for 25 radio channels, MusicID to identify tunes (also requires a monthly service charge) Pandora and more. The downside is that all these except CV and accessing YouTube through the web browser require monthly fees or payments of some kind, making the Eternity, like most recent AT&T phones feel like one big up-sell sales pitch. If one subscribes to AT&T Navigator, TV, XM Radio and a few other services, it's easy to raise the monthly phone bill $40 or more. And some of the applications, like WikiMobile and My-Cast weather seem just a little silly on a phone with a capable web browser-- why pay for these when you can point the browser at your favorite weather site (or the Media Net home page which includes weather), Google or the Wikipedia?
Now that we've complained, we'll get to what we like. Mobile TV is fantastic on the Eternity. Unlike the Vu, there's no external antenna, yet reception is better. This is true broadcast digital TV, provided by Qualcomm's MediaFLO service and it does not use the data connection. For $15, you get 15 channels plus a preview channel. These include Sony's PIX movie station, CNN, MTV, Fox News, CNBC, Nickelodeon, ESPN and Comedy Central. Picture quality is much better than streaming video services like CV or Sprint TV since it's broadcast over the air, with no need to worry about bandwidth. TV plays in full screen, and there's a cable TV style grid with listings. TV is broadcast 24 hours/day, though programming doesn't mirror what's on the TV in your living room. And yes, there are commercials.
CV plays well on the phone, and is pleasant on the large display. Mobile YouTube (m.youtube.com) works as well, and plays through the Eternity's video player. Since it's the mobile version, a low res version of videos is served, though they look decent when zoomed to fill a good portion of the display. The media player is quite capable and handles MP3, AAC, Real, WAV and WMA formats including protected WMA sold through AT&T's music store. The Eternity supports MTP mode for music transfer over USB, as well as mass storage mode (the Behold doesn't support MTP mode, likely because T-Mobile doesn't have a music store). Particularly popular is the Eternity's 3.5mm standard stereo headphone jack (the Behold lacks this too). Music sounds great through a decent pair of wired headphones, and also good via A2DP.
The phone's video player can play content stored on microSD cards. We tested it with several MP4 format files originally encoded for the iPhone and iPod at 320 x 240, 600kbps. These played fine and filled most of the screen, though we noted occasional frame drops. The speaker is surprisingly loud and clear for a phone.
Syncing
Though not included in the boxed CD, the Eternity can sync to Windows PCs using Samsung PC Studio, a free download from Samsung's web site. PC Studio 3 doesn't work reliably when it comes to Outlook syncing, but Samsung recently offered up a beta version of their new PC Studio, and that works over USB and Bluetooth. It's on the Samsung Eternity page on their site, and here's the direct link (you must download and install PC Studio and then the USB modem driver on that page). This application is pretty wild looking, with a virtual desktop populated with all the items you can edit on the phone (these look like the phone counterparts and are dragable on the virtual desktop). It has options to convert and sync media, browse files, create a dial-up networking connection and sync to Outlook. For those with a Mac, mass storage mode works fine to transfer files to an from the phone's microSD card but not internal memory.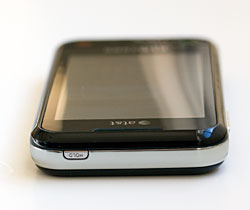 We were thankful for the mass storage mode, so we could mount the phone's microSD card on the desktop without having to pull the battery. That's right: you must remove the battery to access the microSD card slot. Oye. On the bright side, you can also send images, files and media over Bluetooth (FTP and OBEX are supported) and browse a Bluetooth-enabled computer's Bluetooth sharing folder from the phone. The card slot supports SDHC, and high capacity cards work fine. The phone has a file manager, so you can move files between internal memory and a card.
GPS
Here's another upgrade from the Vu: the Eternity has a built-in GPS that works with AT&T Navigator (aka TeleNav). This Java-based turn-by-turn navigation and mapping solution costs $9.99/month or $99/year on top of the Media Net data plan, and it does an excellent job of routing, finding POIs, reporting traffic issues, and the map data is very up to date. The Eternity managed to get a signal indoors near a window and it had no problem locating us in a moving car. The GPS kept up with our location and spoken directions were punctual. Maps look great on the large screen and you can drag them to scroll around.
Camera

Phone geeks will likely be bummed that the Eternity dropped the 5 megapixel autofocus camera found on overseas counterparts for a 3 megapixel fixed-focus model. But it's not all that bad: image quality is actually very, very good and there's no focus lag since there's no autofocus. We were surprised that the Samsung Behold's 5MP camera with autofocus lens didn't take much better shots than the Samsung Eternity. Also surprising is that the Eternity's 3MP image file size is generally larger than the 5MP Behold's. Alas, there's no flash, so this isn't the camera phone for you late night clubbers.

The camera can take photos at a max of 2048 x 1536, and there are 5 lesser resolutions including a widescreen setting (2048 x 1232) and one suitable for home screen backgrounds (400 x 240). There are a variety of settings including white balance, EV, exposure (normal, spot and center weighted), scene modes and a self timer. The camera uses the entire screen as the viewfinder and settings icons are finger-friendly.

Video recording supports 320 x 240 and 176 x 144 resolutions, and there's a Video Share option as well. Video is recorded in MP4 format at 15fps with audio. For a camera phone, video quality is decent with pleasing colors but some blockiness and ghosting when the camera or subject move quickly.
Battery Life
For a feature phone, the Samsung has a surprisingly high capacity 1300 mAh Lithium Ion battery that's user replaceable. Battery life for a 3G phone with a large display and plenty of multimedia apps is quite good. We managed 2 days with an hour of TV watching, playing a few CV videos, making 40 minutes worth of calls over Bluetooth, browsing the web for over an hour total and playing a few games.
Conclusion
The Samsung Eternity SGH-a867 is a worthy and fast follow-up to the popular LG Vu. For those who want Mobile TV, CV, MMS and a less expensive data plan, the Eternity is an enticing touch screen alternative to the iPhone 3G. The phone is attractive, compact and light yet it packs a roomy 3.2" touch screen, GPS, TV tuner and a large battery inside. If you're looking for a reasonably priced touch screen phone with lots of multimedia possibilities, a very good camera and a full HTML web browser, the Eternity is hard to beat.
Pro: Lovely design, very good display and fast. Touch screen with haptic feedback works well and we like Samsung's TouchWiz UI. Excellent call quality. TV tuner does an great job of bringing in sharp, clear broadcasts. Phone has GPS, plays a variety of music and video formats well, has support for AT&T's bag of goodies including CV, XM Radio and AT&T Navigator. Good battery life for a 3G multimedia phone with a large display and GPS.
Con: Must remove the battery to access the microSD card slot. No speed dial (duh!).
Web sites: wireless.att.com, www.samsung.com
Price: $149 with 2 year contract after $50 rebate. $369 with no contract.
Display: 262,000 color resistive touch screen with haptic feedback. Screen size diagonally: 3.2". Resolution: 240 x 400, supports both portrait and landscape modes via accelerometer.

Battery: Lithium Ion rechargeable. Battery is user replaceable. 1300 mA. Claimed talk time: up to 5 hours. Claimed standby: up to 10 days.

Performance: Approx. 200 megs internal memory. Address book can hold up to 1,000 records.

Size: 4.3 x 2.2 x 0.5 inches. Weight: 3.88 ounces.

Phone: GSM quad band world phone 850/900/1800/1900MHz. 3G HSDPA on the 850/1900MHz bands.

Camera: 3.0 MP with self-portrait mirror but no flash. 3X digital zoom. Can shoot still photos and video with audio.

Audio: Built in speaker, mic and 3.5mm standard stereo headphone jack. Has voice Recorder and music player that supports MP3, AAC, WMA (including protected WMA), WAV and Real formats.

Networking: Integrated Bluetooth, profiles include headset, handsfree, A2DP stereo with AVRC, serial port, FTP, DUN and Obex.

Software: Netfront 3.5 web browser, Java-based email client, SMS/MMS messaging, Instant Messaging (AIM, Windows Live and Yahoo), calendar, contacts, tasks, notes, voice recorder, music player, video player, world clock, stopwatch, timer, Netfront MS Office and PDF document viewer, file manager, TV application, Yellow Pages, AT&T Navigator, alarm clock, calculator and unit converter. Subscription services and pay-for apps: Music ID, XM Radio, Pandora, MobiVJ, My-Cast Weather, WikiMobile and Where.

Expansion: 1 SDHC microSD card slot.