Home -> Phone Reviews -> Samsung Propel SGH-a767

Samsung Propel

Editor's rating (1-5):
Discuss this product



Reviewed November 18, 2008 by Lisa Gade, Editor in Chief

If the 2008 US mobile phone market belongs to touch screen giants like the iPhone 3G, HTC Diamond, Samsung Instinct and Samsung Omnia, the 2008 holiday shopping season belongs to full QWERTY phones. With Verizon offering the Blitz, Sprint offering the HTC Touch Pro, Samsung Rant and LG Lotus, and AT&T serving up the Samsung Epix, Samsung Propel, HTC Fuze, AT&T Quickfire, Pantech Matrix and more, it's QWERTY phones galore. AT&T alone has or soon will release 4 full QWERTY feature phones and least two full QWERTY Windows Mobile phones, re-enforcing the stronghold texting has in mobile marketplace and in mobile phone users' daily lives. The Samsung Propel is the first of the 4 feature phones AT&T is offering for this holiday season with a very usable full QWERTY keyboard, AT&T 3G support, full messaging and mobile email, built-in GPS with AT&T navigator support, Video Share, AT&T's CV video services, MP3 and music store access and Java gaming. Plus, the Samsung Propel has a 1.3 megapixel camera with video capability, a microSD card slot and built-in Bluetooth with A2DP to work with Bluetooth stereo accessories.

The Samsung Propel (SGH-A767) is a quad band GSM phone that's offered by AT&T in the US and it supports AT&T's HSDPA bands (850/1900MHz) for 3G data. The phone currently comes in four colors: blue, green, red with black and white with red.

Design and Ergonomics

Most texting phones have utilitarian designs and the Samsung Propel is no exception: it doesn't have a flashy design. At 3.85 x 2.33 x 0.58 inches, it's shorter and wider than most candy bar feature phones. It's still a tad narrower than the Samsung BlackJack II Windows Mobile Standard and the Samsung Epix Windows Mobile 6.1 Pro phone. The Samsung Propel has a slippery plastic casing that shows fingerprints and grease, and a smooth yet sturdy slider. The 65k color 2.2-inch display sits in landscape orientation and it's relatively low resolution at 220 x 176 pixels. Video clips on CV look inferior in quality compared to phones with QVGA resolution screens that support more colors. The Samsung Propel has a good sized d-pad that works well for gaming, and the call control keys along with a dedicated messaging launcher and back key are large and easy to use. The slide-out keyboard has four rows of oval-shaped keys that are quite easy to use though they aren't big. The keyboard has a normal computer keyboard layout with a cluster of number keys just left of the center. The keyboard also has a dedicated CV launch key, camera launcher and silent mode key. The QWERTY keys have a small amount of travel and effective backlight.

The Samsung Propel has a volume rocker on the left side along with a shortcut key that allows you to browse through several applications and the call screen with a single press. There are also two side ports: the power/headset port and microSD card slot. The phone uses the Samsung blade style headset and the package doesn't include one. The 1.3 megapixel camera hides under the slider along with a self-portrait mirror. Both the battery and the rear-firing speakerphone are under the battery door though there is a grill cutout for the speakerphone.

Phone Features and Web

The Samsung Propel works well as a phone. It has good 3G reception and has good voice quality. Like many Samsung feature phones, the Samsung Propel offers large fonts for the dialer screen, which is favored by folks with older eyes. The phone supports call management features including caller ID, call forwarding, three-way calling, conference call (1+5) and call waiting. The phone book can store up to 1000 entries and eight one-touch speed dialing numbers. There is no dedicated speakerphone key, but there is an option to turn it on while in a call. The phone also supports AT&T's Video Share video calling service. Unfortunately the phone doesn't come with any voice dialing software. It does have a driving profile that will turn on speakerphone and answer calls automatically.
The Samsung Propel also has built-in Bluetooth v2.0 and supports both mono and stereo headsets. We tested the Plantronics Explorer 330 and the Jabra BT530 mono headsets with the Samsung. Voice was clear and loud via the Plantronics but its DSP was ineffective at filtering out road noise. The Jabra BT530 had better DSP performance when working with the Samsung but both incoming and outgoing voices were less clear than the Plantronics. The range between the Samsung Propel and the Jabra was very good reaching over 20 feet while the range on the Plantronics was merely 5-8 feet.
As a texting phone, the Samsung Propel supports most common messaging features including SMS, MMS, IM (AIM, Yahoo! and Windows Live) and web-based email. The Samsung comes with a full HTML browser, NetFront v3.4 that works well on AT&T 3G. We did several speed tests and dslreports results showed 665 kbit/sec and above consistently and pages loaded quite fast. The browser supports most page layouts, some Javascript, images, cookies and more. It only had trouble with some advanced dHTML. The landscape orientation is convenient for reading messages and web pages, though the lower resolution doesn't give you more content just larger fonts.
GPS and AT&T Navigator
The Samsung Propel has a built-in GPS that works with AT&T Navigator powered by TeleNav. The GPS gets a decent signal but is slightly off in finding positions and destinations; about 100-yards off. The phone takes a bit longer than usual to get the initial location fix and as a result often gives incorrect driving directions at the beginning of a trip. But once it's downloaded all the location info and adjusted the navigation, the routing and directions get much more accurate and error-free. The loud speakerphone can overcome road noise and the screen is readable in outdoor conditions.
In addition to AT&T Navigator, the Samsung Propel also comes with a 60-day trial version of Where (v2.1), a POI-centric location-based service from AT&T. You can get popular POIs (point of interest like Starbucks or gas stations) near your location and get directions, maps and other services that speed up your searches. The service is fast and accurate on the Samsung Propel and it will add $2.99 onto your monthly bill should you subscript to the service.
Multimedia
Like the Samsung Rant on Sprint, the Samsung Propel on AT&T isn't a boring texting phone. It supports AT&T's music store and Napster mobile downloads over the air, CV (an on-demand video service included with AT&T's $15 Media Net data plan) and 3D gaming. The Samsung has a music player onboard to play MP3, iTunes and WMA music files. You can of course buy and download songs over the air, and the song download speed is very good. The Propel has a loud speakerphone that sounds a bit tinny but not bad at all for music playback. The phone uses Samsung's proprietary blade connector for headset and the package doesn't include a wired headset. It also has built-in Bluetooth with A2DP support and we tested it with the Samsung SBH-500 Bluetooth stereo headset, it worked fine. Additional music services include SongID by Shazam, XM radio, music video and Make UR tones. Not all services are free unless you have the max data plan. The Samsung has a microSD card slot that's easily accessible and supports SDHC. We tested a 4GB card and it worked fine storing music, games and other content.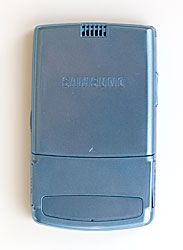 AT&T has lots of good content on CV but the videos don't look very good on the Samsung Propel. Videos have noticeable frame drops and look blocky with delayed frame refresh. The lower resolution screen doesn't help the quality either but one nice thing is that the audio mostly in sync with the video.
Gaming on the Samsung Propel is fun thanks to the good selection of top-notch mobile game titles and the Propel's large screen. We tested games in several genres including SimCity, Spore, Guitar Hero III and more than we would like to admit, and all games played smoothly and were enjoyable.
Camera

The Samsung Propel has a meager 1.3 megapixel camera with 3x digital zoom. The good news is that the phone has great camera software that makes photos look pleasing even at that lower resolution. Still pictures look nice and not overly sharpened. There's some white out in outdoor shots but photos have good color balance and correct exposure. The camera phone can take photos at three resolutions and offers various settings, multi-shot mode and a self-timer. The camera can also take decent video with audio in MMS length or 1-hour length for storing. The video resolution is 176 x 144 pixels.
Battery Life
The Samsung Propel comes with a rechargeable Li-Ion battery that's 1000mAh in capacity. The claimed talk time is up to 5 hours and standby up to 10 days. Our tests show that the talk time is about on target but the standby time was a little shorter than the claimed 10 days. Playing games and downloading content use up more battery life than other tasks in our tests. If you talk for an hour, watch CV for half an hour, playing games for an hour and do some messaging, the phone will last you 2-3 days.

Conclusion
The Samsung Propel is a good voice and messaging phone with support for most AT&T services like Video Share and multimedia features. Combine that with 3G support you and are getting a lot from a feature phone at mid-tier pricing. The Propel's multimedia experience is a bit hobbled by the lower resolution screen and unimpressive video quality, but music playback and gaming are very smooth and enjoyable. The GPS and navigation need some work also to be perfectly reliable in position fixes and routing out trips. The roomy keyboard and full messaging services make this texting phone a good contender among the pack of new QWERTY phones out for the holiday season.
Pro: Good keyboard with effective backlight. Phone has lots of internal memory to store music and messages and the microSD card slot plays nicely with high capacity cards. Video Share support is a plus for users who enjoy the service.
Con: GPS needs a little tweaking. CV doesn't have good quality.
Price: $79.99 with 2-year contract after mail-in rebate. $279.99 without contract.
Web site: www.samsungmobileusa.com, wireless.att.com
Display: 2.2" 65K color TFT screen. Resolution: 220 x 176 pixels.

Battery: Lithium Ion rechargeable battery, 1000 mAh, user replaceable. Claimed talk time: up to 4 hours. Claimed standby time: up to 10 days.

Performance: 128MB internal memory. Phone book can store 1000 entries.

Size: 3.85 x 2.33 x 0.58 inches. Weight: 3.79 oz.

Phone: Quad band GSM world phone. 850/900/1800/1900MHz. Dual band UMTS 3G 850/1900MHz for data.

Camera: 1.3 megapixel with up to 3x digital zoom. Support multi-shot feature and has self timer. Still image resolutions: 1280 x 960, 640 x 480 and 320 x 240 pixels. Can take video with audio.

Audio: 72-note Polyphonic ringtones and MP3 music tones. MP3 player onboard to play music in AAC, AAC+, Enhanced AAC+, MP3, WMA, 3gp, MP4 and M4A formats. Can record voice memo. Supports vibration alert.

Networking: Bluetooth v2.0. Supported profiles include Hands-free, A2DP/AVRCP, DUN, PAN, OPP and FTP. USB 2.0.

GPS: Yes. Works with AT&T Navigator.

Software: AT&T icon-based UI with the ability to display English, French and Spanish text. Netfront browser v3.4 onboard and MP3 player for music playback. PIM tools include Contacts, Calendar, audio recorder, Alarms, Tasks, Notes, Calculator, Tip Calculator, Converter, World Time, Timer and Stopwatch.

Expansion: 1 microSD card slot. Supports SDHC cards.

In the Box: The Samsung Propel phone with standard battery, travel charger, printed manuals (English and Spanish) and brochure.