Home > Tablet Reviews > Amazon Fire HD 6

Amazon Fire HD 6
Editor's rating (1-5):
Carrier: N/A, WiFi only
Manufacturer: Amazon

What's Hot: Very low $99 price with good quality and support.
What's Not: As expected for the price, display resolution, CPU and wireless specs aren't impressive.

Reviewed October 7, 2014 by Lisa Gade, Editor in Chief (twitter: @lisagade)
It's more confusing than ever to choose a Kindle or Fire tablet. Price used to make it easy: e-Ink Kindle readers were the least expensive, so for those who were price conscious and primarily wanted to read books, the basic $79 Kindle with touchscreen was the obvious choice. Now Amazon has Fire HD tablets that are very affordable, while the Fire HDX line remains the more expensive high line. Today we look at the Fire HD 6, which is not only similar in price but also size to the 2014 Kindle ereader.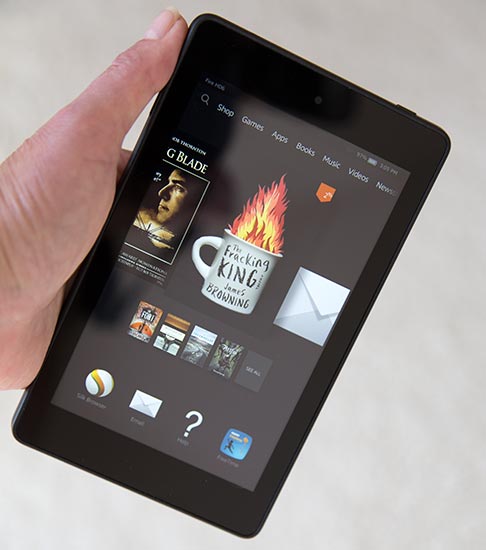 The Fire HD 6 is just $99 with offers (ads on the sleep screen) for the 8 gig version, though we strongly suggest you get the $119 16 gig model because the 4 gigs of available storage on the 8 gig model isn't enough to store a hearty music library and 3D games. See, Amazon's already upselling you: just $20 for a more livable 2x storage increase. And then there's the display: 1280 x 800, which is a tad over 720p, but doesn't compare to the 1080p or higher displays on the HDX line. Hmmm... if you like full HD movies in actual full HD, the 7" Fire HDX is just $60 additional and even the base model has 16 gigs of storage. My point is that the $99 price point will get lots of people looking, and Amazon hopes you'll move up to something better before hitting that buy button.
That's not the say the $99 Fire HD 6 is a bad tablet. It's actually remarkably good for the price (with emphasis on "for the price"). The 6" IPS display is sharp and decently bright, but color saturation doesn't approach the near perfection of Amazon's HDX tablets or even the latest generation full HD Nexus 7 (which, to be fair, cost around twice as much). In fact, it doesn't even have auto-brightness; you'll control brightness manually using a slider. It's good for reading and surfing, but not quite as stunning when watching Amazon Prime videos. Colors don't pop but they aren't deadly dull either. Though brightness is good, the display doesn't have any fancy manufacturing tricks like bonded glass to help reduce reflections, and in bright locations display brightness doesn't overcome the tablet's severe glare. But for $99 it's a great screen. Given that companies you've never heard of make most tablets in this price range, Amazon's reputation and customer service take the fear out of buying a budget tablet too. The CPU is a 1.5GHz MediaTek, and while they're showing promise with some upcoming higher end CPUs, their offerings to date underperform the more pervasive Qualcomm Snapdragon used in the HDX and many Android phones, and it's less power efficient too.
The concessions to price continue with single band WiFi 802.11n vs. the faster dual band WiFi with MIMO on the HDX line. If you live in a WiFi polluted environment, you might get smoother streaming video with dual band WiFi. The tablet has front and rear cameras, but they're just VGA up front and 2MP on the back, similar to flip phones circa 2006. That said, the rear camera takes decent shots in terms of colors and clarity, even if your smartphone camera puts it to shame. The front camera is adequate for Skype and honestly looked better than expected given the VGA resolution. There's no 3G or 4G LTE option for this model: Amazon wants you to buy the Fire HDX if you need that optional feature.
Deals and Shopping:
Advertisement