Home > Android Tablet Reviews > Lenovo IdeaPad A1

Lenovo IdeaPad A1
What's hot: Affordable full-featured Android tablet.
What's not: Outdated CPU and OS.

Among tier one brands, budget 7" tablets don't abound. Sure, Amazon and B&N each offer a dual purpose LCD ebook reader/limited function Android tablet, but they lack the cameras, GPS and full access to the OS experience and Android Market for apps. So Lenovo decided to hit the duo where they live with a $249 7" Android tablet. Sounds great, right? The problem is, the Lenovo A1 is dated out of the box. It's as if they designed the tablet to be released in June 2011, but waited until February 2012 to sell it. In fact, the Kindle Fire and B&N Nook Tablet have better specs in the CPU department with dual core CPUs, while the Lenovo IdeaPad A1 has just a single core 1GHz CPU. Single core CPUs are pretty rare among tier one tablets, and that's not good. The A1 runs Android OS 2.3 Gingberbread; the phone version of Google's mobile OS. Yikes. We see Android 2.x on bargain brand Android tablets, but we're truly shocked to see it here on a Lenovo. Forget about waiting for Android OS 4.0 Ice Cream Sandwich, this little guy won't even get 3.2 Honeycomb according to Lenovo.
Now that we've gotten the bad news covered, let's look at the good points: Lenovo loves discounts, and they often have a few colors on sale for $209 (the tablet is available in black, white, pink and blue). The IdeaPad has a sturdy build with Lenovo's signature magnesium alloy inner roll cage. The casing is plastic, but the faux metal edging looks so good, you might be fooled. There's a real GPS inside, and it works offline without a WiFi connection.
Design and Display
The IdeaPad A1 isn't a bad looking tablet, though nothing distinguishes it from the army of slabs on the market. We like that it's available in four colors and it feels strong and well made. It weighs 0.88 lbs., so it's no featherweight, and it's just under a half inch thick. The tablet has a 3.5mm headphone jack up top, sculpted volume buttons on the side and a microSD card slot under a cover on the bottom edge (when held in portrait mode). There's a single speaker on the bottom edge and a micro USB port for charging and syncing. The tablet has a rotation lock switch on the side just above the volume controls. There's no HDMI out, but with a single core CPU and 512 megs of RAM, this tablet doesn't play 1080p video.
The tablet has WiFi 802.11b/g/n single band 2.4GHz and Bluetooth 2.1 + EDR with a full set of profiles as per usual for Android. It uses the Broadcom BCM-4329 combo WiFi and Bluetooth chip. The GPS is Broadcom's BCM4751. There is no 3G/4G.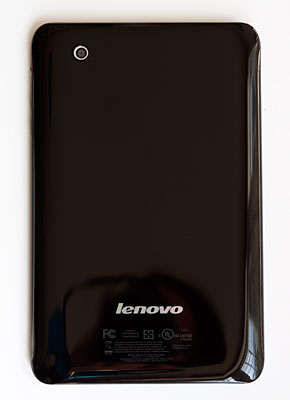 The display runs at the common lower resolution 1024 x 600, and it has an ambient light sensor and an accelerometer to handle automatic screen rotation. The LED backlit LCD is decent but not super impressive: sharpness is good enough for reading, but the 250 nits of brightness won't combat outdoor light and it isn't nearly as bright as the Kindle Fire that has the same resolution. Lenovo says the panel has a good 700:1 contrast ratio, and it supports 2 points of multi-touch. Viewing angles aren't IPS-level 180 degrees, but things look good up to 30 degrees and are passable at 60 degrees. It's certainly better than the Acer Iconia Tab A100 with its seriously limited viewing angles, but it's not as good as the Samsung Galaxy Tab 7 Plus, Nook Tablet and Kindle Fire.
Performance and Horsepower
The Lenovo IdeaPad A1 runs on a 1GHz TI OMAP 3622 single core CPU. It uses the PowerVR SGX530 GPU for 2D and 3D graphics acceleration. In our tests, the Lenovo did decently with popular 2D and 3D games and 720p high profile video, but it refused to play 1080p video. Netflix and YouTube streaming work well over WiFi.
The tablet feels sluggish here and there, and that's no surprise given the single core CPU and 512 megs of RAM. Synthetic benchmark numbers won't wow you, but they're again what you'd expect from a tablet with this CPU and memory. The Sunspider JavaScript benchmark, where lower numbers are better, is particularly poor, but in use, web browsing didn't feel slow at all.
Benchmarks