Home > Laptop Reviews > Gaming Laptop Reviews - > 2016 HP Omen 15

HP Omen 15 (2016)

What's Hot: Good performance for the price, relatively light. Keyboard has a number pad. Matte displays for those who despise glare.

What's Not: Cheap casing, no touch screen option, mediocre trackpad, lacks features or pricing to set it ahead of its direct competitors.

Reviewed August 3, 2016 by Lisa Gade, Editor in Chief (twitter: @lisagade)

HP is a trusted brand--a big US company that's been around for eons (by tech standards) and makes products that generally work well and are backed by a warranty and support. There's another element to brand that's tied to marketing--a company with a clear product line that follows through with what they advertise and laud in their own product range. If you set expectations, you need to maintain them or risk losing consumer trust at the worst, or at the least, confuse the consumer. This is where HP falls, no leaps onto their own sword again and again. They bought the boutique gaming PC company Voodoo 10 years ago (just before Dell bought Alienware), and from this the 2009 HP Envy and 2012 HP Envy 15 gaming/ pro apps laptops were born. They were a good start with a practical mix of metal-bodied elegance and productivity to go up against the 15" MacBook Pro and some decent gaming chops. After two generations, HP turned the Envy line into yet another of their midrange consumer sub-brands sitting above the Pavilion, and eventually the Envy brand was plastered on everything from less powerful dual core laptops without dedicated (gaming) graphics to all-in-one printers. Oh well, HP simply decided they didn't want to be in the high end consumer or gaming laptop business, right? No biggie, though a bit unusual when their major competitors have low, mid and high line tiers.

Fast forward to the end of 2014, when HP launches the new Omen 15 with a great deal of fanfare. They said they were resurrecting that Voodoo DNA and heritage, and the Omen was to be their flagship high end consumer laptop with some gaming chops and a really unique boutique look (but with a much less painful price tag than boutique PCs). It was the quad core + dedicated graphic power user alternative to the dual core HP Spectre line of high end Ultrabooks and a halo sub-brand. As far as we can tell, the Omen was well-received and lasted from the end of 2014 until June 2016, getting a graphics card update to the NVIDIA GTX 960M and a business counterpart (Omen Pro) with NVIDIA Quadro graphics during its reign. In July 2016, HP killed that Omen and replaced it with 15 and 17 inch models that look good from a distance, but look a little cheap up close. It's now largely a reskinned and higher priced HP Pavilion 15.6", dressed in faux carbon fiber plastics. The Lexus RC coupe has turned into a Toyota. There's nothing fundamentally wrong with that, we just wish HP had chosen a different name to temper expectations and avoid confusion.

The 2016 HP Omen 15 and 17 are priced around $1,000 to $1,249, so they are less expensive than the first generation Omen 15 that started around $1,500 (now discounted to $1,100 at some retailers and a steal). Like the last gen they have Intel Core i7 quad core CPUs and NVIDIA GTX 960M graphics (GTX 950M and 965M also available). The touch screen from the previous Omen is gone and instead there are full HD and 4K matte non-touch display options with lower brightness and color gamut than the discontinued model. The multi-color zone keyboard backlighting is gone, replaced with red backlighting (which is fair at this price). The Omen 15 weighs 4.85 lbs. and the Omen 17 weighs 6.3 lbs., making them light for entry level gaming notebooks.

The Competition is Tough, and Often Cheaper

Those opening paragraphs weren't a rant because I only like expensive things. There's nothing I love more than a low to mid-priced product that punches above its weight for looks and performance--- it puts good technology into the hands of more people. That's why I gave the $750 Dell Inspiron 15 7559 Gaming Edition our Editor's Choice award. I suspect the Omen was redesigned to compete with Dell's 7559 budget gamer rather than the Alienware and Apple's MacBook Pro. And that Dell is a tough adversary with good fit and finish, quad core CPUs and GTX 960M graphics plus very easy to upgrade internals. The slim and light $1,199 Asus ROG GL502 offers the faster NVIDIA GTX 970M, more premium materials and a more serviceable design. The Lenovo IdeaPad Y700 is the long running poster child for affordable gaming laptops with several good configuration options, an easy to upgrade chassis and a decent look. The $1,099 MSI Apache Pro GE62 has more ports and is available with up to the NVIDIA GTX 970M. The HP Omen falls short of that direct competition in materials and design, but it has a slightly higher price tag than similarly equipped Dell and Lenovo offerings. Even HP's own top configuration of the Pavilion 15.6" is available with the same specs for a bit lower price if you can make do with white rather than red keyboard backlighting and a silver casing rather than faux carbon fiber. It's not that the HP Omen 15 is bad (it's assuredly not), it's just that the competition offers better design, looks and materials for the price.

Design and Horsepower

The plastic casing has a faux carbon fiber pattern, and it does jazz up the looks, particularly from a distance. Look at it from several feet away and you'd say it can compete with the metal-lidded Asus ROG GL502 in terms of design and materials. Get close and you'll notice it's actually all plastic, and that the casing has visible seams all around the edges of the keyboard deck since the keyboard deck actually sits inside the bowl-like bottom cover. That's an odd design, and it seems to have allowed HP to avoid an inner chassis, thus reducing weight. It also means that it's very difficult to remove the bottom cover for upgrades since the wrap-around bottom grips the keyboard deck courtesy of many, many tenacious plastic clips and even some stanchion clips near the center. I open up every laptop we review to show you the insides, but this is the first where I won't do that because we can't damage our review loaners and I was afraid the bottom cover or keyboard deck would snap.

I did get a peek inside after releasing all the side clips, and there's a lot to work with here if you can get it open--a 2.5" drive bay, M.2 SSD slot, two RAM slots and the usual socketed WiFi + Bluetooth card. HP went with the last generation Intel 7265AC dual band WiFi 802.11ac card rather than the current and superior Intel 8260AC card. The previous generation Omen's RAM was soldered on board, so we prefer the new model's upgradable approach. The previous generation, being a higher end product, had a single fast PCIe SSD, while most of the current generation Omen configurations have a 1 TB 7200 RPM HDD and no SSD or a 128 gig SATA3 boot SSD. You can get a bigger but slower 2 TB 5400 RPM HDD, and the top of the line customization option is a 512 gig PCIe NVMe SSD (much faster than an HDD or SATA3 SSD) for an insanely reasonable $160 more-- sweet. You'll have to forego the capacious HDD if you opt for that fast 512 gig SSD though (you could probably add one yourself later if you can get that truculent case open). Dell and Lenovo's direct competitors share much the same internal architecture when it comes to upgradable components. The base models have 8 gigs of DDR4 RAM (as two 4 gig RAM modules), and it's also available with 16 gigs from HP. You could in theory upgrade it to 32 gigs using two 16 gig RAM modules. The 2.6 GHz Intel Core i7-6700HQ is currently the only CPU offering.

The display bezel is big and matte grey-black plastic, which hurts in 2016 when skinny bezels and edge-to-edge glass are the rage, particularly in the $1,000+ segment. The chrome display hinges are the two bits of bright metal, and they literally and figuratively stick out. The display lid flexes if you press on it, but the keyboard deck holds firm, thanks to many support posts on the bottom lid that support the keyboard deck. The matte finish laptop resists fingerprints.

The Bang & Olufsen branded stereo speakers are passable, but not as full as we'd like, even for a lower priced gaming rig. They distort a bit at high volume levels. The audio chip is part of the standard Intel chipset--nothing special here.
2016 HP Omen 15 Video Review

Benchmarks

Specs used to test: Intel Core i7-6700HQ, NVIDIA GTX 960M, 1920 x 1080 display,8 gigs RAM, 128 gig SSD, 1 TB 7200 RPM HDD.

Advertisement
Keyboard and Trackpad
The keyboard has moderate travel and good tactile feel--I like it. There's a number pad for gamers and number crunchers too, something that's not a given on 15" laptops. It's backlit in red, which might attract a little attention at the office, but the Omen isn't as boy racer looking as some gaming laptops. The obvious techno-gamer stylized font that's used for the key maskings is distracting. The letter A lacks a cross-bar, making it look like a caret and the "hint, hint you can use these as directional keys" 4-way arrows superimposed on a large scale over the numbers on the number pad are likewise the foe of legibility. But you'll get used to those, along with the square @ sign, and touch type your way to productivity.
The buttonless trackpad is large and has a pleasing surface but it makes a hollow and tinny sound when tapping to select. It's particularly loud because the trackpad is a bit numb and often didn't register one and two finger taps, leading to aggressive thumping on the trackpad. Otherwise it's OK (but no better than OK). It's not as devilishly bad as some older MSI trackpads that could lead to absolute file system mayhem when navigating Explorer.
Gaming
This is an entry level true gaming laptop (some manufacturers or retailers will call dual core Ultrabooks with integrated graphics gaming laptops when they're not). The NVIDIA GTX 960M can handle games like Battlefield 4 and Skyrim on high settings at 1080p resolution and net you 60fps, and the newest and most demanding games like The Division and Witcher 3 on medium settings at 1920 x 1080 resolution. The laptop is available with the 2GB version of the 960M around $1,000, and you can order it with 4GB DDR5 VRAM for higher resolution gaming or GTA V, which likes more video memory. There's a very basic $900 Omen 15 with NVIDIA GTX 950M graphics, but that's a bit underpowered for serious gaming. There's also a GTX 965M second gen Maxwell NVIDIA card option, and it packs enough extra power to add 5-10 fps in recent games.
Ports
At this price, you won't get cutting edge ports like USB-C or Thunderbolt on a gaming laptop. The money goes toward the CPU and graphics card instead. The laptop has two USB 3.0 ports, an antiquated USB 2.0 port, HDMI, an SD card slot, RJ45 Ethernet and a 3.5mm combo headphone/mic jack. The useful mini DisplayPort from the last gen Omen is gone, but on a positive note, the ports are sprinkled on the left and right sides rather than being all on the back edge like the first Omen. That might have been tidy, but not very convenient since you had to reach around the back of the laptop to plug in peripherals.
Heat and Noise
Gaming laptops are often hot and loud, particularly if they're slim and light or encased in conductive metal. The Omen 15 is light and reasonably thin at 1" but the plastic casing means less direct heat transfer to your legs. HP's dual fan design works well to pull air in from the bottom (don't muffle those vents) and exhaust it toward the back edge. The result is a relatively cool and quiet laptop compared to high end super-thin metal models with GTX 970M graphics. Like the Dell Inspiron 7559 and Lenovo IdeaPad Y700 15.6" competitors, the HP doesn't get burning hot on the bottom (it stays below human body temperature) when gaming. The only hot spot, and it's really not that hot, is the rear vent area that measured 112F when gaming. The fans are certainly audible when gaming, but they don't drown out game audio and aren't annoying in terms of pitch.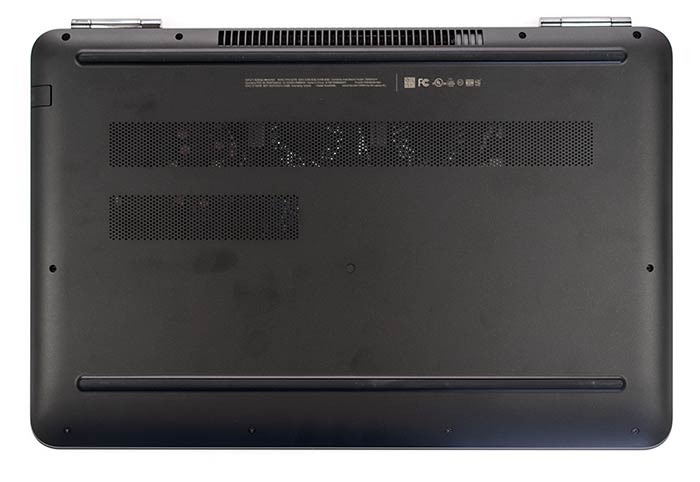 Display

The HP Omen 15 has a 15.6" matte, non-touch IPS display, available in your choice of full HD 1920 x 1080 and 4K 3820 x 2160. The 17.3" model is available with the same display options (matte, non-touch and full HD or 4K). The base models have a full HD display, but you can build to order it with a 4K display, which we hear has similar brightness but slightly higher color gamut. As with other budget gaming laptops in this price range, display brightness and color gamut aren't high points. They're fine for enjoying a movie or game but not ideal for photo or video editing in terms of gamut. Our full HD model covered just 69% of sRGB and 51% of Adobe RGB, which is similar to the Dell Inspiron 15 7559 and lower end Lenovo Y700 models. That's significantly below HP's Spectre line and more expensive gaming laptops from Razer, Alienware and MSI (you do get what you pay for). Brightness is low at 221 nits, which is fine for indoor use, but not outdoor use or even use near windows. Response times are slow for a gaming laptop at 35ms, which means you'll see ghosting in fast moving scenes like first person shooter games and sports videos.
Black levels are good at 0.27 (lower numbers are better) and contrast is decent at 770:1.
Battery Life

The HP Omen 15 has the same 3 cell, 61.5 WHr battery as the HP Pavilion 15.6" model, and it's sealed inside. The Omen 17 has a 6 cell, 62 WHr battery. The laptop ships with a beefy 120 watt charger, which is sufficient to charge the laptop even under load. HP claims up to 8.5 hours on a charge for the 1080p model, and as ever with PC manufacturers, that's optimistic. We averaged 6 hours of light productivity work and streaming video with brightness set to 70% (50% is too dim for well-lit indoor use and we try to get all laptops close to 150 nits brightness for battery tests). For a gaming laptop, even one without a super high end video card, that's pretty decent. HP claims up to 6 hours with the 4K display, but you'll likely get less given their claims for our 1080p model vs. real world runtimes. The machine can and does automatically switch to integrated Intel HD 530 graphics when NVIDIA graphics aren't needed to do a task well.
Conclusion
If you're in the market for a gaming laptop but you don't want a boat anchor or one that will put you in serious debt, you could do worse than the new HP Omen 15. As noted, you could also do a little better in terms of materials and chassis design with some competitors too. On the plus side, the laptop runs fairly quiet and cool and battery life is acceptable, though not stellar, for a machine with a quad core i7 CPU and GTX 960M graphics. The matte displays resist glare and the laptop is powerful enough to equal similarly equipped laptops with higher price tags like the Dell XPS 15 and HP's previous generation Omen 15 in terms of CPU and graphics performance. The downside is that this laptop looks and feels cheaper than the competition, it's hard to open up for upgrades thanks to the many plastic clips and unusual bowl-bottom design and there's no touch screen option for those who prefer to use Windows 10 with touch.
Price: $899 to $1,305
Website: www.hp.com
Related Reviews:
Last Generation HP Omen Review
MSI GE62 and GE72 Apache Pro Review
Specs:

Display: 15.6", 1920 x 1080 IPS display and 4K IPS display available (matte, non-touch). Intel HD 530 integrated graphics plus your choice of NVIDIA GTX 950M/GTX 960M/GTX 965M. HDMI port.

Battery: 3 cell, 61.5 WHr Lithium Ion rechargeable, sealed inside. 120 watt charger included.

Performance: 2.6 GHz Intel Skylake 6th generation Core i7-6700HQ quad core, 45 watt processor. 8 to 16 gigs RAM (two RAM slots), one 2.5" drive bay, one M.2 SSD slot.

Size: 15.06 x 9.94 x 0.96 inches. Weight: 4.85 pounds.

Camera: 720p webcam.

Audio: Built-in stereo speakers, mic and 3.5mm standard stereo headphone jack.

Networking: Intel 7265AC dual band WiFi 802.11b/g/n/ac and Bluetooth 4.0.

Software: Windows 10.

Expansion and Ports: 2 USB 3.0 ports, one USB 2.0 port, Ethernet, HDMI, 3.5mm audio and SD card slot.